Good afternoon friends. I decided to continue Watching the memory of the soldiers who died on the battlefield during the great Patriotic war and world war II by @mrfantastis.
Добрый день друзья. Я решила продолжить Вахту памяти о воинах, погибших на полях сражения во время Великой Отечественной и Второй мировой войны.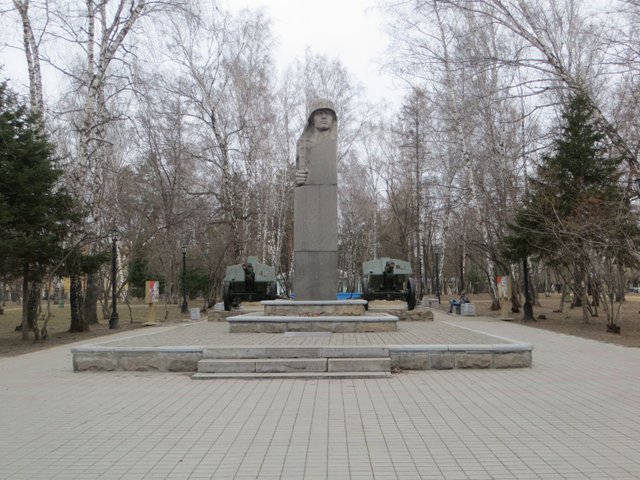 In our city there are many different memorials and monuments. Today I will tell you about Pavlovsk square. It is located in Kalininsky district of Novosibirsk.
A draft of the Park was approved in 1947. It successfully entered the carried-out building. The square received the name not so long ago - in 2001. The square was named in honor of Pavel Vlasov, who was the Director of the chemical concentrates plant. In 1980, the Park was the memorial to the money that was raised for factory workers. Near the memorial there is an inscription: "to the Soldier to the winner of the great Patriotic war of 1941-1945". On both sides are artillery guns, which are often climb children.
У нас в городе много разных мемориалов и памятников. Сегодня расскажу вам про Павловский сквер. Расположен он в Калиниском районе Новосибирска. Проект сквера был утвержден в 1947 году. Он удачно вписался в проводимую застройку. Свое название сквер получил не так давно - в 2001 году. Сквер был назван в честь Павла Семеновича Власова, который был директором завода химконцентратов. В 1980 году в сквере был установлен мемориал на деньги, которые собрали рабочие завода. Рядом с мемориалом находится надпись: "Воину победителю в Великой Отечественной войне 1941-1945 года". С обеих сторон стоят артиллерийские орудия, по которым часто лазят дети.