So, a funny thing happened on the way to publishing The City and the Dungeon.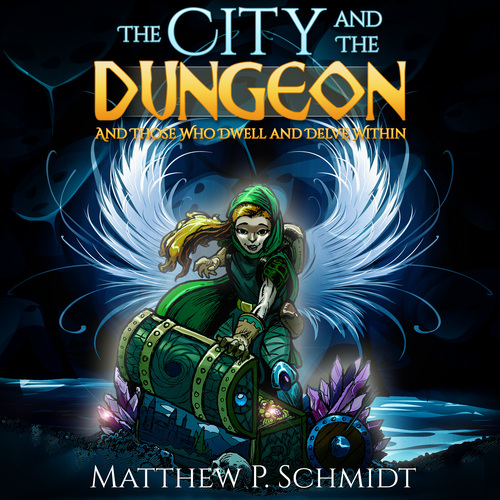 The cover to the audiobook version I never expected to make.
Success happened.
Where has Matthew P. Schmidt been?
Caught between various emotional tidal waves of increasingly surprising success and the occasional snags. First the KS campaign failed, and I hardly wanted to announce that to the world. Then I got the ebook out just before the end of the year, but I didn't want to advertise it too heavily due to how the print book was not out. Thus, no post.
By the time the print book was finished, however, sales had skyrocketed, and I was faced with the emotional highs and lows of over fifty reviews. (It's now over a hundred.) This proved too much coupled with bipolar, and I lost whole days of writing. Meanwhile, an audiobook producer contacted me, interested in producing an audio version, and soon enough, I decided to wait to post until that was out, too.
In addition to all of this, bizarrely, this success has disrupted my personal life in the serious but private ways. Such that I would hardly finish one crisis before another began. Intellectually, I desired to post more on Steemit, but emotionally and spiritually it wasn't happening.
What's next?
The City and the Dungeon, and Those who Dwell and Delve Within is now available in ebook, paperback, and audio.
I've still got steemit articles in the pipeline, including more on taxes, Ethereum programming, and cute girls w/r/t Calvinism.
For now, if you buy _C&D_within the next few days, it's only $0.99!