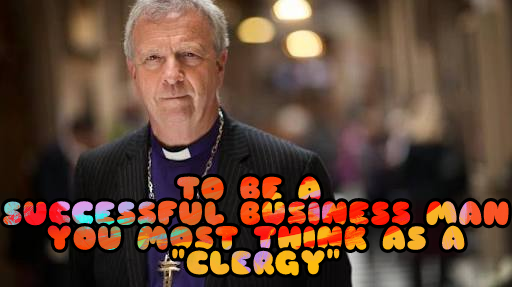 The church as an organization (I am careful to use the term business here) has been one of the greatest institutions to have stood the test of time from the catholic faith to the Pentecostal faith such as winners chapel have run structures that serve the needs of patrons. These assemblies have over time growth in number that is the envy of any business owner. There are some operational practices that they operate that I believe if incorporated in your business would ensure growth within your business.
Goal
The entire business of church is running alongside a strong goal of bringing people to God. What is the goal of your business? Money is the unifying goal of any business but you should have a people oriented goal that would could be shared as a passion along your lieutenants. Passion is what gets you and your staff to open shop even under a heavy downpour. The thought of the numerous souls out there yet to receive Christ is what makes a minister of God stand for 6 hours on a Sunday, 52 days in a year preaching to the people mid-week services not included.
Personnel
The greatest strength of any man of God are the unseen men that provide support to the ministry that stand by him or her. Why do they stand by him with little or no pay in most cases but work with him even at odd hours at times when they are meant to rest after their regular 8 to 5. It is fact that the man of ministry has taken time to share his vision amongst his lieutenants and most of them has caught the vision with some of them even running faster than the man of God with the vision? So I ask do members of your team know your vision talk less of understanding your vision. My Pastor says he is building a city changing church and I see many of the young persons that are making an impact in Port Harcourt as a members of my church.
Do you know your staff their names, birthdays, names of their spouses, anniversaries, names of children, etc. these are information you should have to get them to appreciate you better.
Customer Service
One of the most visible and dependable teams of the church is the ushering department and they are the first contact with a new member to the church. They are always neat with a smile as a part of their dressing. They ensure that the new comers to the church are properly welcomed in fact in my church newcomers are given a treat at the Novotel Hotel. So who identifies first time walk-ins to your business and appreciates them for giving your business an opportunity to part with their money.
I advise that you have a team that appreciate your first time walk-ins even with a sweet and watch the magic it with do.
Cleanliness
I am yet to see a dirty church, you feel comfortable within a clean environment. The sanctuary keepers are given support to ensure that the church is always clean. So I ask how clean is your business environment fine they clean it up every day. What of that terrible drainage in front of your business that is always smelling. Do you know how much of potentials customers that could have walked in if not of that drainage.
Planning
I know what would happen in my church on the 1st April 2018, yes Easter Sunday. Something as little as proper planning with good notice allows the patrons plan alongside the programme of the church. I know that The Experience for House On The Rock is coming up in the first Friday of December, 5 Nights of Glory comes up in January and Shiloh at the end of the year . Does your organisation give your patrons enough notice for your events and not just come up and tell they that you will been having food tasting in three days and you feeling bad when you have just ten person when you had planned for 100 persons.
A whole lot can be mentioned, these men are working on divine inspiration study the ways they are running these organizations and see how you can use them to run your business.