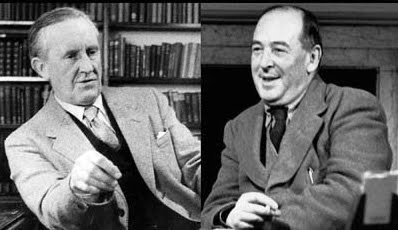 J.R.R. Tolkien and C.S Lewis
In his essay "On Fairy Stories," J.R.R Tolkien, author of the beloved The Hobbit and The Lord of the Rings, wrote about the process of world-building – the act of building an imaginary world. Tolkien distinguishes our world, called the Primary World, from an imaginary world that only exists in an author's mind, called the Secondary World. (If you haven't had a chance to read Tolkien's essay, I highly recommend it. You can find the full essay here: http://brainstorm-services.com/wcu-2004/fairystories-tolkien.pdf)
Tolkien spent many years carefully constructing his Secondary World, called Middle Earth. He created multiple languages, a complete history of his world, different races (Elfs, Dwarfs, Men, Hobbits, Ents, Goblins, Orcs, Wizards, to name only a few), and new cultures.
C.S Lewis, the author of The Chronicles of Narnia, was close friends with Tolkien and the two men were part of a writers' group called the Inklings. Lewis was also a worldbuilder and created the world of Narnia. However, when Lewis first shared Narnia with Tolkien, Tolkien was less than encouraging:
"Tolkien deemed the book [The Lion, the Witch, and the Wardrobe] almost worthless – a carelessly written jumble of unrelated mythologies. He simply detested it" (Seddon 61).
Middle Earth and Narnia
Tolkien detested Narnia because he thought it was too cluttered. While Tolkien carefully constructed Middle Earth as a completely separate world from the Primary World, Lewis included familiar aspects from the Primary World in his Secondary World. Lewis included Beatrix potter-like talking animals, Father Christmas (aka Santa Claus) creatures from Greek mythology like centaurs and fauns, and creatures from Roman mythology, like Bacchus, in his world. Lewis also built a bridge between the Primary World and Narnia when he brought children from our world into Narnia. Middle Earth is untouched by the Primary World but Narnia receives visitors from the Primary World, who then bring aspects of the Primary World into the Secondary World, perhaps "tainting it," in Tolkien's view.
My favourite example of the Primary World reflected in Narnia is the description of Prince Rilian in The Silver Chair: "He was dressed in black and altogether looked a little bit like Hamlet" (131). Perhaps Tolkien saw references to the Primary World as breaking the suspension of disbelief, which causes "the magic, or rather art [to fail]" (Tolkien 12).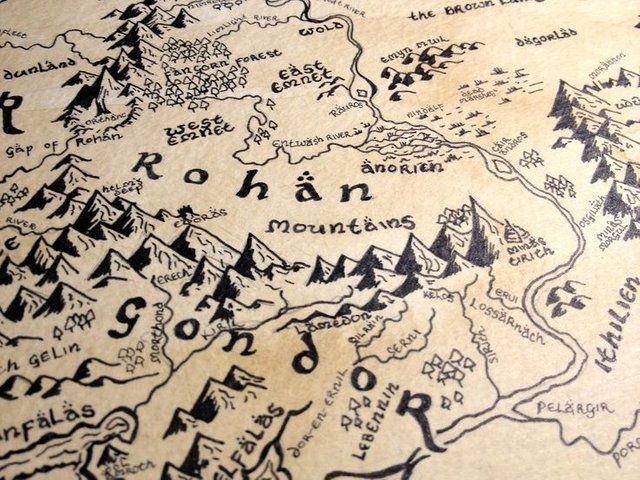 Conclusion
Tolkien's initial perception of Narnia is clearly wrong as The Chronicles of Narnia has gone on to be one of the most successful, popular and beloved children's series since its publishing. However, do you think that Tolkien's Middle Earth is superior to Narnia because it can stand alone as a Secondary World, untainted by our Primary World? Does Narnia truly break the suspension of disbelief? Does suspension of disbelief matter when entering into a Secondary World as a reader?
What do you think?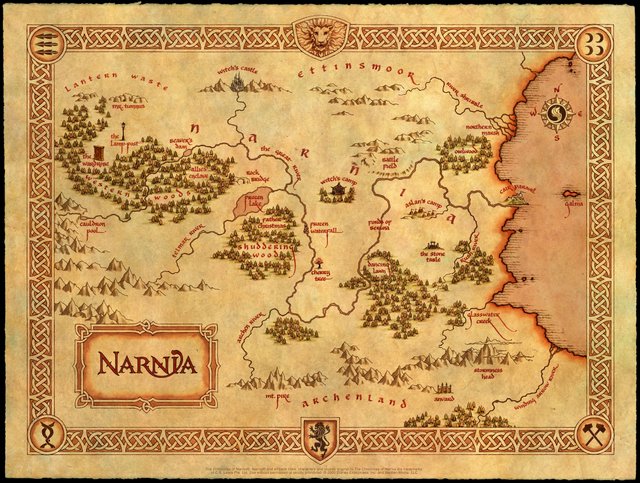 ---
All images were taken from Google Images.

Works Cited
Lewis, C.S. The Silver Chair. Macmillan Publishing Co., 1970.
Seddon, Eric. "Letters to Malcolm and the trouble with Narnia: C.S. Lewis, J.R.R. Tolkien, and
their 1949 crisis." Mythlore, vol. 26, no. 1-2, 2007, p. 61+. Literature Resource Center, go.galegroup.com/ps/i.dop=LitRC&sw=w&u=briercrest&v=2.1&it=r&id=GALE%7CA171579958&asid=78b1774346b6cc60f2e5598b913d3fc5.
Schakel, Peter J. The Way Into Narnia: A Reader's Guide. Wm. B. Eerdmans Publishing, 2005.
Tolkien, J.R.R. "On Fairy Stories." Essays Presented to Charles Williams. Wm. B Eerdmans, 1947.