Kecelakaan Lalulintas/Traffic Accident part I
Hari ini, satu bulan yang lalu saya mengalami kecelakaan lalulintas di jalan Medan - Banda Aceh, Desa Dakuta, Kecamatan Muara Baru, Aceh Utara.
Hari Minggu Tanggal 10 Juni 2018, pukul 15:00 WIB Diakhir Bulan Ramadhan saya mengunjungi seorang teman di Meurudu, Kabupaten Pidie Jaya untuk berbuka puasa bersama, Saya menempuh jarak kurang dari dua jam, dengan menggunakan sepeda motor untuk sampai ke lokasi teman saya itu.
Acara buka puasa bersama selesai pada pukul 19:00 dan sayapun beranjak pulang dengan sepeda motor saya dalam keadaan yang mulai gelap dan sedikit waspada, karena penglihatan saya yang kurang jelas jika mengendarai sepeda motor pada malam hari dan syukur sampai dengan satu jam lebih saya mengendarai sepeda motor saya dan sampai di Kabupaten Bireuen dengan selamat dan beristirahat disana.
Setelah beristirahat di Bireuen, perjalanan pulang saya lanjutkan dan 12 Kilometer sebelum sampai kerumah di Kruenggeukuh - Aceh Utara, peristiwa naas menimpa saya, saya menabrak sebuah mobil truck yang parkir di jalan raya, dengan kondisi bannya bocor dan tanpa ada rambu-rambu atau lampu tanda berbahaya.
---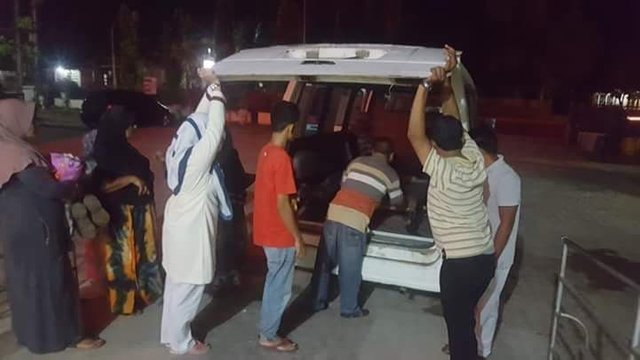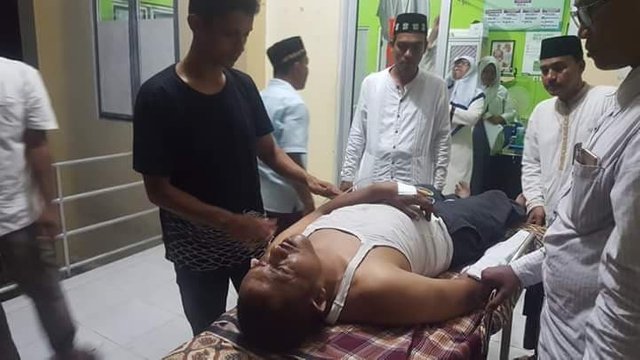 ---
Today, a month ago I had a traffic accident on Medan - Banda Aceh road, Dakuta Village, Muara Baru Sub-district, North Aceh.
Sunday, June 10, 2018, at 15:00 WIB At the end of Ramadhan I visited a friend in Meurudu, Pidie Jaya District to break the fast together, I traveled less than two hours, using a motorbike to get to my friend's location.
The break-fasting event finished at 7:00 pm and I went home on my motorbike in a darkened state and a little wary, because my eyesight is less clear when riding a motorcycle at night and thankful for up to an hour more I ride a bicycle motorcycle and arrived in Bireuen County safely and rested there.
After resting in Bireuen, my return journey continued and 12 Kilometers before arriving home at Kruenggeukuh - North Aceh, the unfortunate incident hit me, I hit a truck car parked on the highway, with the condition of the tire leak and without any signs or lights sign dangerous.