Dear Stranger,
I want to keep this simple and profound, I want to give you an insight that goes deep within me, it may reach you today, tomorrow or never but I'll keep on saying it.
I think we are a figment of what we used to be, made up of one original idea, of existing in this crowded capsule hidden beneath layers of gas and rock bodies. We choose to fight and conquer what we find.
It makes you think, what if you choose to change, give it a thought. Just a gentle reminder that all we have is each other and we are so convincingly gruesome to each other that we choose to chuck it down.
I want to change, make this thing settle in me. I want to fight and suffer but I don't want to win just yet because the battles we are fighting are all in vain when the ultimate end is the culmination of us all.
It's hard to accept that from the beginning we were wired to serve the greater good, so we choose to ignore it and try to become that greater good. We are just a step in a finite pecking order reaching an ultimate destination. Though we may not see it, someday we'll have to accept it and it would be harsh.
All the rungs that we formed were just an illusion to climb up the course without us noticing it, we are falling into that trap and it needs to be said.
'Change' is a word so common that we just keep on circling over it. We are running around and thinking that each point will form a tangent so that we can get out.
It's not easy to accept these things because we are so occupied in lies that are forcing us to think that there is nothing out there to find, for all we know that we are following a man with a vision that is less than every other person you see. Still we choose to follow it not because we want to, because who the hell cares?
I want each and every one of you to feel that you are what nature made you and that is unique and we need to accept that. We need to mend, our ideas, our thoughts, our actions and our behaviour.
I am not a preacher, I am just a guy concerned that one day in this blind fight we will lose what makes us important to achieve that final goal. We can't understand the gravity of it just now but we will someday, that day will have its judgment.
The bells have rung and we have come too far to look back now and we need to stop and observe, see things that are beyond 'me'.
I want to do that, it will take a toll on me but I will be happy, I will know that I am doing what's required of me. Who determines these actions is a question that is far above me but I know one thing that I see, love!
A force that passes through you. Crossing every dimension of space and time, making a foundation for itself and it may keep us going till the end.
What probably will guide us in the future?
We have enough to hold on to if we look around. If we just see, observe and feel.
I want to change the way I feel, the way I see. I want to feel what love is, that has stayed with us from a time we were all just a big black body.
For all our fights we have always been ignorant. All the things that we do as human beings has done enough damage to mankind. We've been selfish and consistently so.
The change, it's a concept. It's a dream that i wish to achieve. There has long been a calling to save the world and it's time that we choose to accept that call.
Maybe this revolution comes in our lifetime or maybe not. There is a need to act and give in the right amount of thought. The need of the hour is to utilize our best resource, our humanity.
We can make this world safer.
We can make this world better.
We can spread awareness through our union.
I know there is a fire in everyone and we are just trying to coax it. Come together with us on this journey of change and find your voice as we find ours.
                  Yours Stranger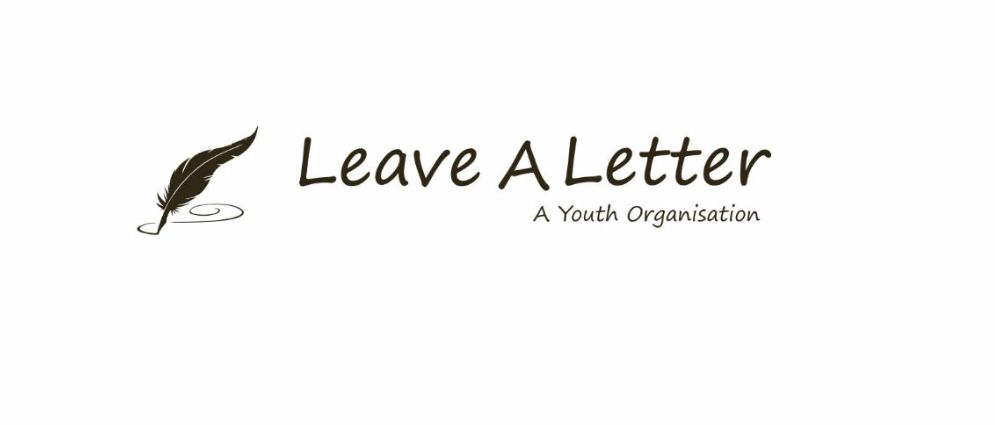 LeaveALetter is a youth non-profit. We at LeaveALetter truly would like to make this world a better place for us to live in, like many of those before me. As Dalai Lama once said " it is not enough to be compassionate, we must act". So write to us . Participate in one of our campaigns and let us know your progress. Or become Our AMBASSADOR.
If you would like to support us then you can always donate to us or you can simply follow and upvote,comment and resteem this and our upcoming post.
P.S to know more about our Director of Content visit our website www.leavealetter.org