A Complicated Relationship - Steve Jobs vs BIll Gates - Book Club #17: "Steve Jobs"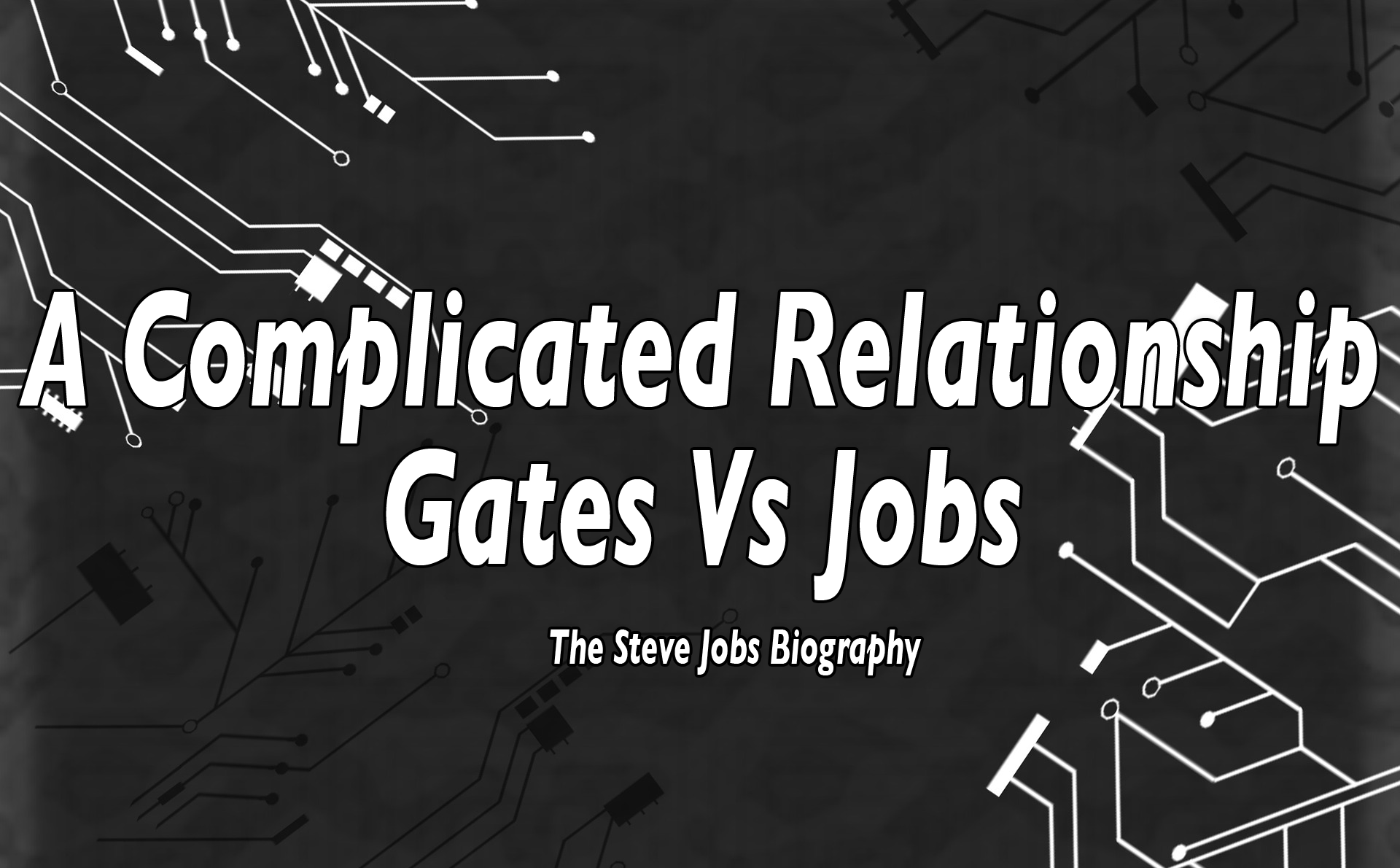 During a pivotal time for the advent of personal computers and software technologies, Jobs and Gates had a very interesting relationship. Their relationship was respectful and distasteful, admirable and "sneaky"... It was complicated to say the least.
Both Apple and Microsoft needed the other in order to succeed at some point. It's very interesting that 2 companies can be so inter-related and cooperative at one moment and then extremely competitive the next moment.
---
---

Current Book & Quotes From: Steve Jobs by Walter Isaacson
---
---
Gates and Jobs:
I love the way that Isaacson started this chapter out. It's subtitled "When Orbits Intersect" and here is the first passage that perfectly introduces the relationship between Jobs and Gates:
"In astronomy, a binary system occurs when the orbits of two stars are linked because of their gravitational interaction. There have been analogous situations in history, when an era is shaped by the relationship and rivalry of two orbiting superstars: Albert Einstein and Niels Bohr in twentieth-century physics, for example, or Thomas Jefferson and Alexander Hamilton in early American governance. For the first thirty years of the personal computer age, beginning in the late 1970s, the defining binary star system was composed of two high-energy college dropouts both born in 1955."
Gates Vs. Jobs
Ambition aside, Gates and Jobs were actually 2 very different people from very different backgrounds:
"Gates's father was a prominent Seattle lawyer, his mother a civic leader on a variety of prestigious boards. He became a tech geek at the area's finest private school, Lakeside High, but he was never a rebel, hippie, spiritual seeker, or member of the counterculture. Instead of a Blue Box to rip off the phone company, Gates created for his school a program for scheduling classes, which helped him get into ones with the right girls, and a car-counting program for local traffic engineers. He went to Harvard, and when he decided to drop out it was not to find enlightenment with an Indian guru but to start a computer software company."
Gates was also much better at hardcore computer coding and software development. Jobs was much more of a creative spirit and a force for initiating change and "cultivating the flame of big ideas" so to speak. Throughout his entire life Jobs was almost always the face and the "fire" part of creating innovative technologies - people on his team and around him like Steve Wozniak were the "brains" and the hands-on creators of technology.
"Jobs was more intuitive and romantic and had a greater instinct for making technology usable, design delightful, and interfaces friendly. He had a passion for perfection, which made him fiercely demanding, and he managed by charisma and scattershot intensity."
Despite these differences, they still had a fairly similar way of managing people, though Jobs was definitely more of an "intense" and "spontaneous" person to work for:
"Gates was more methodical; he held tightly scheduled product review meetings where he would cut to the heart of issues with lapidary skill. Both could be rude, but with Gates—who early in his career seemed to have a typical geek's flirtation with the fringes of the Asperger's scale—the cutting behavior tended to be less personal, based more on intellectual incisiveness than emotional callousness. Jobs would stare at people with a burning, wounding intensity; Gates sometimes had trouble making eye contact, but he was fundamentally humane."
The way that Jobs and Gates treated one another is absolutely fascinating to me. They were both such great minds and had such great brilliance in their own respects:
"Each one thought he was smarter than the other one, but Steve generally treated Bill as someone who was slightly inferior, especially in matters of taste and style," said Andy Hertzfeld. "Bill looked down on Steve because he couldn't actually program." From the beginning of their relationship, Gates was fascinated by Jobs and slightly envious of his mesmerizing effect on people."
This strange relationship went on for years and it would have been really interesting to be a fly on the wall during these times. Gates attended almost all of the company retreats for Apple and he worked very closely with the Mac team and was considered almost a part of the "family."
An odd rift overcame their relationship after an agreement between Jobs and Gates ended badly right around the time of the Mac launch. Microsoft launched a new operating system for IBM PCs in 1983 and it would feature many of the same functionalities as the Mac - a graphical interface, icons, and a mouse for point-and-click navigation. This operating system would be called Windows.
Jobs handled this news terribly and lashed out Gates and called him many names in the press. Jobs called Gates out as running a company that had no real vision or original ideas. Gates responded very calmly and with an amazingly crafty response that made me smile when I read it:
"Well, Steve, I think there's more than one way of looking at it. I think it's more like we both had this rich neighbor named Xerox and I broke into his house to steal the TV set and found out that you had already stolen it."
---

Here's the Question of The Day, don't forget to post your answers in the comments!
What do you think of the Gates and Jobs relationship? Do you think they helped push each other forward into the future that we see today or do you think they were rivals who played a game of tug-of-war over their software and products?
Thanks for reading! Don't forget to leave your thoughts below and I look forward to seeing you in the comments!
-