"Imagination is the beginning of creation. You imagine what you desire, you will what you imagine, and at last, you create what you will" – George Bernard Shaw
I started work early today, 0700 actually. Yes, I know it's not really that early but considering I normally get to my office around 0800-0815 it's earlier than normal. Why though? Well, because I'm responsible, take ownership of my role and had something important to do but not important enough to burn business hours on considering I have a heavy work-load this week. Legit right?
I didn't go to the office. No, I'm not that crazy! I headed to a cafe I've not been to in a while figuring I'd get some breakfast and work there. Pictured below is that breakfast: Rosti stack - Potato rosti's (hash browns) topped with bacon, poached eggs, caramelised red onion with avocado and tomato relish. Yes, it was nice - Monumentally nice actually.
---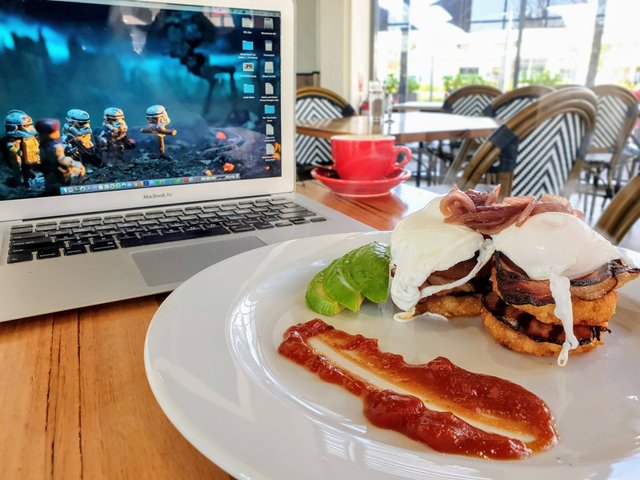 ---
I was working on a proposal for a new client and I sometimes find doing that, finding the creativity I look for, can be easier when I'm away from the office and all the noises and distractions to be found there. Sure, I can close my office door but then I feel isolated and seem to loose creativity even more. I find it much easier to be in a comfortable environment like a café, not any old café, but the right one, and despite the noise from other patrons I tend to be able to work more effectively. I guess we all work differently though and some may prefer total silence and seclusion. I admit that at times I do too but café's tend to be a productive place for me, certainly when writing for steem, and for certain aspects of my work also.
I'd be curious to hear how other's find the right environment or frame of mind to write or work using steem as the example. Many of us have commitments that cannot be avoided like work, children, sporting and social activities and we all have to sleep at some point too. How do you manage to fit it in? I write a lot on steem and on any given day have 3-4 posts either finished waiting to post or almost done.
I tend to write quite quickly and never really sit in front of my computer at a loss of something to say. In fact it's quite the contrary...I have too much to say and have to hold back because I don't want to post too much. I also write quickly then go back over my work one or two times searching for typos, phrases I could write better and other things to make my blog read as good as can be...It all takes time though right? I'm not on social media so never waste time looking at an endless feed which is one way I manage to find the time. I also put myself in the right environment to write...Like the café this morning.
Finding creativity can mean many different things to each of us: A sculptor's idea of it will be different to a writer for instance, however creativity in itself is the same no matter what the application. The word creativity means: the use of imagination or original ideas to create something, or inventiveness according to google and isn't that what we all do here on steem? We are all creators and all use creativity.
So, how about you? Please comment below on any tricks you use to make your writing flow or read better or to simply get your words down on the page, your message across, in the time you have available. How do you use creativity to engage with your followers or the consumer in general? I'm interested to know.
---
Design and create your ideal life, don't live it by default and aim small, miss small.
Discord: @galenkp#9209 🇦🇺