Caught in the Pincer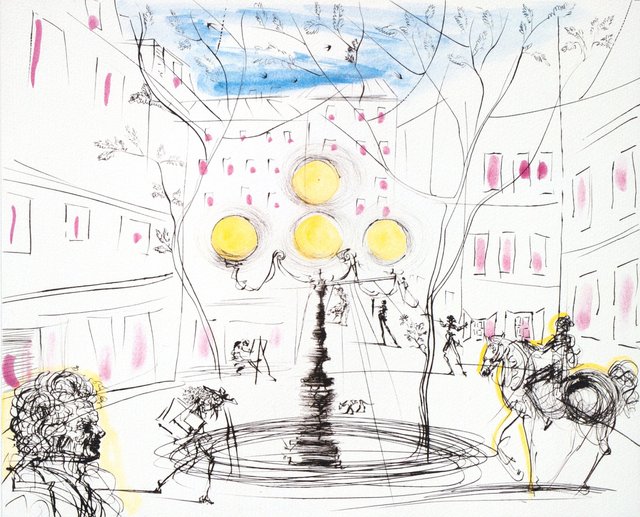 source: Dali, Salvador Place Furstenberg, 1971 | Drypoint etching on paper, 51 x 66cm Editions I-C on Japanese paper, 1-150 on Arches paper
---
---
caught in the pincer
---
---
Physicians typically become good communicators out of necessity and even those for whom the skill does not come naturally generally inmprove over time. But through the sheer volume of interactions we have during practice there are times when, inevitably, things go swry. I strive for effective communication, and the occassionally the universe intervenes and laughs in delight.
Mrs. Smith was not an easy patient. She was gruff. sharp-spoken and generally demanding, and I always felt a hit apprehensive whenever her appointment time came around. She was always irate about something and loved to express it. In her chart I wanted to write her primary diagnosis as "terminal anger" but never succumbed to the fantasy.
Her most potent wrath was reserved for her husband, Marv. Our visits usually began with a barrage of complaints ("The lab technician who bruised my arm was an idiot" etc.) but inevitably would move on to the latest mis-deeds of poor Marv. According to Mrs. Smith. he was lazy. stupid, untrustworthy and incompetent. Moreover, he was deliberately this way to make her life miserable. Having met Marv many times I strongly doubted this. He was a quiet, decent man with a contracted spirit that seemed to ooze sadness. In the early years of seeing Mrs. Smith I would often try to modulate her anger by trying to get her to see the other person's viewpoint. But I quickly abandoned this as it only seemed to agitate her. The best approach I had found was to let her play herself out, so to speak. With each expression of outrage, I would respond with "Is that so?" or Oh my!"
Although somewhat cowardly on my part, this approach seemed therapeutic to some degree—kind of like letting the air out of an overinflated balloon.
On one visit with Mrs. Smith things went inexplicably wrong. She had some blood work showing a very low B12 level. and we were to discuss it and begin treatment. She then began pondering how long she had suffered needlessly with this ailment.
"Doctor, I've been telling you for years that I am tired to the bone and only now it comes out that I have this dreadful disease. You should have found it sooner!"
"And needles? You know how I bruise and now you want to stick me every month with a needle. I hope you are better than that bitch at the lab—that's all I can say." I gritted my teeth and reassured her the treatment was not that bad and began to draw up the RI' By this tune she had moved on to Mare and I was only half-listening.
"How many tunes have I told Mary I was exhausted, and the lazy bastard would just ignore me? If he ever to suffer the way I have, he would surely die.. There is no pity in his soul. What do you think, Doctor?'
As she looked at me expectantly for my reply, I said, "Just a little prick," as 1 plunged the injection into her shoulder. Mrs. Smith interpreted this as a response to her question about Marv. She exploded 'You're damned right! Ile is nothing but a useless little prick! I'm so glad you understand what I have to live with."
Terror struck my heart as I trod to talk my way out the misunderstanding. "Mrs Smith, I was talking about the needle," But she would have none of it, her anger having escalated beyond its usual level. By the end of the visit, Marv was solely responsible for all of mankind's problems—all thanks to me. I never saw Marv again.
---
John was a nice man. He had been seeing me regularly for more than a year for a severe depression associated with post-traumatic stress disorder, and we were beginning to make some great progress.
As part of his recovery I had suggested a complete Change in his usual daily routines to break some of the triggers. He had decided he would spend a few weeks visiting his cousin in Cape Breton and help hem with the first two weeks of the crab fishing season. It was hard manual labour, but completely removed from his usual surroundings. Fresh sea air and salt water coupled with a fat paycheck— what could be better for the soul?
We talked for a long while about this during one session, and afterward I followed him out of my office I and down the hallway to the larger waiting area where 10 patients were seated. I was hopeful we were nearing the end of a long, difficult period, and as he was preparing to leave slapped him on the shoulder and said "Well, take care, and good luck with those crabs!"
Almost immediately John's face began to drain of colour. It began to dawn on me how this statement might have been interpreted by the large group of people who were listening. I could feel panic begin to rise an my throat. As I scanned the crowd I could see an elderly lady who suddenly turned her head almost 90 degrees to the right, her expression conveyed its disdain. A young mother with a toddler instinctively drew ! him closer to her and further from Iohn and me.
"How can I fix this?" I thought, and blurted: "You know. the kind of crabs you catch!' I looked around and saw this had done nothing to help. Whereas a few seconds ago there had been chatter, a deathly silence had now settled over the waiting room. By this time I had descended into outright panic and I began to babble "I mean, water crabs, like the kind in water... that you fish for and eat from cans at the store. You know?!"
Somehow I managed to convey the true type of crab we were talking about. and a few chuckles and smiles
began to surface from the crowd. By this time, my brow was soaked in sweat and I was trembling from the adrenaline rush. I turned to John and said, "I am so sorry." He acknowledged the apology and left hurriedly. I felt that somehow all the headway we had made might have been irrevocably lost.
My secretary, who had witnessed this fiasco, opined, 'You really need to be protected from yourself." As I walked in to see my next patient, she was furiously cleaning the patient chair with an antiseptic towelette.
---