Meeting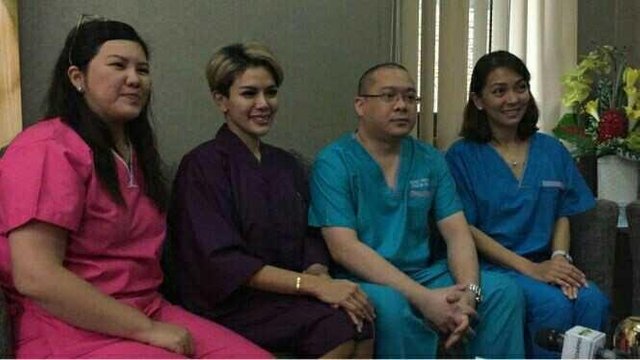 Along the way Cibinong tonight was so quiet, just accompanied by street lamps that illuminate the mourning heart. Sheila walked down the shophouses of buildings that had been closed for several hours.
Ah, I do not realize it's late at night. Sheila glanced at the clock around her wrist. It turns out the hour already shows at 00:30 pm. Maybe some of them are already asleep in their dreams, or some of them choose to do the office work they bring back home because it has been pursued deadline. While Sheila chose to breathe the wind outside to spend this quiet night. Looked very wild perhaps, a woman spends her night on the streets. Sheila thinks most people will say Sheila like a bitch hired to enjoy every curve of her body.
Ha ha…
Maybe Sheila would laugh at the mouths of those who said that. Sheila will not care about anything that people say about her. They would only be a sickness to the heart if Sheila was on her scorn. Being a human being who is indifferent to something self-defeating is indispensable if in that position. Because not all things must be balanced with sensitivity or reply.
Vibrate. An incoming message on my phone ...
"Where are you, La?" Message came in from Morgan.
The white man who for eight years accompanied me when likes and sorrows. It's just that he's a very possessive man. I do not like it if Morgan has always forbidden me for something my heart desires. Like tonight, I'm sure he's at my house right now. If I reply to his message, he'll catch up with me and scold me with spreading spicy words. Or maybe it would say I'm like a wild woman. Last night will be finished with cuts in my heart. Then the next day, he will come to see me again. Apologizing to me without guilt, he would say that last night was his oversight. Some time later he will repeat the same thing again, make wounds then come and apologize without guilt.
I love you Morgan. After many things we have passed together, you are my most pitiful imitator of my crazy ambitions. But somehow, you can not be the most able book to follow me. You can only be a tranquilizer without being able to get me back home.
I choose to ignore the incoming messages many times from Morgan, I still want to be alone in the middle of a quiet night. Without anyone to recognize me.
It is not easy to describe perempun who choose to spend time outside the house. While in his house there are men waiting for his return. Because every human being has their own serenity. Not all things should be shared through the conversation. Some will choose silence as a solution.
There is also a choice to sip a bottle of Vodca to calm his mind.
But I just want to isolate myself from the hustle and bustle of the crowd. Walk under the street lights while remembering the joyful childhood.
Bruk!
Heavyset man in a gray adidas jacket smashed me from the right aisle called Jl. Ciriung with the smell of alcohol that stung my kiss. The man just stood still, not apologizing to me at all. Though his massive body almost made me fall down.
"If the road tuh look around. If you hit a motorcycle. I'm sure you will not be silent like this, surely you will grime in pain! "I said with a tone of annoyance.
This man is just silent.
"It seems like it's useless to talk to drunk people like you. I hope the last person you hit was me. Or else you will be beaten by many people for walking in a drunken and violent state! "I said with eyes that looked sharply at him. I'd better go.
Sheila walked away from the man who was enjoying his happy by fondling liquor while complaining why he could meet a drunk man like that man. Sheila hope this is not a bad night for him because he runs out with men who behave the same as Morgan first.