Cruel Summer Discount!
Three days after the Cruel Summer Book Tour & Giveaway has ended, there is a new opportunity for everyone who didn't get my book. Cruel Summer, a gripping story of an abused teenage skateboarder who only wants to follow his dreams in dystopian New York City, is available at a 67% discounted price for an entire week!

Thursday, July 1, 2021, 8:00 AM PDT through Thursday, July 8, 2021, 12:00 AM PDT

First read an excerpt:

His father was defeated; he was on his knees facing death. Yet, there was a brief flash of triumph in his eyes Michael glimpsed before running from the mess he made without touching anything.
How is that possible? Was he not afraid of him? Wasn't he afraid of what Michael had done? Isn't he afraid of what Michael might do?!
Either way, Michael isn't thinking if going home until Hank thinks about everything. And when he gets home, things will be different. Everything will be different. Hank will no longer have a monopoly on him. Hank will no longer blackmail him or tell him what to do and what not to do. HE WILL NEVER TOUCH HIM AGAIN!

Then download your Cruel Summer eBook here. If you prefer a paperback, you can get it here.

"Bernard Jan's Cruel Summer is an emotionally gripping story, full of love, friendship, loyalty, family drama, and skateboarding. Bernard did a wonderful job of creating a beautifully written and compelling story that is very descriptive so that the reader feels immersed in the story."—Rolanda Lyles for Readers' Favorite

Don't forget to check out and read my other books: January River, Look for Me Under the Rainbow and A World Without Color.

Happy reading and thank you!

BJ
www.bernardjan.com
Subscribe to my mailing list.

Follow me on Twitter.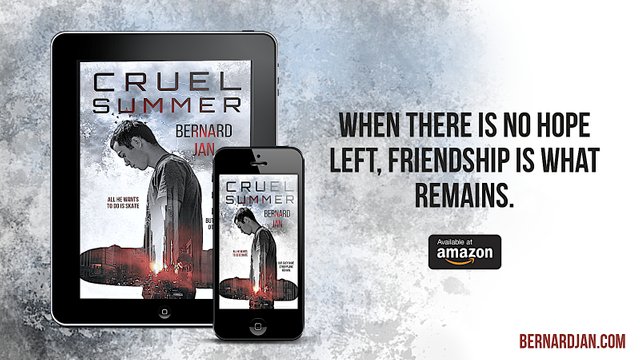 Cover design by Dean Cole.