Hello very good have all and all @steemit users.
Today I would like to tell you a story, which I am sure you will not find in any book or magazine, as it is an experience of my own, which I want to share with you.
Batea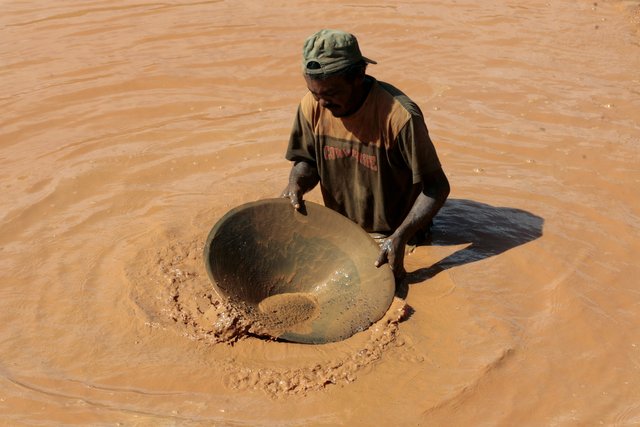 I hear Zino's voice, telling me to relax, to keep working.
- Don't worry, cousin, tigers don't attack people and less when they see more than one.

We were in the deepest part of the dense jungle, to the east of Venezuela, near the border with Guyana taking gold with a Batea, just him and me in a small river that reached our deep chest, when suddenly we began to hear the roar of a tiger, louder and louder and closer to us, I told him.
- Cousin let's hurry, it's getting late and it seems that this tiger is hungry, because you hear closer and closer.

At that time I had already a year working mining in the jungle, living in an indigenous community called "San Martin de Turumbang", we had gone to live there my wife and I, because she had been assigned a job as a school teacher of the community, she had been born there and had many relatives in the place, even "cousin Zino" is cousin of her, not mine, but since I arrived at the place I said cousin and I said the same to him. In spite of being an indigenous community in Venezuelan territory, English is spoken more than Spanish, since it is very influenced by the traditions of the Guayaneses.
I couldn't stand the plagues while I was in the river, we were there since 10 in the morning and it was already 3 in the afternoon, the water felt colder and colder, almost no sun came in because of the thick jungle, the trees that surrounded us were so big that they made us lose track of time, we were enveloped in a great variety of sounds from the jungle, but the only sound that caused me bewilderment and concern was that indisputable roar of a tiger, which despite not being able to see it yet, I could see that it was walking very close to us.
- Me: Primo, you've got nine mosquitoes on your back, if we get out of here alive, we'll probably get malaria.
- Zino: No, that goes, in the places that there are many mosquitoes there is no malaria, do not worry jejeje.

The words that Zino said to me, did not cause me anything of tranquility, but what made me forget everything, the stings of the annoying mosquitoes, the cold and even the roar of the tiger, was when suddenly a very brilliant rock appears in the bottom of the "Batea", of approximately 5 grams of weight (a calculation to the "eye percent") was a small rock of pure gold, better known by the miners as "cochano", to see that cheered us up the day, we felt it had been worth all the discomfort we were going through until that moment.
After having obtained that small rock of gold, plus a few small pieces of gold that we had collected throughout the day, we decided to return home to the indigenous population. We were a little late, it was already 5:00pm and we were just beginning to pick up our things to go, we had not brought flashlight for the road and were a little more than three hours walk, about two hours to get out of the jungle and an hour walk by road to the village. We started our way at a very fast pace, so that the total darkness inside the jungle would not catch us, but as fast as we were going, the darkness inside the jungle caught us, we couldn't see anything, I was going behind Zino, grabbing his shoulder so I wouldn't get lost, he knew the place as if he was walking with his eyes closed inside his own house, for me it was something difficult, since he stumbled at every moment with stones and roots in the road, but we could not stop, we had to continue walking fast until we reached the road.
At that moment when we were walking through the jungle in the dark I thought <<Who sent me to this place!>>, that came to mind, because a year ago I was working in the capital of Venezuela, in Caracas, I had a good job and earned well, but for the desire to have more money and accompany my wife I decided to go into the jungle, live in that indigenous population.
At last we left the jungle and arrived at the road, the moon shone in its maximum splendor, it was full moon, but while we were inside the jungle could not see anything, and on the road we illuminated the road like a large lighthouse, we could see the road so clear, it seemed out of day.
We arrived at the town about 8:00pm, we were both very tired, as we arrived at his house, Olivia (Zino's wife) immediately prepared us coffee and a large amount of food.
Zino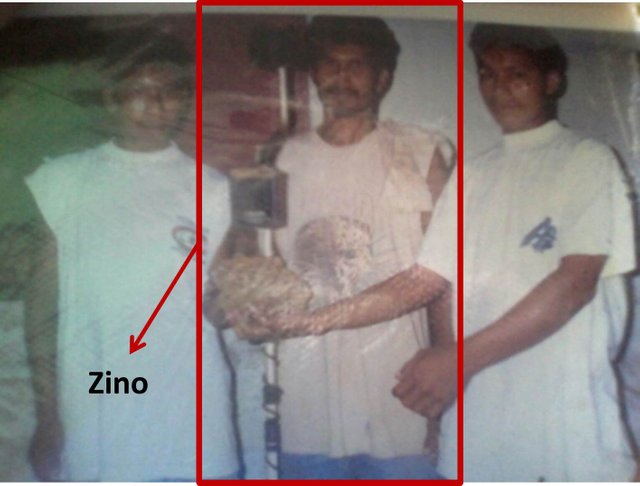 # will continue...