Dispatches #163: Distress signals, aerial skiiers and deep space probes
Thursday, 7 September 2017
Welcome to 
Dispatches, 
a weekly summary of my writing, listening and reading habits. I'm
Andrew McMillen
, a freelance journalist and author based in Brisbane, Australia.
Words:
I had a story in
The Weekend Australian Magazine
 on Saturday. Excerpt below.
Susan, Unbroken (2,900 words / 14 minutes)

Her husband's suicide was devastating. But Susan Bryant was determined to call it out.



The last few days had been nightmarish and Susan Bryant was tired of explaining. She decided to write an email to try to explain the inexplicable. The words came to her in a rush, powered by grief, anger and frustration, as well as a desire for the cause of her husband's death to be known, not covered up. It was a Saturday evening in early May and before she travelled across town for a family dinner, she sat in the study inside the beautiful home on the hill she had shared for 25 years with a brilliant gastroenterologist named Dr Andrew Bryant. Her first instinct was to say sorry.

"I apologise for the group email but I wanted to thank those of you who have been so kind with your messages and thoughts over the last three days," she typed. "Apologies also for the length of this email but it's important to me to let you know the circumstances of Andrew's death. Some of you may not yet know that Andrew took his own life, in his office, on Thursday morning."

The family's beloved white dog lay on the floor beside her in the study, while a cat was curled near her feet. Andrew had not suffered from depression before, she wrote, but his mood had been flat during Easter and he had been sleeping poorly because he had been called in to see public hospital patients every night of the previous week. She wrote that because of these long hours – not unusual for an on-call specialist – he had missed every dinner at home that week, including one to celebrate his son's birthday. "In retrospect, the signs were all there," she wrote, then chided herself. "But I didn't see it coming. He was a doctor; he was surrounded by health professionals every day; both his parents were psychiatrists; two of his brothers are doctors; his sister is a psychiatric nurse – and none of them saw it coming either."

Susan addressed the email to 15 colleagues at the law firm where she works in central Brisbane, and she hoped that it would help them understand why her daughter had phoned on Thursday morning to briefly explain why her mother would need some time off. "I don't want it to be a secret that Andrew committed suicide," she wrote. "If more people talked about what leads to suicide, if people didn't talk about it as if it was shameful, if people understood how easily and quickly depression can take over, then there might be fewer deaths."

Together, they brought four children into this world and they all still live under the same roof. "His four children and I are not ashamed of how he died," she wrote. Susan knew that her children felt this way, but she double-checked with them before she sent the email, and before the five of them left the family home to visit the Bryants in Paddington, a few suburbs over. One by one, her children came into the study and read the email over her shoulder. They saw no problem with it. She ended her letter with the spark of an idea; a glimmer of hope. "So please, forward this email on to anyone in the Wilston community who has asked how he died, anyone at all who might want to know, or anyone you think it may help." It took her about five minutes to write. She sent it at 5.45pm on Saturday, May 6, and then she went to be with Andrew's family.

The next afternoon, Susan thought that a few of her close friends and neighbours might like to read the message. And so, at 2pm on the Sunday, she passed it on to another five people who live in the inner north suburb of Wilston. When two of her children asked if they could share the email on Facebook, she said yes, because she thought that it might help their friends understand what had happened, too.

Within a few days, her words had been read by hundreds of thousands of people around the world. Her email was republished and discussed online and off; both inside and outside the medical profession. It was as though she had shot a flare skyward on a dark night, and suddenly, she found herself surrounded by strangers who were drawn to the distress signal.

People responded to her honesty with their own. They wrote to her with deep, dark secrets and confessions, some of which they dared not speak aloud. She gathered their letters and cards in a large basket that sits in the centre of her kitchen bench, while hundreds more notes piled into her email inbox. Writing to her helped them. She did not know it when she wrote the email, but they needed Susan Bryant then, and they need her now.
To read the full story, visit 
The Australian
. Above photo credit:
Justine Walpole
.
How I found this story
: I saw Susan Bryant's letter on Twitter in May. I read it wide-eyed, in awe, wondering how on earth someone could write such an incredibly moving, open-hearted letter so soon after the sudden death by their partner. Later, after reading the letter aloud to my partner, I decided that I had to find out. I met with Susan's eldest son, John, after his father's funeral, then with Susan herself at the family home the following week. I visited her four times in eleven days, for five hours of interviews.
This is the most emotionally challenging story I've written, but also the most important. I am proud of it, and I am glad that this story has found a wide audience, and fostered some respectful online discussions about a difficult subject. And I am still in awe of Susan Bryant. (Another note: I am pleased that the article title I submitted in my draft made it to print, as it is borrowed from one of my favourite magazine stories: 
Bret, Unbroken by 
Steve Friedman.)
Sounds: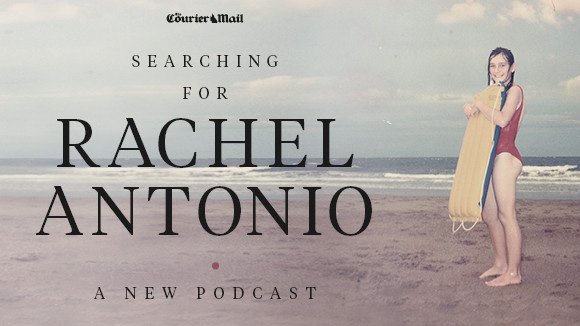 Searching For Rachel Antonio by David Murray for The Courier-Mail
(five episodes, ~2.5 hours). I missed this podcast when it was published in late 2016, but was recently reminded of it when David Murray was awarded
Queensland Journalist of the Year
at the Clarions for his work here. Based on four months of research and reporting, Murray investigates the 1998 disappearance of a 16 year-old girl in the North Queensland town of Bowen, and the result is a meticulously researched, well-produced and skilfully told story that began with a call from the missing girl's parents. His podcast revealed startling new information about Rachel's disappearance, and opened the door to the possible solving of the mystery, thereby giving her grieving parents some resolution. Great journalism.
Earlier in 2016 David Murray, an investigative journalist at The Courier-Mail and author of The Murder of Allison Baden-Clay, was contacted by the family of Rachel Antonio – a teenage girl who went missing in north Queensland 18 years ago. She has never been found and her family is still desperate for answers. Murray gained access to material few others had seen, and spoke to key people in the town the day Rachel disappeared that could hold the key to finally discovering the truth.
The Moth's 500th episode
(57 minutes). I'm not a regular listener of this podcast, but I saw friends recommending this episode, which features four compelling and vastly different stories that have aired during 
The Moth
's 500 episodes to date. My friends were right: this is great.
On this special 500th episode of the podcast, we dig through our archives and pick some of our favorite stories that have been shared on The Moth stage. Catherine Burns, The Moth's Artistic Director, and George Dawes Green, The Moth founder, join Dan Kennedy in hosting.
Where The Sun Don't Shine on Radiolab
(33 minutes). This episode is all about deep space probes, and it's wonderfully fascinating and a bit moving, too.
Today we take a quick look up at a hole in the sky and follow an old story as it travels beyond the reach of the sun. We hear from some moon-peeping listeners and then, on the 40th anniversary of their launch, we check in with the Voyager space probes. We revisit the story of the romantic time capsules that were placed onboard, and a question we asked five years ago: where exactly is Voyager 1? 
Neil deGrasse Tyson on The Nerdist
(70 minutes). It's always a pleasure to hear this man talk about science, and especially so here, as it's the unedited version of a long conversation that was recorded for a television special.
Are you ready to share some moments of expanded consciousness? Unlike many of the guests on AMC's  Talking with Chris Hardwick, Neil degrasse Tyson is not here to plug his new movie or TV series. Although he does have a new book, Astrophysics for People in a Hurry, which came out earlier this year. Neil has spoken to our founder, Chris Hardwick, several times before. This time, they didn't get around to his book because there were so many more important things to talk about. This is the special extended edition of Chris' chat with Neil, and it was never about the answers. It's always about the questions and the ideas, which Neil shares in such a wonderfully eloquent way. Neil says that he isn't trying to be a "great communicator," but he did share the reason why he learned to speak in soundbites after his first experience on television after he became the director of the Hayden Planetarium.
Reads: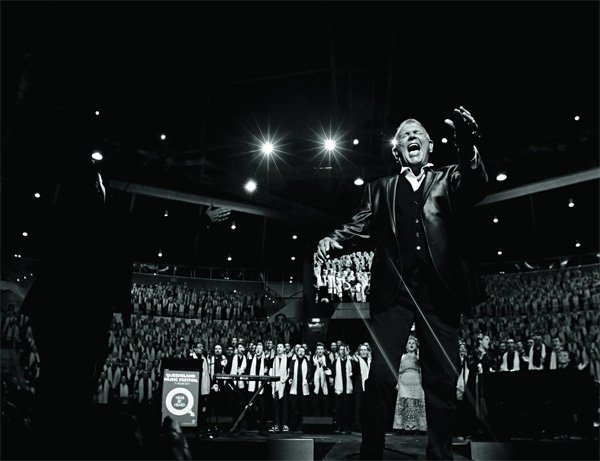 Finding Their Voice by Trent Dalton in The Weekend Australian Magazine
(2,000 words / 10 minutes). I love this story, which is about the series of events that led to 2,500 people gathering at the Queensland Music Festival for a one-off performance of John Farnham's song 'You're The Voice', all in the name of ending domestic violence. Farnsey himself was there, of course, and Trent Dalton captures the moment beautifully.
Strange rattle in the brakes on the Toyota. Seal busted on the fridge.Doctor wants a bowel scan because my aunt died of cancer in the 1990s. Kids coulda done better on NAPLAN. Gay brother can't marry. Straight mate can't afford alimony. Login password doesn't have enough caps and digits. The only people who speak nice on the phone wanna sell me solar panels. Terror has risen, Pringles have shrunk. Bowie's gone. Prince has gone. Daniel Day-Lewis has retired. The Smiths are never getting back together. Sitting down is slowly killing me. Standing up is dangerous. Dodgy priests. Humourless zealots. Too much whine. Not enough wine. Fireworks in Canberra. Waxworks in Washington. The good people of Guam runnin' for their lives. Marching Neo-Nazis preaching the power of white men. Overworked Australian police attending to 5000 domestic and family violence matters every week. One DV incident in my country every two minutes. But for the next five minutes and 23 seconds on Earth I'm singing my lungs out with John Farnham and nothing's gonna wipe this smile off my face. Oh, how this bloke moves me with this song. Dame Quentin Bryce feels it. The Classiest Woman in Queensland – official title – clenches her right fist, pumps the Brisbane sky like Iron Maiden fans did in 1983. Katie Noonan feels it. She shakes her head in disbelief, wondering how she made all this happen. How it came to pass on this brisk winter evening in late July that a choir of 2500 people wearing yellow scarves could be singing in full and united voice behind Whispering Jack himself. "We can write what we wanna write," he sings. "We gotta make ends meet, before we get much older."
The Story Of Us by Trent Dalton in The Weekend Australian Inquirer
(4,700 words / 28 minutes). It's a Dalton double-up this week, though only because I forgot to include the above story in last week's edition. I'm linking here to the first part of five stories totalling 18,000 words on Captain Cook's Endeavour voyage. This is a brilliant blend of historical journalism with contemporary reporting, and I like the way that Dalton blends the European and Indigenous Australian views throughout the narrative so far. Here's
part two
and
part three
of the
Cook Rediscovered
series, with the others yet to be published as I write this. As a longform addict, it's thrilling to see 
The Weekend Australian
 investing in careful, slow, expensive journalism in this way. Five of my seven recommendations this week were published there, and I think that if you're a serious reader of Australian journalism, you can't afford not to subscribe to this newspaper.
She has to be seen through the eyes of the young. Nicholas Young. The cabin boy they call "Young Nick", the youngest of Cook's crew. Hope in his heart, heart in his throat. He's 11 years old and before he reaches his teens he will see death and glory, lust and violence, and a southern world that exists only on the latitude of his wildest dreams. But for now all he sees is her. The ship they call Endeavour, anchored in the dockyard waters of Plymouth, on the south coast of Devon. August 26, 1768. She fills the boy's senses. The adventure in her. The feel of her wood beneath his soft fingers. The smell of salt and sea in her ribs and rails. She's a product of Yorkshire, like the great captain who'll make her famous. And like that towering 6ft-tall figure, James Cook, she's all business. No figurehead on the prow. No useless decoration. A coal boat, more functional than fancy. Thirty-two metres long, only 9m across the beam. A broad bow, a square stern, a frumpy body and a flat bottom. Her captain – who cut his 40-year-old sailor's teeth plying coal along the English coast – sees things in her others can't see. He sees reliability, a shallow draught that will allow him to manoeuvre close to shore in only a few fathoms of water, like the barks that carry coal across the North Sea into London. She won't sail gracefully but she'll sail far.
Body Count by David Murray in Qweekend
(3,800 words / 19 minutes). More fine work from David Murray, whose podcast 
Searching For Rachel Antonio
 I mentioned above. Here, he writes about Queensland's so-called "no body, no parole" law that will force murderers to remain behind bars until they share the location of those they killed. On another reporting trip, Murray happens to meet the widow of a man who was murdered on a remote goldfield, and she happens to be the one who instigated the law. Again, great journalism. David Murray is among the best crime reporters in the country.
"Don't get your hopes up. Don't count your chickens." Fiona Splitt has always felt this way, but even more so since her husband, Bruce Schuler, went missing just over five years ago. We first cross paths by chance at Cooktown's airstrip on Tuesday, August 8. I'm arriving for another story and Splitt is about to fly out on the small plane I've just exited. She's setting off to witness the passage of a new law that will force killers to give up their secrets or remain behind bars – for good. It's a law she helped bring about. No body, no parole: four simple words that will fortify the spirits of many families just like hers for years into the future. But she doesn't believe that yet, because when we meet there's still a two-day wait before the law is put to a vote in State Parliament. "I'm not one for counting chickens before they hatch," she says. Agreeing to talk again when there's more time, Splitt walks out on to the narrow runway and boards the 12-seater Cessna Caravan. She's bound for Brisbane, via a transfer in Cairns. It's a 1900km trip each way, but that's nothing after the journey she's been on.
Letting Go by Will Swanton in The Weekend Australian Magazine
(3,100 words / 15 minutes). A sharply written profile of aerial skiier Lydia Lassila, whose career has been a thrilling, occasionally horrifying reel of highlights and lowlights. She's giving the Winter Olympics one final crack before retiring. Will Swanton's sports writing is never boring, and this is a fine example of his skill as a feature journalist.
Release your mind to the limitless possibilities of a cloudless sky. Release your body from a snow-packed 65-degree ramp at 70km/h. Release your fears and worldly responsibilities and pressures and commitments in this singular moment of freedom when you hit the ramp at breakneck speed with an almighty swoosh of parallel skis. Release yourself into the exhilaration of floating above this Earth. Up you go. Down you must come. Mentally. Spiritually. Physically. Throw yourself into tucks and somersaults and twists and whatever else you have promised the judges and yourself before the game is decided by the way you finish. In life and in aerial skiing, you must land on your feet. "We have an evolutionary cycle as athletes," Lydia Lassila says. "We come in. We reach our crescendos. We leave. We are prepared for the first two things. We are not prepared for the third. For myself and for my family, I have to get this right." Lydia Lassila is 35 years of age. She's a mother of two. Her complex six-act play of a career is a thrilling, horrifying reel of highlights and lowlights that will end next February at the Winter Olympics in South Korea. There's been immense achievement: four Olympics, a gold medal, a bronze medal, a world record, World Cup triumphs. Confirmed status as the most groundbreaking female aerial skier in the world. And now the comeback, as unlikely as it is inspiring. 
U2 In California by Elmo Keep in Neighbourhood
(1,800 words / 9 minutes). I love reading great writers when they turn their minds to why artists or songs move them, and where their music fits into their lives. This article is a great example of that. 
When choirs sing, all their members' hearts sync up in time with the music. This is best achieved through slow chants, or pieces heavy on vowels. As the singers match their phrasing, they breathe in and out in time and their hearts soon start to beat in unison. I think about this in a stadium where I am standing with 90,000 people. More accurately yelling than singing, we all exorcise a memory of someone you can't live with or without. We belt out in our heaving entity deafening vowels where all you can hear is the sound of your own voice echoing in your skull. I have come alone to feel a sense of communing I don't find anywhere else. I had blown up my life and I was driving, with only a vague destination, alone across America. I was on the lookout for lodestars, none forthcoming. I had bought an old SUV for cash in east LA and taken it to an elderly Armenian mechanic on the advice of a friend. There he fixed the alignment and promised me the thing would take me all the way to New York, and that if it didn't I should call him from wherever I was that it had broken down so he could wire money to me to fix it. I saw myself wandering the desert in search of a phone booth, but I never needed to call.
Tracks Of Tears by Ricky French in The Weekend Australian Magazine
(2,600 words / 13 minutes). I was a great admirer of this story when it was published a year ago, and I revisited it today as research for a story I'm currently writing. I like how Ricky French found a story that was in plain sight, yet unseen by other magazine writers: namely, how do train drivers deal with the horror of bearing witness to people who throw themselves in front of trains? His point his sharply made in this section, near the end: "The psychiatrists, the counsellors, the mental health experts, none has to see the final act of a person's life, and here train drivers are, dealing with the horrific end result of an overwhelmed and under-resourced mental health system. Emergency services workers, greatly respected by train drivers, sign up to the job knowing what to expect. Train drivers sign up to drive trains."
It's late December 2012, a few days before Christmas. Len Gaut (pictured above) parks his car and grabs what he needs from the back seat. He walks across the suburban Sydney street to a bridge that spans the train tracks seven metres below, and stops halfway. The girl who jumped from this spot where Gaut now stands, who landed on the tracks in front of Gaut's train an hour before sunrise, was only 17. There were two drivers in the cabin. His mate had never had a fatality before but for Gaut, then 55, it was all too common. Time slowing down; the long walk back along the tracks to confirm what he already knew. As the NSW TrainLink driver watched the girl's last seconds of life, the only thought that had flashed through his mind was, Here we go again.
The Forum by Rick Morton in The Weekend Australian Review
 (700 words / 3 minutes). As a feature writer, I don't envy regular columnists, who are tasked with telling stories in few words on a regular basis. This is one of the strongest columns I've read so far this year. It's deeply personal, as it's about Rick Morton's experience of growing up while paying close attention to how the people around him reacted to the very idea of gay people, and how such discussions were often framed in terms of disgust or contempt. He skillfully links these experiences to the current debate about same-sex marriage that's taking place in Australia. 
Once a month, when my brother and I were children, we would set off with our father for a "killer": shooting a fat bullock in the home paddock and carving it up for meat. While Dad would handle the carcass, slicing out the cuts of meat and throwing them on a bed of mulga branches in the back of the ute, my brother and I would get stuck in around the edges with our pocket knives. When you remove the bladder of a cow it looks like a blue-grey balloon filled with urine. Kicking it around becomes a game, sort of like soccer but with higher stakes. In bladder ball, the brother who was doused first was the loser. One might find the idea disgusting – which would involve poking the part of the brain called the anterior insula, which regulates disgust, an emotion tied to physiology. It is a useful bit of hardware and helps us avoid eating rotten fruit and making contact with those who are visibly sick. The insula takes readings from the gut and other organs in producing these, ahem, visceral emotions. In other words, it goes straight to the experts – and that's not you but what is inside you.
Thanks for reading. If you have feedback on Dispatches, I'd love to hear from you: just reply to this email. Please feel free to share this far and wide with fellow journalism, music, podcast and book lovers.

Andrew
--
E: [email protected]
W: http://andrewmcmillen.com/
T: @Andrew_McMillen
If you're reading this as a non-subscriber and you'd like to receive Dispatches in your inbox each week, sign up here. To view the archive of past Dispatches dating back to March 2014, head here.