World Wi-Fi vs everyone else
The idea of creating a global, freely available internet is not a new one, and many non-blockchain companies have been realizing this idea for years to some degree or other.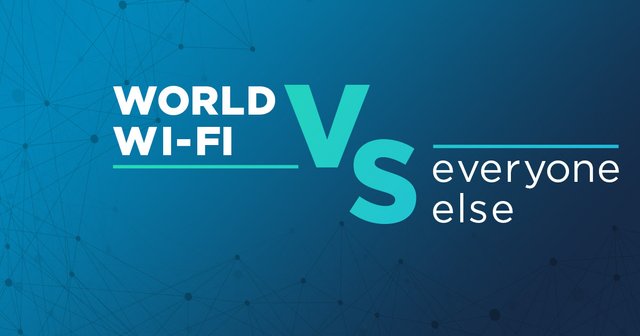 Boingo
BoingoWireless, Inc. – a supplier of software and Wi-Fi services that enables easy, convenient and inexpensive Wi-Fi access for users on their notebooks or mobile devices with more than 325,000 hotspots worldwide. Boingo and its subsidiary company, Concourse Communications Group, manage wired and wireless networks in major venues worldwide such as airports, major sporting arenas, shopping malls and conference centers and fast food restaurants.
HotspotSystem
HotspotSystem provides hotspot management services and billing for companies or individuals who want to provide internet access to their customers. Their cloud-based management of access points enables customers to manage unlimited hotspots from a control center.
AIRFY
This is a public wifi service for business. Guest data traffic is sent securely to the internet via an air VPN server.
SOCIFI
SOCIFI is a cloud-based platform for wireless providers, which can be scaled to a local hosting solution for the enterprise infrastructure.
However, we do not consider the above projects and those similar to them to be direct competitors for World Wi-Fi, mainly because they are not decentralized.
There is one exception, though
IUNGO
IUNGO is a decentralized internet provider that unites private and corporate internet users worldwide. Anyone can become an internet service provider and grant others access to the global internet. Access can be free or paid; it is up to the user and the access provider. Users providing internet access receive rewards.
Comparing these projects, let's note the competitive advantages for the World Wi-Fi project:
World Wi-Fi's founders own existing businesses, «Adrenta» and «RadiusWi-Fi», whose hotspots will be integrated into the World Wi-Fi platform.
An opportunity for advertisers to create targeted advertising.
A referral program for owners of routers.
Those possessing root invites do not pay commission.
Free internet for users; one only needs to watch ads.
World Wi-Fi combines two rapidly developing sectors of the market: The market for a global Wi-Fi network and the digital advertising market.
A very important role in this project is played by the advertiser, as they will pay router owners for ad views. Currently, there are many blockchain projects trying to occupy their share in the digital advertising segment. We are not going to review each of these projects separately; however, we would like to point out strong competition for attracting advertisers to platforms. To this end, World Wi-Fi has developed a solid marketing plan for the development of the project and attracting advertising on a global scale.
*be ICOrating.com