I seemed to noticed this drink being served in several coffee joints in both Hanoi & Saigon. This drink is very unfamiliar to me as from where I come from, I've never tasted or been served in this manner before.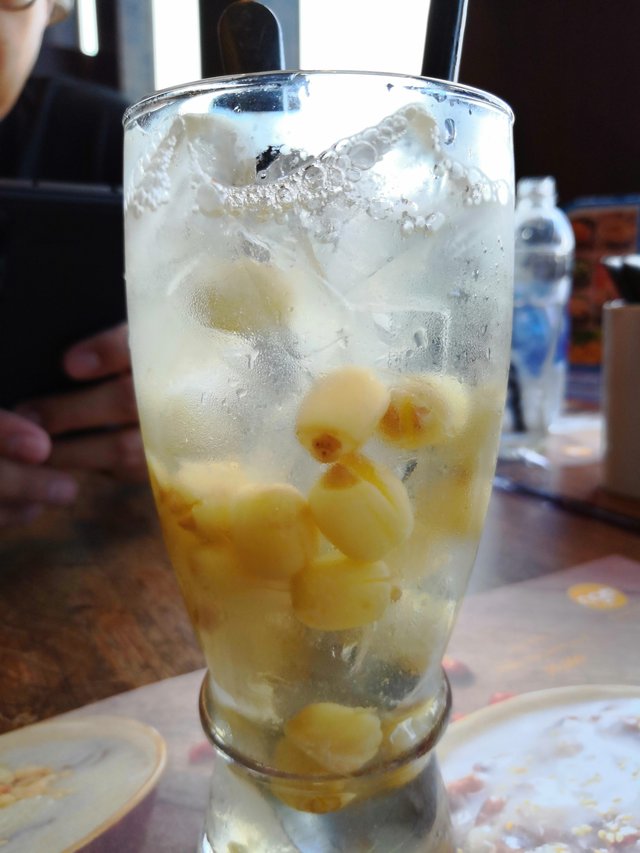 In this particular cafe, it's called Iced Tea with Lotus Seed & Jelly. As you may see it, it's a drink as compared to back home, it's usually a dessert and served warm.
Ingredients :
Sugar Syrup
Ice
Soften lotus seed
Jelly
Lotus seed is a common ingredient in many dishes and drinks in Vietnam. It can also be eaten as a snack with beers and etc.
It is indeed a nice refreshing drink if you've been out the entire day and something to quench your thirst. Only think is that it's a bit too sweet for my palette.
So, here it is, my submission of the Monday Drink. I definitely call it a unique drink... at least for me right now.
IT'S A MONDAY DRINK TIME !!
I hope you enjoy my photo as it's taken from my Huawei phone.

Thank you @travelsbyblue owner of THE HOME OF @worldsdailyfood for introducing me to this new world.
Join the fun in #worldsdailyfood photo contest:
MONDAY DRINKS
TUESDAY APPETIZERS and/or SOUP
WEDNESDAY MEAT DISHES
THURSDAY SEAFOODS
FRIDAY PIZZA and/or PASTA
SATURDAY SALAD and/or DESSERT
ANYTHING GOES SUNDAY