IT'S THURSDAY SEAFOOD TIME !!
Have you ever been served fresh prawns in a platter ?
This is my first time too !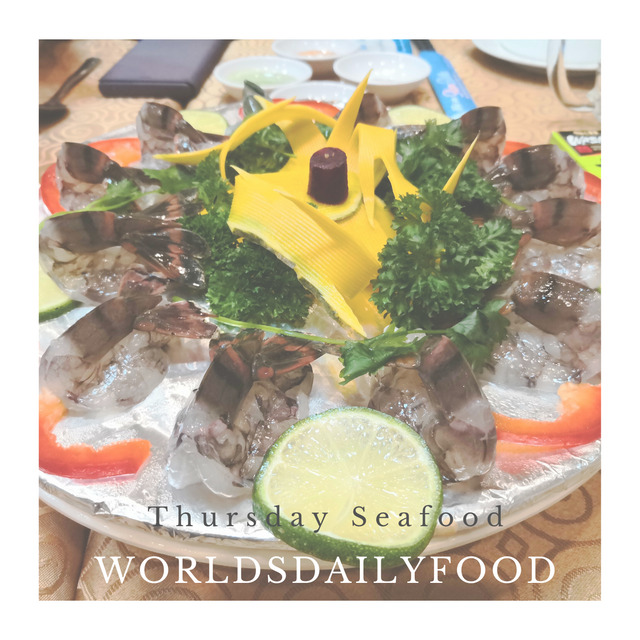 Not knowing how to eat it, I asked my fellow colleagues for advise. Seems like, it's quite similar to sushi, only that instead of dipping the seafood into soya sauce mixed with wasabi; we dip it into a bowl of lemon juice and mix it well. The acidity from the lemon juice will cook the prawns. After which you can just eat it as it is OR dip it into soya sauce mixed with cut red chillies. Either way, both taste just excellent !
I much prefer to just eat it fresh after dipping the prawns into lemon juice. As the saying goes, when we're in Rome, we do as the Romans !
Try this in your own home, simple, easy and most satisfying. Just be sure to have fresh prawns because if it's not, the smell is excruciating !
Hope you enjoy my photo as it's taken from my Huawei.

Thank you @travelsbyblue owner of THE HOME OF @worldsdailyfood for introducing me to this new world.
Join the fun in #worldsdailyfood photo contest:
MONDAY DRINKS
TUESDAY APPETIZERS and/or SOUP
WEDNESDAY MEAT DISHES
THURSDAY SEAFOODS
FRIDAY PIZZA and/or PASTA
SATURDAY SALAD and/or DESSERT
ANYTHING GOES SUNDAY