Group C
AUSTRALIA 0 - 0 PERU
English
Andre Carrillo at minute 18 and Paolo Guerrero at minute 50 gave Peru their first victory and the first smile to the Peruvian fans. Peru played on a very good level and with a very likeable style, this match result gives them a much needed honour, where they got less than what they deserved... the Peruvian team deserved to advance to the knockout stage but in football there is no such thing as fairness, only goals and results.
---
Australia was one of the biggest disappointments of the Group stage. Even though ewe weren´t expecting a top tier team, we sure as hell were expecting the mid level football we are used to see in the down under team.
This game was pretty unnatractive because both teams arrived here already eliminated from the next stage, the only thing on the line was the honor of winning one game and to go back home with one victory out of three games. To say good bye to Russia with a little dignity.
Español
Andre Carrillo al minuto 18 y Paolo Guerrero al minuto 50 le dieron su primer victoria a Perú en este mundial y con este digno resultado se despiden de la copa del mundo, un torneo donde merecieron mas de lo que obtuvieron, pues el fútbol de los peruanos era interesante y atractivo, pero al final no lograron encontrar el gol en los primeros dos partidos.
Australia fue una de las decepciones de este mundial, y aunque no se esperaba un gran papel de los australianos, simplemente seria interesante ver un mundial en el cual puedan superar la etapa de grupos.
Este partido era poco atractivo pues los dos equipos llegaban eliminados y lo único que estaba en juego era despedirse con dignidad del torneo.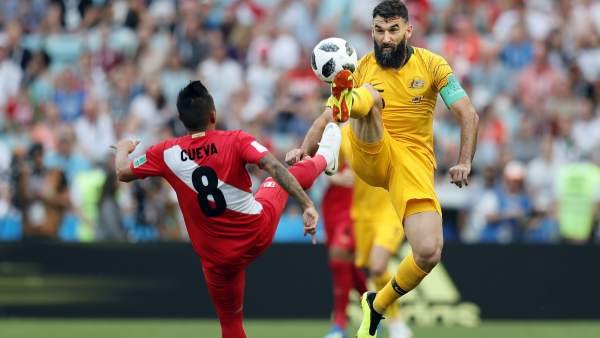 Source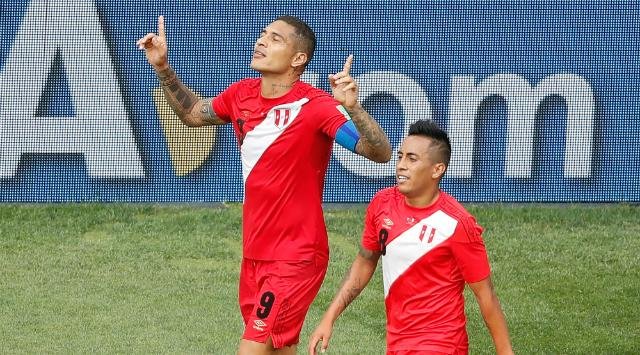 Source
DENMARK 0 - 0 FRANCE
English
The first tie with no goals of the whole competition came from France and Denmark. ITs worth noting that the Frenchmen played with a B Team so to speak, with meaningful changes in key positions but still, what Denmark did was no easy task, they played a well balanced game and managed to equilibrate the field with the powerful France.
In numbers and statistics the game was very close and France kept the first place of the group and they will most likely face Argentina in the last 16 round, while Denmark most likely will face Croatia.
Español
El primer empate sin goles del torneo nos lo regalo la selección de Francia y Dinamarca, cabe resaltar que los franceses mandaron un cuadro semialterno al terreno de juego, con cambios significativos en posiciones especificas, pero aun así, no se le resta merito a los daneses que hicieron su partido y equilibraron el partido en contra de una poderosa Francia.
Aun en las estadísticas el partido fue muy parejo y con este resultado Francia se queda con el primer lugar del grupo C y es muy probable un enfrentamiento con la selección de Argentina en los octavos de final, mientras que Dinamarca enfrentara a la selección de Croacia que es líder del grupo D.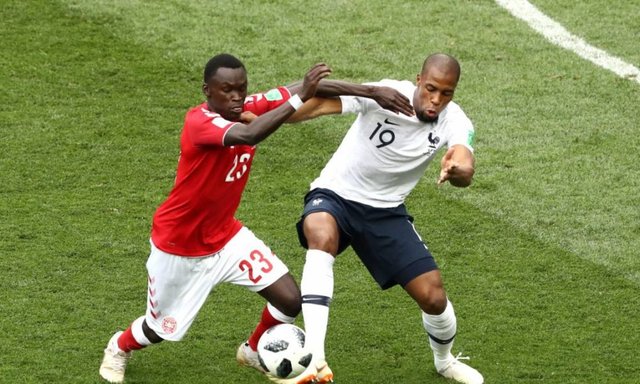 Source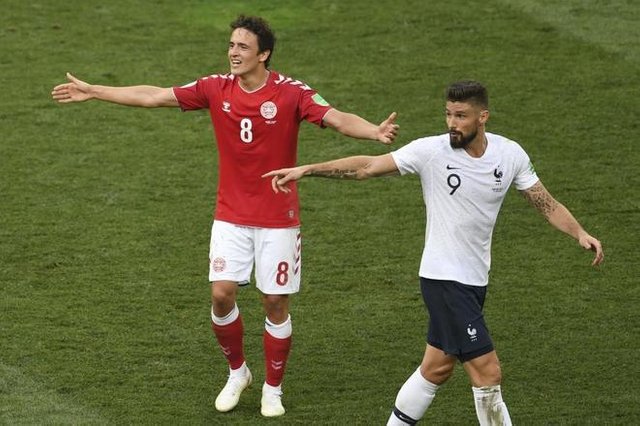 Source
Group D
NIGERIA 1 - 2 ARGENTINA
Argentina desperately needed a victory here, otherwise they would have been eliminated from the cup and it seems the Argentinians and Lionel Messi realized that because they wquickly scored when the match was starting. With a beautiful long distance goal Messi made the ball cross all 30% of the field leaving the Nigerian goalkeeper with nothing to do against such a great goal.
But the Nigerians weren´t done yet and after a few offensive plays there was a clear foul inside the area and the referee didn´t hesitate to give the Nigerians a penalty kick that Victor Moses, Nigeria´s captain and Chelsea´s start, converted into a score. This score mathematically eliminated the Argentinians and gave the Nigerians the ticket to the knockout stage but the South Americans started to corner the Africans and in the last minutes they managed to score the 2-1 by the hand - or foot - of Marcos Rojo. The Argentinians will face the powerful France in the next round, a great test for them.
Español
Argentina necesitaba urgentemente del triunfo, de lo contrario quedaba eliminada del torneo y al parecer los argentinos lo entendieron y de la mano de su mejor hombre Lionel Messi se fueron rápidamente al frente en el marcador, en un gran gol con un pase de mas de 30 metros que Messi bajo con gran clase y cruzo al portero sin nada que hacer para el guardameta nigeriano.
Sin embargo los nigerianos no se quedaron callados y tras varias llegadas a la portería argentina se marco un claro penal que Victor Moses, Capitan de Nigeria y estrella del Chelsea marco con gran tranquilidad y liderazgo. Este marcador tuvo eliminados a los argentinos que poco a poco fueron acorralando a los africanos dentro de su área, para que al final los últimos minutos del partido terminaran acorralados en su área, y ahí fue cuando en un pase por la banda Marcos Rojo le pego de bolea al lado izquierdo del portero para darle la victoria y el pase a la siguiente ronda a los argentinos, que enfrentaran a Francia en una verdadera prueba de fuego para la albiceleste.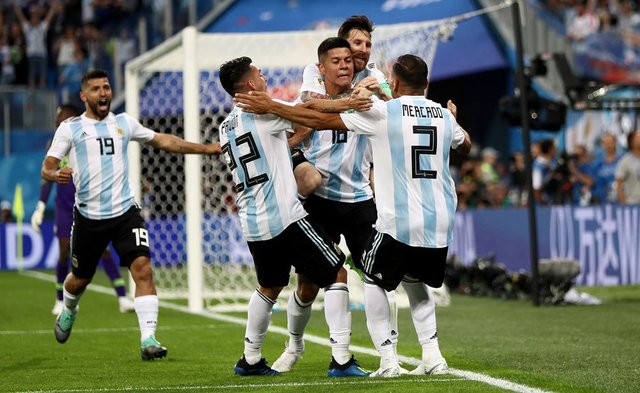 Source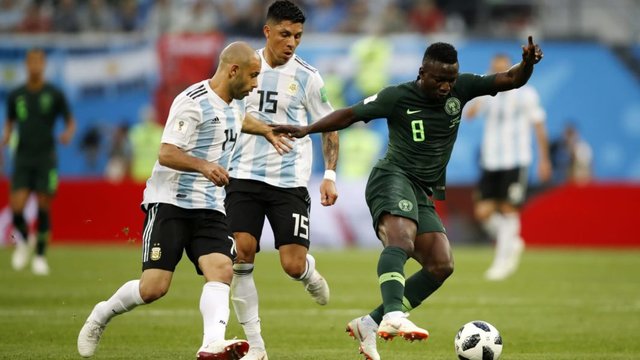 Fuente
ICELAND 1 - 2 CROATIA
English
Iceland was already eliminated from the tournament and Croatia already had the first place of the group, so nothing much was on stake here and still, both teams played as if it was the final game of the cup. We didn´t expect less from the nordic team that always plays to death on every game, we only wish that this attitude and game style would´ve been enough for them to wualify to the next round.
Milan Badelj at minute 53 and Ivan Perisic at minute 90 gave Croatia the victory and for Iceland, it was the captain Gylfi Sigurdsson who gave the Nordic men the honour score. This result doesn´t really change anything on group D and yet, 3 victories for Croatia means a lot and we are seriously considering them as one the top 4 teams that can go very far into the tournament, let´s just remember that the knockout stage is a completely different world cup than the group stage and anything can happen.
Español
Ya con Islandia eliminada del torneo y con el primer lugar del grupo asegurado para los croatas, este partido parecía un mero tramite para los dos equipos que , sin embargo, jugaron con la misma intensidad con la que se juega una final, y no se podía esperar menos de los Islandeses que como sello característico tienen el morirse en la cancha para ganar cada jugada, y aunque así disputaron este torneo, esta vez no les alcanzo para avanzar de la etapa de grupos.
Milan Badelj al minuto 53 e Ivan Perisic al 90 anotaron para la victoria croata, y el descuento de parte de los Islandeses lo marco su capitán Gylfi Sigurdsson. Este resultado no cambia las posiciones del grupo D, sin embargo tres victorias de los croatas los ponen como serios candidatos para llegar lejos en la siguiente ronda del torneo, aunque recordemos que a partir de este momento comienza un nuevo campeonato donde solo los grandes trascienden.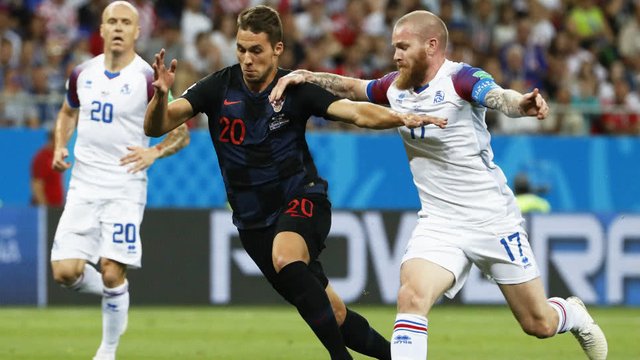 Source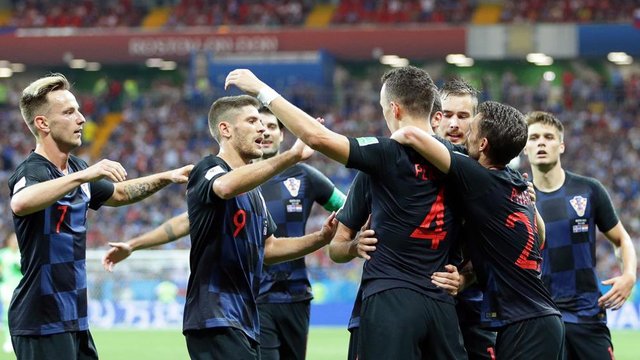 Source
If you would like to include a translation to your language, contact @anomadsoul on discord :)

---
This is a @blocktrades sponsored contest, if you like what he is doing, vote for @blocktrades as witness here
This is an @anomadsoul & @acidyo organized contest, if you like what we are doing, vote for @ocd-witness as witness here
Translations kindly provided by:
Spanish: @zlatan-spielberg
Deutsch: @lizanomadsoul