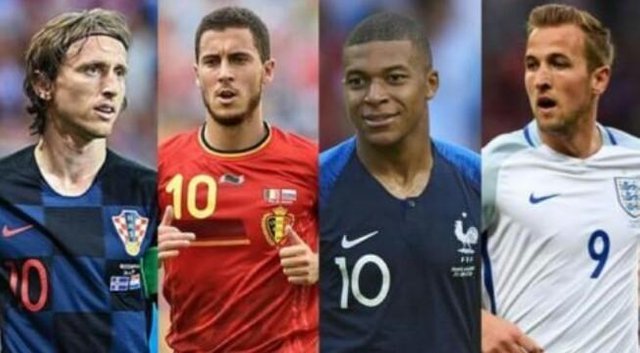 Russia's World Cup tournament has reached the semi-finals and only the four remaining teams.
France counter Belgium, Croatia against England that really strong will appear in final party 15 July.
Each team has its own advantages and equally have a chance to qualify for the top party. They have what it takes to achieve it.
Each country has its own advantages and disadvantages. it is the strength that brings the country forward so far.
France: Flexibility
France: Flexibility

Coach Didier Deschamps had in doubt menukangi France, because the French team is considered to have many talented players but not in the call by him. But it actually makes a maximum appearance.
Bermainsecara efficient, Les Bleus look stunning when beat Argentina 4-3 in the round of 16 large, then ferociously expelled Uruguay 2-0 in the quarterfinals. Are those three different French teams? No. It's the same team, but with different tactics.
Flexibility. The French know how to deal with his opponents studying the semi-dot point that makes him look ferocious. It is a rare and precious ability.
France can play the game with a 4-3-3 scheme in one game, then can be changed to 4-2-3-1 in the next game. At the same time, Deschamps could overhaul whether he would use Olivier Giroud's posture or Kylian Mbappe's speed to damage the opponent's defense.
In this World Cup semi-final there is no longer a weak team name. big team teams like Germany and Spain just can not reach this point and even go down in the group stage.
Ball control does not guarantee victory, and experience is not a guarantee of success. Option is everything.
Belgium: Collectivity

On paper, the Belgian national team is one of the most fertile in the 2018 World Cup. So it makes the value of the collectivity that is the foundation of their success in Russia.
The trio of English League stars Eden Hazard, Kevin de Bruyne and Romelu Lukaku are always reliable. But the other players, both regular and backup, are also always ready whenever needed.
There are about nine different players already scored for Belgium in the 2018 World Cup. Lukaku has scored four goals, Hazard scored twice, while each goal was donated by De Bruyne, Adnan Januzaj, Dries Mertens, Jan Vertonghen, Marouane Fellaini, Michy Batshuayi and Nacer Chadli.
The burden of scoring is not only on the responsibility of Lukaku alone but all the existing players including the defender. It was seen as they grabbed a dramatic victory over Japan in the last 16 and beat Brazilian favorites in the quarter-finals.
Coach Roberto Martinez has set up an incredible team. He is able to guide this star-studded team into a single unit who is willing to sacrifice for belgium belgium country.
Croatia: midfield

Croatia is one of the black Horse teams and the most surprising in Russia 2018. After appearing as the champion of the group of hell and make Germany not qualify group.
The victory through a penalty shootout over Denmark and the hosts of Russia shows that this Croatian team has a strong and mentally steel-like player.
But no doubt, the main strength of the Croatian national team is its midfield which is arguably the best in the 2018 World Cup. The midfield is inhabited by a classy midfielder who is able to turn the game on.
Ivan Rakitic and captain Luka Modric are the lives of the crown national team. The combination of two Barcelona and Real Madrid midfielders this produced the game of Croatia became more alive and more frightening.
But they are not alone. Combined with Marcelo Brozovic (Inter Milan), Mateo Kovacic (Real Madrid) and Milan Badelj (Fiorentina), making the golden generation in the national team's crown juventus.
England: Variations

It's hard to find anything special from the England team in Russia 2018. Because, Gareth Southgate's troops continue to find ways to win.
The growing young players are able to integrate their game with senior players and make the game more interesting. They are ready to face any opponent in this tournament. The effectiveness of their game is also commendable.
In Russia 2018, England have won their first penalty shootout in the history of their participation in the World Cup.
In addition, young English players have also shown that they are able to compete in the World Cup tournament. Jordan Pickford who appeared like a spiderman under the bar, also captain and top scorer Harry Kane, each even just 24 years old.
My prediction French vs Belgium 2-1
england vs croatia 1-0
final
french vs england 2-0
how to predict a steemian friend?