Thank you @xpilar for the invitation to the contest, wonderful exercise where imagination plays an important role.
This is my entry to the contest.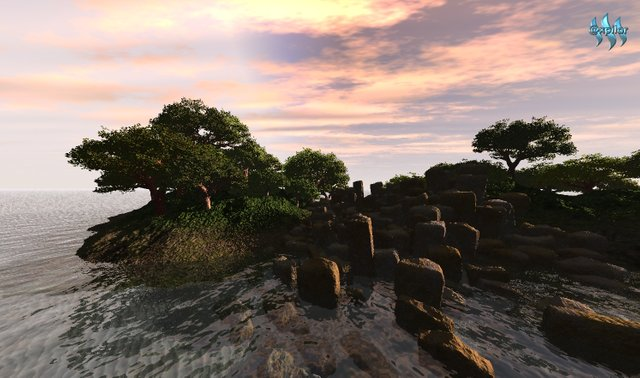 Image was created by @xpilar/ La imagen fue creada por @xpilar

LITTLE ISLAND.
My imagination is running away with me,
to a small island,
surrounded by natural energy.
The sunrise,
welcomes me,
with its beautiful colors that decorate the sky.
The sea breeze,
play with my hair,
and gently caresses my face.
The sea,
It hits the rocks,
producing a continuous noise,
that invites relaxation.
The leafy trees,
shade and freshness,
project a climate of peace.
I feel
that time has stopped,
my soul has been revitalized,
thanks to the island's natural energy.

Gracias @xpilar por la invitación al concurso, maravilloso ejercicio donde la imaginación juega un papel importante.
Esta es mi entrada al concurso.
PEQUEÑA ISLA.
Mi imaginación me lleva,
a una pequeña isla,
rodeada de energía natural.
El amanecer,
me da la bienvenida,
con sus bellos colores que decoran el cielo.
La brisa marina,
juega con mi cabello,
y acaricia suavemente mi rostro.
El mar,
choca con las rocas,
produciendo un ruido continuo,
que invita a la relajación.
Los árboles frondosos,
sombra y frescura,
proyectan un clima de paz.
Siento,
que el tiempo se ha detenido,
mi alma se ha revitalizado,
gracias a la energía natural de la isla.