Ever since she was a child, Heather always wanted to be a squirrel groomer. What could be more fun than brushing such a cute, playful animal's fluffy tail? Her husband thought it was a stupid idea, but after she got divorced and her youngest daughter went to college, she stopped listening to negative-thinking people. Heather quit her boring HR job, turned her garage into a grooming area, ordered laser-cut business cards in the shape of a red squirrel, created the website rosemount-squirrel-grooming.com, and wrote an article in Dog Groomers Monthly explaining which shampoo would be the best choice to clean a squirrel's fur.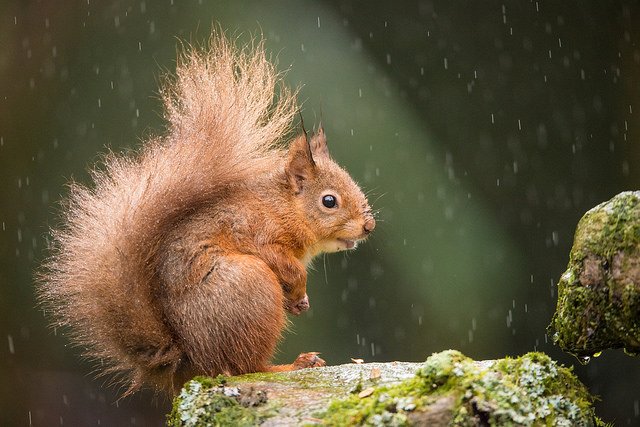 Now, does this mean that Heather is a squirrel groomer? There's one problem: she's not grooming any squirrels. The only client who showed up was a pervert who wanted her to clean his dirty artificial "fursuit" while he was wearing it. Unfortunately, wild animals with razor-sharp claws and teeth are difficult to keep as pets and in many places, keeping them as pets is illegal. Even tame squirrels don't like to be handled by strangers.
Of course, Heather's a fictional example, but whenever you start a new business, especially if it's unregulated and you haven't worked in the same field before, you'll have to fake it till you make it. It's a part of being self-employed that still makes me giddy. The first thing I bought when I started as a freelance translator in 2002 was a .nl domain name, which individuals couldn't get at the time. Then I had 500 copies of business cards and stationary printed, which quickly went out of date. Now that I'm renting office space, I'm happy that I can list an official business address; much safer than using your home address.
I did become a freelance translator eventually, although it took two years until I received a regular income from translating rather than coding, proofreading or blogging. Speaking of which... I've been fooling myself just like Heather. Blogging on Steem enabled me to pretend that I was working in crypto, while I was actually just following the crypto news and selling coins. I stopped blogging once I actually started working in crypto, by translating for Monero and receiving donations. I want to emphasize here that I didn't stop because I was disappointed in the price of Steem. And I am still planning to use Steem on a professional level in the future.
Wrapping up something from a crowdfunding post: I promised to donate the proceeds of that post to my own project. And I can't exactly prove it, because Monero is private, but I did give away my last moneroj, taking my request from 99.99% funded to 100,54% funded. Since then, I finished the first two milestones: translating the Kovri website and the Monerujo app for Android into Dutch. By the way, Monero had a successful protocol upgrade today, and transactions are much cheaper now.

I'm still at the same stage as Heather when it comes to another dream of mine. Since @brianphobos posted about apps like uShip here, I've been obsessed with the idea of working as a long-distance courier while travelling around Europe. I love being on the road and I don't really care where I go, as long as I have a more relaxed schedule than truckers do. I bought a car that was just 5 kg below the capacity that would require a license and training, I bought bubble-wrap and official waybill forms, and I planned a number of trips in order to post bids on uShip and Shiply, but it's hard to compete against professionals who can fit more cargo in a van. This project probably won't get off the ground until next spring (which means the UK is off the table after Brexit).
In the past weeks, I've had positive and negative financial surprises, and the one thing I kept hoping for was that I'd be able to travel by car again. I wasn't hoping that I could go to Steemfest 3. Also, thinking rationally about this, I enjoyed Steemfest 2 in Lissabon, but it was essential that I could go outside and walk around at any time. Any conference will be at the limit of the amount of communication I can process as an introvert. That's one of the reasons why I prefer the unconference format, so I can actually talk to people rather than feel dazed after listening to five talks in a row. Going to Poland in the winter will probably mean spending much of your spare time going to bars and restaurants together. Sorry, that's not my cup of tea. Enjoy yourselves without me, blabbermouths.
Is there still hope for Heather and me?
Heather's website caught the eye of a veterinarian working for the Sherburne Squirrel Sanctuary. The vet was impressed with her enthusiasm, and convinced her to focus her energy on enabling squirrels to live a natural life. Now she's working as a rehabilitator for the sanctuary, training squirrels who were raised by humans to live in the wild, and educating visitors. She has more cuts on her arms than an emo teenager, but she's happy that she finally got to work with her favorite animals.
---
Top photo by Matt Green (CC BY-SA 2.0), bottom photo from Pixabay.