Redesigning my website
I'm almost done with my revamped website for WebGrrrl.net, and only need a bit more finishing touches on the blog section before I put it live tomorrow.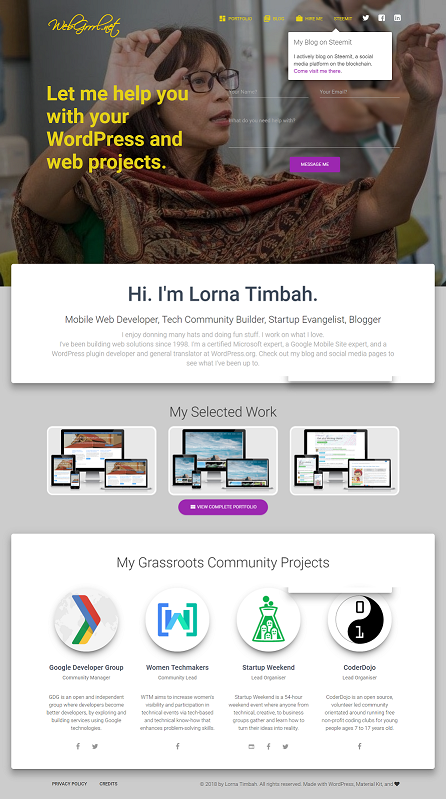 This is WebGrrrl.net 3.0.
I can't believe it has been six years since my last design update. My belief has always been that content reigns over design, and so making my website pretty has never been a main priority for me. Besides, I'm not much of a designer as I am a coder, so I usually wave off any need that's not practical or functional.
Now that I consider Steemit as my main blogging platform, I'm changing the strategy of my main site to that of a portal that's used mostly for others to reach out to me. I still love WordPress, and I don't see myself not developing on it anytime soon.
Markdown language for blogging is liberating. The less option I have on my post dashboard, the less need I have to make my posts "pretty". Steemit caching works really well, too. I had a blog post all ready in WebGrrrl.net, and as I was ready to submit, I accidentally closed my tab, and the draft was gone. So was my 30 minutes of posting. Oh well.
I'm excited for the reveal! Yay!
LIKE WHAT YOU READ? Then check out my previous post: https://steemit.com/meetup/@webgrrrl/running-free-tech-events-in-kota-kinabalu-2018