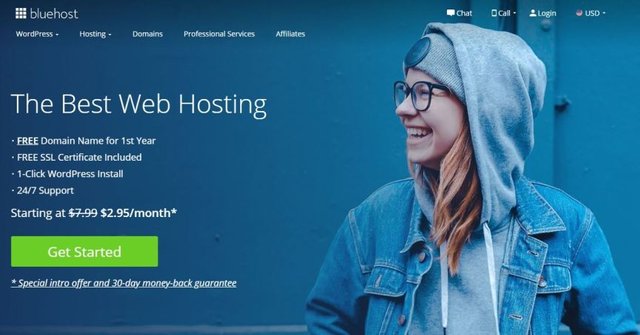 Image Credit-:Bluehost
WordPress is best CMS (Content Management System ) that can be used to make Blog or Website. there are many other platform as well like Drupal, Joomla etc which are little bit complicated. it is good to see that WordPress power more than 30% of Internet website. one of the best thing about WordPress is easy to handle the Back End Process of a website. In case of any Query You can get support from the Awesome WordPress community and your Hosting Provider. In this post I will talk about how you can kick start your WordPress website with Bluehost Share Hosting.
Domain Name is online identity of any Blog or Website. it is real name of any business in internet world. There are hundred of Domain Registrar over internet to pick Domain Name for your website. To make WordPress website apart from Domain Name you need a Hosting. I would recommend to Purchase Domain Name and Hosting from same company so that all settings of your Domain Name and Hosting will be at same place.
Hosting market is very competitive where every Hosting provider want to grab new customer with its outstanding service with affordable cost. As per my personal experience Bluehost WordPress Shared Hosting is best Hosting service to kick start your WordPress website. Bluehost Hosting is officially recommended by WordPress Community.
Install WordPress on Your Bluehost.
1.Log in to your Bluehost cPanel account.
2.Find the Website section and select Install WordPress.
3.Click the Install button.
4.Choose the domain name to install it to. In the field next to the domain, you can enter a subfolder such as 'blog' or leave it blank if you want the site's main page to be the blog.
If necessary, you can edit the email address, username and password for the new WordPress installation. Click "advanced options" and you can change those settings.
Read through the license and service agreements and check the boxes. Select the Install Now button.After Installation of WordPress you have to make some basic changes to your WordPress settings, If you search over Google you can easily get it.
Conclusion-: Starting a WordPress website with Bluehost share hosting does not require technical skill even a beginner can do that. Bluehost offer 30 days money back guarantee.


If you like my work, Please Share on Social Media!…You May also Continue Reading my Recent Posts Which Might Interest You: