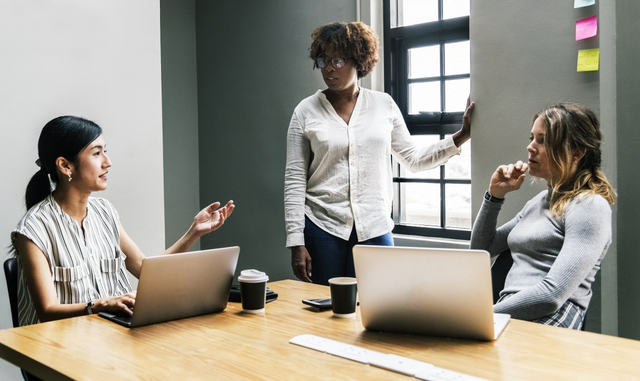 In recent years we have seen the rise of women leaders and entrepreneurs across industries as varied as technology, finance, health care, and education. While women still have a way to go before reaching gender parity in leadership roles, the good news is that the door is open and getting wider with each passing day. With an unprecedented number of women at the helm of Fortune 500 companies, the future seems bright. The question persists, however, over how to maintain and grow this pipeline. One of the responses has been a steady trend toward female mentorship. Instead of resting on their laurels, many female entrepreneurs hope to build on their legacy by easing the way for those following in their footsteps.
Women Small Business Owners
With nearly 40% of the 28 million small businesses across the country owned by women, studies have shown that women are now more likely than men to start a business. Furthermore, within mentored businesses, women enjoy as much success as men with respect to revenue, years in business, and job creation. Clearly, mentorship increases the chances of business success, and having an ally or a source of inspiration in the workplace is often crucial to the success of any budding female entrepreneur.
Unfortunately, women have traditionally had trouble promoting themselves or touting themselves as thought leaders in their fields. However, these obstacles are much easier to overcome when women see other women talking about their contributions. Consequently, some powerful businesswomen have initiated programs to address the lack of female role models in leadership positions.

Tory Burch Fellows Program
For example, the retailer Tory Burch instituted the Fellows Program through her foundation to support female entrepreneurs. Her program intends to close the revenue gap between women and men-owned businesses through greater access to funding and education. In addition, the program provides a support community of mentors for entrepreneurs to rely upon during the crucial early stages. She attributes part of the success of the program to the mutually beneficial relationship between mentor and mentee. In other words, both parties learn from each other through their experience. Her overall message for budding entrepreneurs is that women should never shy away from ambition; they need to embrace success proudly and delight in seeing their businesses grow as much as possible.
Strength in Numbers
In order to reach equal status at work, women need to come together. Instead of seeing other ambitious females as competition, women need to take advantage of their numbers the way men do. Since men in high positions rarely offer women equal opportunity for advancement, it is incumbent on women in power to support other women. Instead of women feeling like they work in isolation, mentoring lets women know that they aren't alone out there.
Women Mentors for Men
Although there are fewer examples of women acting as mentors for men, recent research points to fundamental differences in how the genders assume the role. While male mentors tend to focus on the next steps to climbing the corporate ladder or expanding a business, women ask more questions about what's important to the mentee i.e. what their needs are. In addition, women spend more time on developing the mentor-mentee relationship and establishing trust, whereas men see it as more of a one-way relationship in which the mentor merely tells the mentee what they need to do.
Consequently, men on the receiving end of female mentors are benefiting from different questions and points of view. For instance, a female mentor may ask how a guy feels about striving for a promotion or whether he really wants to move up from his current position. In the past, these types of questions were rarely considered. These questions, however, help the mentee to make choices that are truly in their best interests.
Snowball Effect
Ultimately, one of the most positive effects of female mentorship is the immense power it has to change the dynamic for women in business. Like a viral video, more women mentors mean greater networks and better opportunities to expand existing footholds. Instead of being an anomaly, female entrepreneurs should become commonplace. Moreover, all of this can be achieved without changes in policy or discrimination lawsuits. As is the case with social media, no one can prohibit someone from developing a network. When women assume more control of their careers, they can effect change within their community and beyond. Look no further than the recent #MeToo movement. Against the groundswell of protests over sexual harassment, record numbers of women were elected to congress this past fall. And, as a result, women are now in position to pass the type legislation that their male counterparts have so far failed to do.
References
https://www.cnn.com/2018/11/20/success/women-mentoring-men/index.html
https://www.forbes.com/sites/danschawbel/2017/09/20/tory-burch-how-shes-helping-the-next-generation-female-entrepreneur/#6c9b246b7ff4