Hello friends! I am here to enter for the @steemit-virus contest that simply rewards creative individuals!
Today i shall be discussing my interpretation of a work art. See the picture below: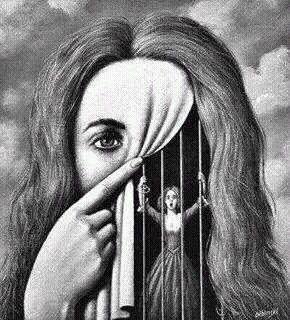 Join me as we both unravel the 'mysteries' behind the picture!
In the above picture, i see a beautiful lady with so much to desire. What do i mean by beauty? The general meaning of beauty is that 'it in in the eye of the beholder'. This general sayings makes the idea of beauty subjective. Subjective because what appeals as beauty to me might not appeal to you in the same manner. So many things makes a thing beautiful. It could be the look, texture, shape etc. 
To understand why i said she is beautiful, look at the image before she drew the 'cotton'! You will see a beautiful and attractive lady with captivating eye!
I believe women are blessings from God! often time, my mom tells me 'we are the salt of life, without us, the world would be boring'! I couldn't agree less. Sometimes i envy women! Why? They are 'superhuman' as far as i am concerned!
Recently, i looked at a situation where couple go to work, the husband comes back around 7:00 pm and the wife comes back around 8:00 pm. While the man will sit and relax, the woman will go to kitchen, do so many house chores just to take care of the family. The way their brains work, is still a mystery to me.
You see many beautiful ladies out there on the street with beautiful smiles but the burden under that smile is taller than Burj Khalifa. I am not trying to exaggerate but ask many of those women, they will tell you all they do just to show us the beautiful smile we see.
First, the picture reminds me of my single mother who struggled to make sure we are educated. It reminds me of her sleepless night when we were sick making sure we recover and praying at the same time. This woman will always laugh and smile to customers just to sell one or two things so that her children can survive. It is truly a reminiscence of a beautiful young queen who is locked in the utopian world she always envisioned as a youth.  
Secondly, I see a lady with attractive face but deep inside she is in bondage! Bondage not because she appears to be 'behind the wall' (prison) but the expression on her suggest she is not an happy lady. It shows the agony and sadness that is always behind the smile of every ordinary ladies.
Women love adventures and love trying new things. The woman looks cool and relaxed on the outside but she is in the prison of her imaginations. Her dreams locked behind her physical smile. She looks at her dreamland from within herself and exclaim with surprise and sadness because she is not sure whether such dreams would ever come to reality!
Thirdly, I see a lady who sees herself as a queen on the inside but outwardly, she looks different. Her hairs appears to be leaving her already as they are already changing colors. I see a queen inside her who cannot command her single subject. I see a queen inside her who is totally locked outside her dreams but in her reality!
The picture is truly deep. It just brought back a memory of what i have seen behind beautiful smiles. 
Thanks!