I realized
The topic of our research project was hypertension.It was very simple,"It will hardly take a few days to collect and compile data",I thought.Initially I didn't find it much interesting.I and my friend started the spade work with data collection.With every passing day,my interest in the topic multiplied.Every face I met was an eye-opener.Every face
was a story.
The first women I met was not hypertensive and after that almost every second woman I met was hypertensive.The very last question in our questionnaire was " Are you suffering from any misery or stress".The answers were like following.
"I am a divorcee.He left me because of no good reason.He used to beat me.He used to abuse me in front of my three little children.Three years back he threw me out of his house.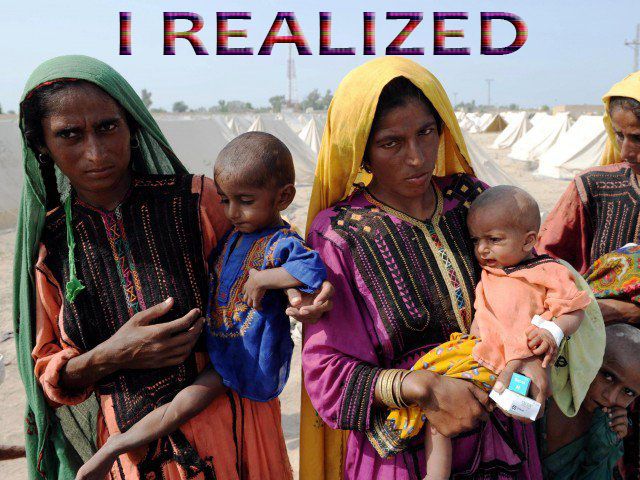 Since then i am living with my parents .I feel myself a burden".Another answer was,"I am a widow.I have five children.We hardly get a meal every day.My husband was a cancer patient,I spent everything to get him a good treatment but to no avail and subsequently he passed away".Third woman said"I am sixty years old,I have been abandoned by my children, they don't respect me,and no one cares for me".Another answer was "my son was killed by someone for the reasons best known to the barbaric murders.Since then I am hypertensive".
Majority of the women were hypertensive because their husbands were ill,jobless or had married some other woman.I went for data collection but at the end of the day I realized how blessed I am !Not only I myself but how blessed are my friends and colleagues.We often complain of electricity,unhygienic environment and poor government policies.We react to very tiny little issues.We keep on discussing brands and politics but after spending a day at hospital with these women I felt ashamed of myself and all those who complain in front of Allah for trivial issues.We never realize the worth of Allah's blessing upon us till the time we come across those who are deprived of their basic needs,who weep for a piece of bread,for a piece of cloth and for day of health.