How do you feel (happy, indifferent or sad) when you program a bot on your smartphone, computer, or desktop to make funds by executing trades for you on a daily basis at any point in time? WolfpackBot, which is a cryptocurrency super trading bot works precisely just like that. The WolfpackBot trading bot is a program developed to trade for any cryptocurrency trader irrespective of his expertise thereby generating profits over time. I guess this awakens the trading zeal in you as a novice who does not know how to place a trade or as a professional cryptocurrency trader who has other important things to attend to.
WolfpackbBot is the best user-friendly trading bot with unparalleled unique user interface obtainable presently for both novices and professionals. I really liked WolfpackBot because it has the capability of making more than five times as much as Cryptohopper's trading bot.
what is WolfpackBOT Trading Software? It is an exceptional cryptocurrency trading BOT that carries out trades in a secure way by means of utilizing a cutting-edge trading algorithm, the exclusive Werewolf Trading Analysis configurations as well as the user-customized settings that are established based on individual trader inimitable trading pattern. Subscribing to the WolfpackBot package enables users to have access to trading with most important cryptocurrency exchanges, all or most of the cryptocurrency coins (depends on the package subscribed to) that are within the reach of the bot as well as the utmost money-making trading pairs. See below for WolfpackBot packages

The WolfpackBot hardware Wallet in combination with the RFID card reader for crypto-to-fiat exchanges is highly incorporated with built-in security.
WolfpackBOT trading software is facilitated with perimeters, market, Wolf-Trade orders as it concerns every trading candle, as well as one-minute candles, combining the broadest display of technical trading pointers obtainable on the market WolfpackBOT's right (Wolf Trade) orders offers outstanding market sell orders.
WolfpackBOT is the world's first trading bot that will feature real-time price scanning as well as conveniently handling of the incomplete fills. Which implies that traders do not miss orders. WolfpackBOT is exceptionally fast and can handle approximately ten thousand (10,000) trades on a daily basis irrespective on package been subscribed to and the conditions of the crypto market.
WolfpackBOT is incorporated with an exchange called "Wolvex" that utilizes Wolfcoin token (WolfpackBot native currency) as the prime currency, Wolfpack Consulting, Wolfpack Philanthropy, Wolfpack Mining. The WolfpackBot philanthropy facilitates stakeholders, users, and shareholders via cryptocurrency trading to sustainable funds.
WolfpackBOT Trading Software is installable on a computer (Desktop and Laptop) and Virtual Private Server (VPS. It is also pre-installed on WolfpackBot Hardware Console that connects straight to the internet.
See video on how to install the Wolfcoin wallet.

SOME FEATURES OF WOLFPACKBOT TRADING PLATFORM
Werewolf Bull Market: it is customized settings and configuration used for only Bull run market based on a trading pair that is in a bull run.
Werewolf Configurations and Settings: users can change the settings to their preference or use the already preset settings.
WolfpackBot Patented and Trademarked Crash Protection: users can automatically scan and convert every position into a stable coin (USDT) and can also buy them back into base currency to resume trading at the indication of the hidden Bull Divergence indicator.
Coin Selector: unlike the other trading platform that does not allow the selection of all coin or token per subscription, WolfpackBot enables the user to have access to a choice of all trading pairs, all tokens, and coin.
Werewolf Sideways Market
Werewolf Bear Market
WolfpackBOT Languages
Werewolf Ultimate
Multiple Technical Analysis Indicators
WolfpackBOT Help Center
WolfpackBOT Trading Reports
WolfpackBot automated trading software
Wolvex Exchange
Wolfpack consulting
Wolfpack mining
Wolfpack philanthropy
See pages 10 – 14 of the WolfpackBot whitepaper for detail explanations.
WOLFCOIN TOKEN INFORMATION
Wolfcoin is a utility coin based on PoS3.0 and it serves as the fuel that will be used on the WolfpackBot platform for all services and products. It will be used for mining, consulting, and philanthropy services. Wolfcoin is the native currency on the Wolvex exchange. All Wolfcoin holders and Wolfcoin trading pairs executing trades on the Wolvex Exchange are entitled to a discount of 50% trade fee. Also, all Wolfcoin holders get 20% discount when they subscribe to WolfpackBot only when they use Wolfcoin as a means of payment. As a Wolfcoin holder who refers a trader to the WolfpackBot Trading platform will be entitled to a referral bonus. In summary, the Wolfcoin will be used for staking, assets tokenization, in-Dapp currency, subscription, trade fee, trading pair, and others.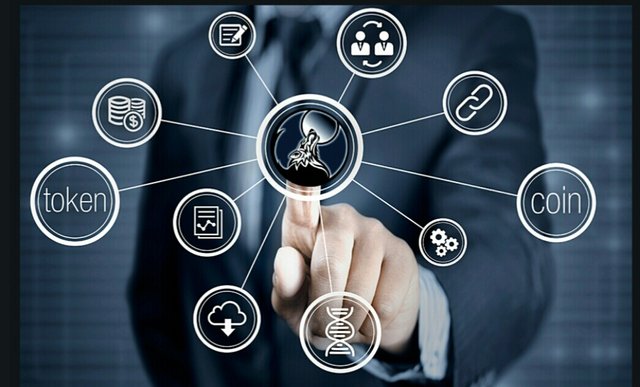 COIN NAME: WOLFCOIN
COIN SYMBOL: WOLF
TYPE: PoS3.0
ICO MAXIMUM SUPPLY: 1,600,000,000
COIN STANDARD: POW
ICO DATE: December 1, 2018 – DECEMBER 31, 2018 (STAGE 1) AND
JANUARY 1, 2019 – JANUARY 31, 2019 (STAGE 2)
PRICE PER WOLF: $0.15/$0.20
ACCEPTED: ETHEREUM (ETH), DASH, BITCOIN CASH (BCH), ETHEREUM CLASSIC (ETC), LITCOIN (LTC, BITCOIN GOLD (BTG)
WOLFCOIN CROWDSALE ALLOCATION
WOLFCOIN CROWDSALE: 80%
WOLFPACK VAULT: 10%
WOLFPACK FOUNDER'S SUPPLY: 5% (LOCKED)
WOLFPACK TEAM: 5%
ROADMAP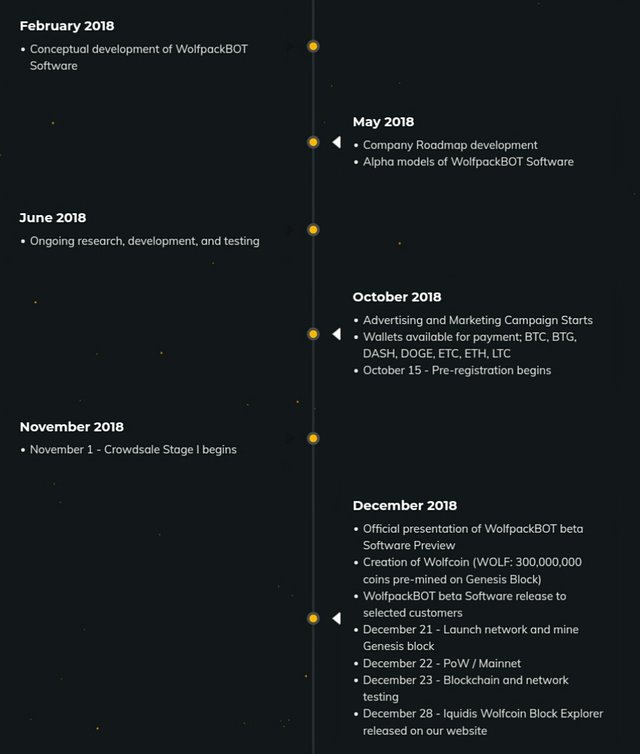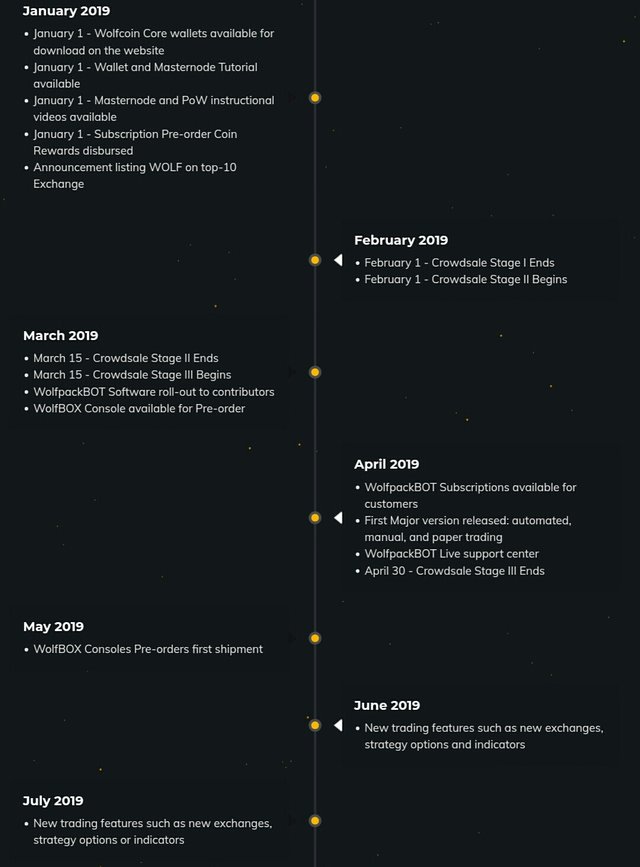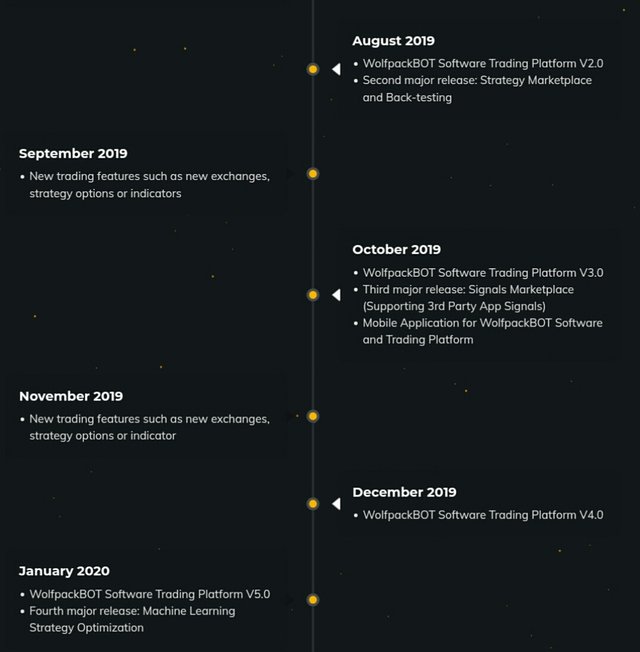 GET IN TOUCH WITH WOLFPACKBOT TRADING PLATFORM
WEBSITE
WHITEPAPER
TELEGRAM
FACEBOOK
MEDIUM
PINTREST
REDDIT
SLACK
TWITTER
YOUTUBE
GITHUB
DISCORD
ARTICLE PUBLISHED BY MICKEY OBERABOR
BOUNTY0X USERNAME: MICKEYBERRY1