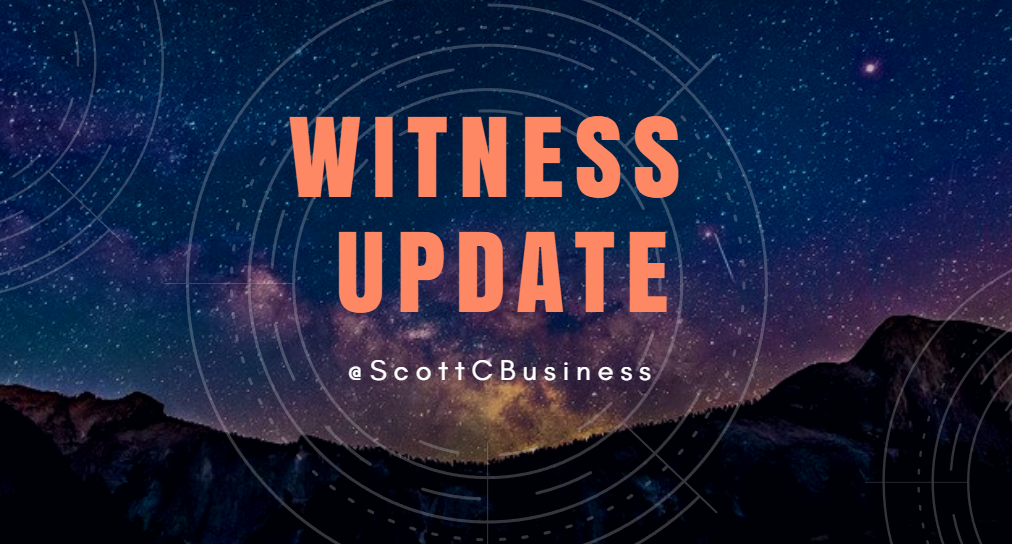 Hey everyone!
First off, I wanted to thank you all for your tremendous support! I just recently reached over 100 GVests from all the voters influence.
I wanted to do a quick update and then include most of the projects and future ideas I want to work on. Below you can see my current witness position and my received vests etc.

Witness Info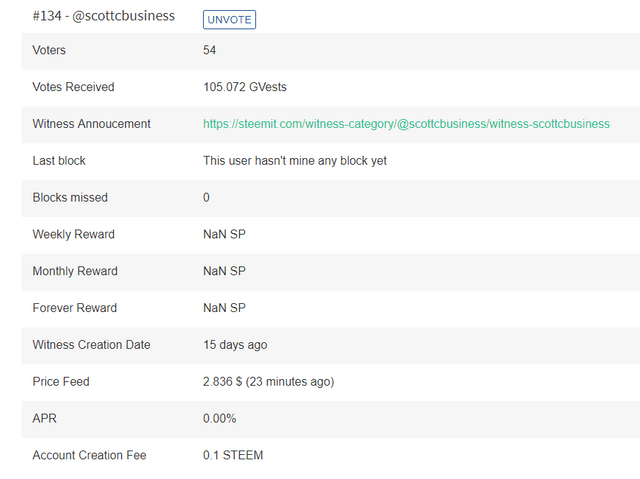 Server Info
My server is still going strong as you can see:

And this is the price feed:

Future Work And Projects
Adding Twitter and Steemit account to support the WCA initiative
Delegating and supporting charity projects like @childfund @treeplanter and @haveaheart
Evolving Steemers to a much bigger project with a curation trail and more
Witness Verification - a sub project within WCA for verifying witnesses as real people
Witness Interviews - I'd love to work with some other people to get a consistent interview schedule going with witnesses on a weekly basis.
Weekly or bi-weekly poll or survey with pressing topics to discuss and or vote an opinion or sentiment towards it which will then be delivered on this discord (included in witness report)
Onboarding brands, corporations etc. (Requires reporting and analytical tools and services)
Correcting Steemit tag use - Tags should be used to inform, not for upvotes. So, I believe that we should follow suit with blogger, wordpress and medium and allow more tags used to allow for branded hashtags as well as informational, niche, and categorical tags for indexing.
Originally I shared "The Downvote Proposal" as a point of my political views and personal values, but with enough support we could turn this into a full on movement. I think we need a downvote that doesn't affect reputation and or a way to fix flag abuse.
Bot Limits - we need bot limits on how much you can upvote per bot. It makes sense to have like a 5 SBD limit to at least deter people from massive self promotional bids and make it more of a nuisance to do so.
(I'm not fully against or for bots, I understand how they are bad and I understand how they help minnows, but the profit and the distribution of the profit seems poorly representative of what Steemit tries to be. Don't get me wrong I boosted this post by 10 SBD, but I wouldn't have an issue with 2 5 SBD posts. Someone boosting their post by 1000 might be at least deterred a bit by that. In an ideal world whales would better regulate low quality posts and spam, but this is easier and more realistic to ask for)
Removing inactive votes (I hear this is planned soon, but not sure so I'm including it)
Minnow Representation - not sure what I will do here, but I plan to help more minnows find ways to get noticed and break the minnow ceiling earlier if their content is quality.


Every Steemit Post I Do A Giveaway
Every time I post on Steemit, I select 1 random winner from the upvotes, resteems, and comments totaling 3 winners and give them 0.01 SBD each and announce it on the next post! I also send out 0.001 monthly to my followers! I use https://snackaholic.github.io/steemfortune/en/ by @snackaholic
The winners from the last post I made here: https://steemit.com/witness/@scottcbusiness/new-witness-update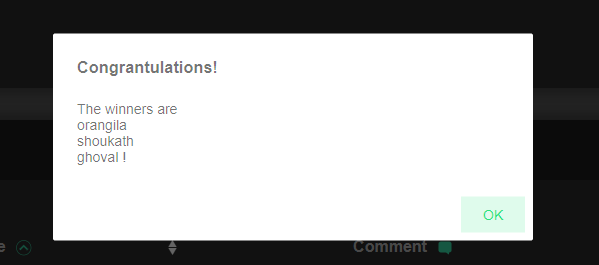 Were:
@orangila
@shoukath
@ghoval
Note that once I've posted a new post the contest is over and this could be subject to any amount of time up to but not longer than 7 days

Affiliate Links

📊 Binance is my favorite place to trade, sign up with my referral - https://www.binance.com/?ref=15520033 - If you haven't signed up, do so using my referral code 15520033

Earn Free Coins With Minimal Effort

💰 Also be sure to sign up on https://www.mannabase.com/?ref=9d27bc9475 for free payouts every 5 days of their coin $MANNA as part of their nonprofit universal basic income project!
💸 DogeMiner is another free miner that generates you a little bit of Doge constantly. You can invest some doge for a monthly profit based on what you put in! Pretty nifty - https://dogeminer.cc/index.php?boss=216790
Steemers - Steemit Education

✅ Join our @Steemersbot communities to network and grow together with our other Steemers - https://www.facebook.com/groups/Steemers/
Our pinned post has a bunch of resource for you to use and contribute to!
Also join our Discord channel - https://discord.gg/hNMjvBz 📣
We have lists of other servers, upvote bots, promo, discussion, contests, faucets, and everything you can think of!
Social Media And Contact Info

🙌 You can also follow me on:
Twitter - https://twitter.com/Scottcbusiness
Facebook - https://www.facebook.com/ScottCBusiness
Instagram - https://www.instagram.com/scottcbusiness
LinkedIn - https://ca.linkedin.com/in//scottcbusiness
Steemit - https://steemit.com/@scottcbusiness
Discord - ScottCBusiness#5242
Minds - https://www.minds.com/scottcbusiness
Witnessing On $STEEM
If you believe in me as a witness kindly vote for me by going to https://steemit.com/~witnesses and voting for me at the bottom by typing in my username 'scottcbusiness' or click on the link below



Click the above text to vote for me!






An initiative to improve transparency, communications, and overall trust between witnesses and the rest of the community. To start it is a discord server, but we aim to build something much bigger moving forward.
https://discord.gg/3b5jk37