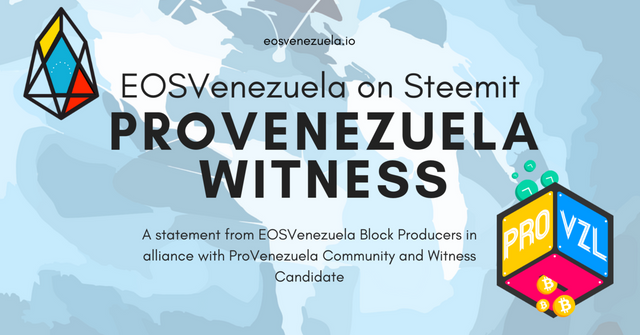 Two years ago we started this road, to make the blockchain a real change for the better and useful tool for people in places like Venezuela. Our's is the story of how ideas can become realities, proving that hard work and good intentions are a powerful drives even in the bear market. 
This community is as strong as the people in it. As its says on one our first posts, it was sharing ideas and other people's help how it all began:
"[We] decided to write a series of articles about how a country like ours could change for the better if, somehow, we decided to adopt blockchain technology in different areas. The first article was titled: "Project Venezuela: A utopian task" (Proyecto Venezuela: Una tarea utópica). That article had a massive acceptance,[...] Something that began as a crazy idea thrown to the air, now seemed that it was worthy to dedicate effort and time. Little by little came people who were extremely interested and willing to put their grain of sand." by @Efrageek
Ever since, @Provenezuela has grown to be one of the most active communities on the Steemit platform. We have engaged to be the biggest Venezuelan guild of Steemians and probably one of the largest Spanish-speaking user base on the blockchain. 
Our mission is simple: work on the promotion and adoption of the crypto and blockchain technologies as solutions to the many challenges that failed fiat economies like Venezuela have. 
The result of it has been a blooming series of projects and contests that have opened the door for the big lab we have nowadays in the Latin American region. Our collaborations and projects have had a wide spectrum of impact, through services and tools to foster adoption and innovation, and new alliances that boost the reach of our ideas. It is so how now together with @eosvenezuela Block Producers, we want to boost the @Provenezuela impact on Steem's future and community, becoming a Steem Witness!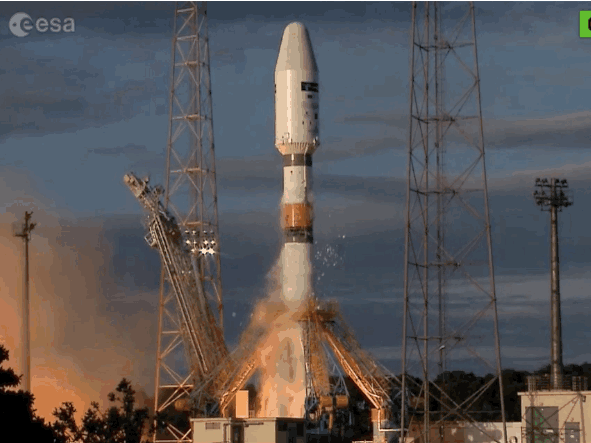 Our Witness plans to focus on development and support for innovation and adoption of the Steem blockchain, as a playground for entrepreneurship and successful social network. We will continue with our magazines and author support to keep expanding the Venezuelan adoption, as ways to bring more non-crypto users to the blockchain realm through an easy to use concept and friendly community. Steemit has the capacity to be the path for adoption platform due to its free account and social dynamics, we want to keep boosting that opportunity and add tools to make it even more impactful. 
PROVENEZUELA  R E W A R D  B O T
Adding for the support of our community we have launched a rewards bot, which daily selects a number of posts with the hashtag #Provenezuela or #Venezuela and vote for them. The idea is to stake up as much as possible as Witness and with help from collaborators and Steem Power delegation offer a bigger help to encourage new writers and social influencers on Steemit.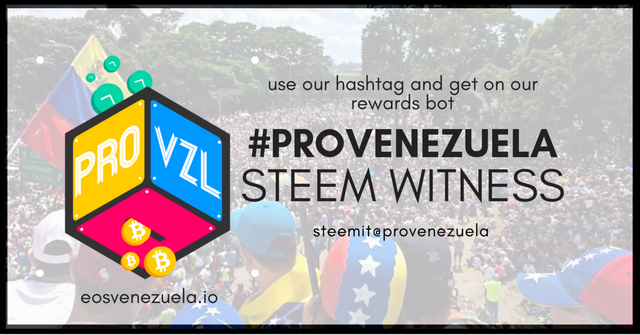 S T E E M - P A Y S EXCHANGE
For over a year we have been providing an easy access to Venezuelan users to the Steemit's crypto economy through our local exchange @steem-pays. More than 3 thousand satisfied clients has used our platform to exchange from the local fiat to crypto, making possible the profitability of the Steem blockchain in Venezuela. We provide a necessary service to take the whole benefit of the technology from new users. Our plan is to robust and promote Steemit's adoption as the leader social dapp on the blockchain. Offering a bridge from the fiat and crypto economy which ultimately brings more opportunities of development on the ecosystem. 
Provenezuela is thinking big this 2019, we are preparing many new exciting things for this community. We hope to get all the support from the community that has been with us since the beginning and all the new helping hands that share our values and mission. This is another idea that needs your help to succeed. Let the blockchain build our future, and please consider voting for @Provenezuela Steem Witness. 
You can use this link to vote directly.