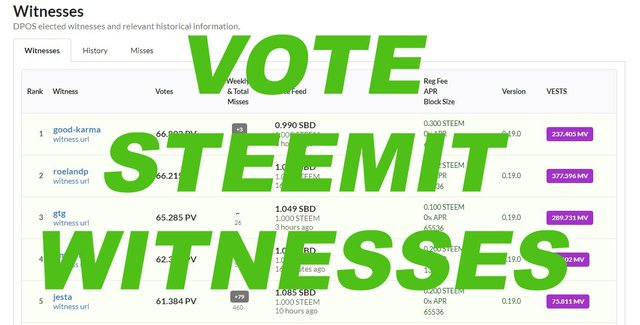 Published: 2017-07-15 00:55
STEEMIT is the Only Decentralized Social Media Platform, Which Pays to its Authors, Curators & Followers for their Contribution to make this system UP & Running... There is One More Way to make this system run in a True Decentralized Way. That is By Creating Data Server to Your Computer as a Peer among the STEEMIT Peers. Which is referred as Witness here
@steemit
.
Then, What is WITNESS in STEEMIT ?
Witness is a Node Created to run a decentralized networkd in the STEEMIT BlockChain. Which Holds the Steemit Blockchain and Makes Steemit Run 24/7/364 all round. To understand clearly about Witness you can refer to this post by
@pfunk
in this link
https://steemit.com/steemit-guides/@pfunk/a-full-steemit-user-s-guide-to-steem-witnesses
(read for more...)
---
Why UPVOTE @jerrybanfield as a TRUE WITNESS ?

There are many STEEMIT Heros, SUPERHEROS & LEGENDS in the STEEMIT Community, they are Playing their Part / Role in their Own Way. But @jerrybanfield has played a major role to this community in a very sort period of time. In Less then 3 Months he has Created his fame by being a Proactive Promoter of the Platform. He has Heavily / Massively Advertised about STEEMIT Opportunity and May be added more than 10,000 New Users into the Community. Which is a Very BIG Contribution to the Community. But, Recently He isn't in TOP 50 WITNESSES. So, He NEEDS as Much VOTES for WITNESS as WE CAN !!! Hats OFF to YOU @jerrybanfield and God Bless YOU !!!
---
What about Other WITNESSES ?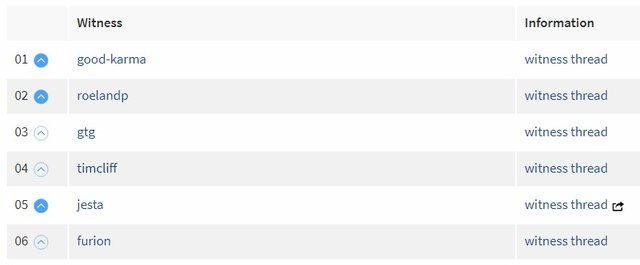 ---
YES, Of Course there are More other WITNESSES in STEEMIT Community Who are More Praise Worthy then
@jerrybanfield
. Who has Developed APP for STEEMIT platform is
@good-karma
.
On the Same Way
@jesta
is another STEEMIT HERO who as Created
https://steemdb.com/@cworldv99
and
https://steemstats.com/@cworldv99/
Websites Where we can analyze and Get Stats and info about the STEEMIT IDs.
Finally I would like to talk about
@roelandp
Who is also A SUPERHERO of Steemit Community. I love to address him as a thinker, Who Thinks and Brings NEW and CREATIVE IDEAS which becomes useful to the entire community.
I True Believe to Meet ALL These Community SUPERHEROS in Lisbon STEEMFEST2 if they will Come to the FEST.
HOW to VOTE the WITNESSES ?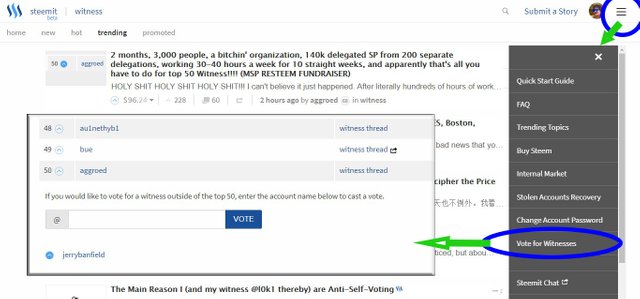 ---
TO VOTE the WITNESSES, Click on the Collapsible Menu @ the TOP Right Corner and Click on Vote for Witnesses then VOTE the WITNESS or Search for the One Which is not Within TOP 50 List.
If we cannot be a WITNESS of STEEMIT Community then We can VOTE OUR Favourite WITNESS and Encourage them for Doing So. Thanks for UPVOTING to the WITNESSES...
---

Please UPVOTE & Comment This POST !!!
So that, I CAN UPVOTE Your Comments
Follow ME @cWorldV99 for UpComing POSTS...
!!! GOOD LUCK & HAPPY STEEMING !!!!
---