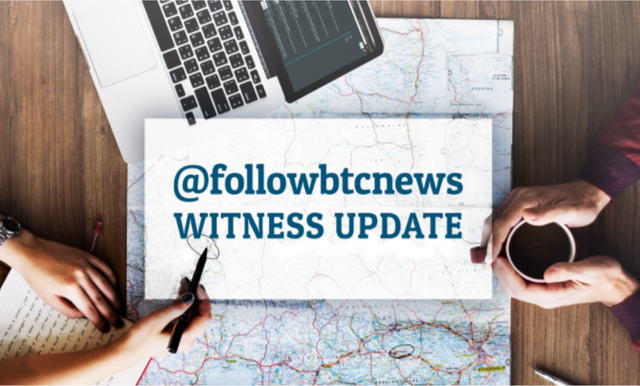 It's not very exciting to make an "everything's working exactly as it's supposed to" update, but it's nice to let you all know that stability and consistency remain for our servers remain the most important focus.
It's been a couple of weeks since our last update, so we wanted to just let you know we are working non-stop in the background working on two major projects and one smaller project. In the meantime, everything on the witness front is working well and as expected, which is pretty great.
We're coming up on a launch for one of these projects for the upcoming weekend, and I'm very excited for what we are fixing to share.
We are so close, and I have to admit, I am estactic about this project — both because it's turning out to look pretty awesome, but I also think people will find it really useful. We've been so caught up working on this, I'm also a tiny bit ready for all of us to be finally finished so we can move on to some of our ideas too!
Our witness nodes are running fine, with no problems; sailing has been smooth with no downtime or missed blocks, everything up to date, and all backups running along ready to go, just in case. (Knock on wood!)
The seed node is running well, and the public RPC node has been consistently up and performing well also. In this case, no news is good news.
Steem.chat takes up a lot of our time as we get more and more involved with the workings. Like our servers, it's been humming along well, partially because of the new servers we got it running on. More importantly than even the hardware is the work that @gtg puts into the servers behind the scenes.
If it weren't for his tireless efforts, Steem.chat would never have gotten into the amazing shape it is right now. To fully appreciate it, you have to picture it in a Rocky-esque montage, getting prepped to grow and to get better, faster, and stronger, with @gtg pushing it hard every step of the way. So if you get a chance, please stop by in chat to tell him thanks for all his help! Don't forget that we also have awesome volunteers for moderators there and these guys and gals absolutely deserve some love.
(Another special shoutout to @timcliff and @drakos, who spend a huge amount of time in the Steem.Chat #help channel, volunteering to help newcomers!)
Other than that, some good news on the price front, which I'm sure you've all noticed.
We saw a spike in Steem price this past week, which is always nice. I both hope and believe that Steem will keep steadily rising as we get closer to seeing SMTs on the Steem blockchain and all the new developments and projects being worked on by our involved community.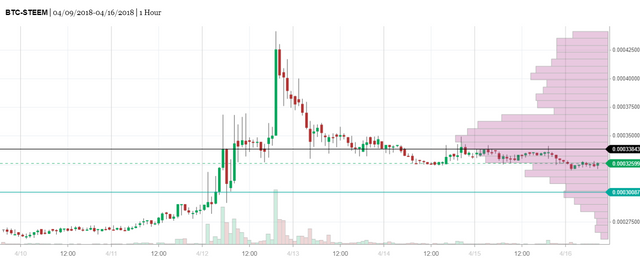 If you ever need or want to contact @crimsonclad or myself, we are always on Discord and Steem.chat, so please feel free to send us a DM anytime. Thanks again for all of your support — we love working alongside and for all of you.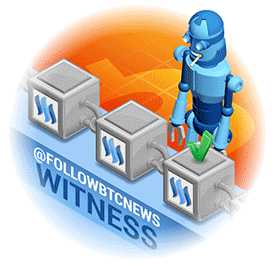 I'm Jeff, and I'm @followbtcnews.
I'm a top 20 witness, along with my project partner
@crimsonclad
. Feel free to reach out to us on
Steem.chat
or Discord any time! If we haven't earned your vote yet, please take some time to look at
our tools and our work
. We hope you decide to place a
witness vote for followbtcnews by clicking here