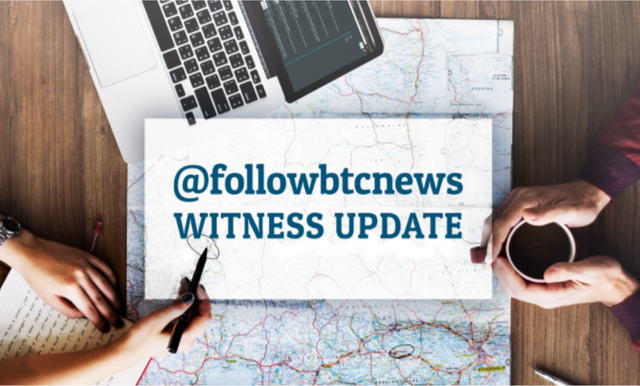 Hi everyone, Jeff here! It's about time for a 'quick' (hah!) update. We're finding that every few weeks is the right frequency for us: as one of the current top witnesses, we're always super busy in the background with our projects, responsibilities, and community work, and writing the exact same post a few times a week doesn't make a lot of sense. I find that it's better to pull everything together in a bigger post with a bit more information, and to spend that time keeping everything running smoothly instead. For this post, I want to re-cap all of our current commitments and hardware and lay out some of the path ahead for this year.
Servers and servers and servers galore:
Main Witness Nodes: fast, reliable, little downtime, and fully up to date

We run our main node backed up by two witness nodes in separate data centers for maximum redundancy and reliability. Each is running (DEDI-DE) 64GB DDR3 RAM, 20TB BW @ 1gbps network. They've been humming along beautifully, with no recent downtime or outages to report. We did have a blip with a couple of missed blocks a few weeks ago, but our backups kicked in before any significant numbers or issues arose. While it's not ideal, it's good to know systems set up are robust and efficient under fire.

Full Public RPC Node: developers and services can use this node for their projects without having to spin up their own

We manage operations and split the cost of the RPC at https://steemd.minnowsupportproject.org (wss://steemd.minnowsupportproject.org,) which is currently running (DEDI-DE) 512GB DDR4 RAM, 50TB BW @ 1gbps network. We had one replay in the last few months, but overall, we're seeing good performance and usage stats on this node. It's part of the backup set that the Privex loadbalancer uses, so we do see overflow traffic from there on occasion. We are really looking forward to the scalability changes coming down the pipe (mentioned here and here,) so we'll be able to run more machines with the same costs and grow from there. This is a big goal of ours, and part of further decentralizing and supporting developers and innovation.

Seed Node: seed nodes help witness nodes retrieve blockchain data faster and more reliably

We're supporting the network with a 64GB seed node at seed.followbtcnews.com:2001. Our server expenses are creeping up there, but as each upgrade and step forward for scalability is implemented, we plan to look at rolling out more. It never slips our mind that whether we are in the top twenty or not, these servers are really important to overall chain performance, so this is something we're committed to maintaining long-term. More seed nodes help all witnesses be more effective, and we believe that just like with RPC nodes, all block producers who are able should be contributing back to the network in this way.

Project Servers of all shapes and sizes

Steem.chat requires a number of robust servers to meet the needs of our community. Unlike Discord, where resources are handled by another company, Steem.chat is hosted, managed, and paid for by our team. We've been constantly working with amazing people like @gtg to get Steem.chat moving faster and performing better with upgrades to all of the required servers (including mail servers — email notifications and signup correspondence flying all over the place!) It has years worth of history, an insane amount of channels and users, and has grown to become the heart of a lot of the communication about the STEEM blockchain in the time since we've rebranded it.
Steemtipper.com also has some powerful server needs as one of our most exciting projects. We built this without monetization in mind, but as a way to share the best parts of STEEM to those who need to see it in action to really 'get it,' and it's been really well recieved. It is growing to be one of our main focuses of this next year, and we're really excited about it as a tool for anyone in the community to take advantage of freely.
Other initiatives and tools, some of which are related to our heavy involvement with the MinnowSupport Project, mean that we have a few other servers on the go at any given time, hosting scripts, tools and websites. None of these are currently monetized in any way, so all costs have been paid out of pocket happily as we launched each. With our recent entry into the top twenty witnesses, we've had the block production rewards as support to our ability take on more and to help close the gap on our costs in machines and development over time. We believe in hiring and working with talented devs in the STEEM ecosystem when we need extra hands, and while this can be pricier, it's healthier for our community and our economy. Feels good, man!


A short roadmap for the forseeable future:
2018
Goals for 3rd Quarter:
Further development on Steemtipper.com to integrate Reddit and Telegram support for Steemtipper. We've been learning a lot about how other social media sites treat services like this one and adjusting our performance accordingly
Goals for 4th Quarter:
Integrate SteemConnect into Steem.chat for opt-in account verification
Integrate Steem.chat support for Steemtipper.com
Public release of a delegation/community account script built for MSP which allows for groups to automate a portion of voting based on custom rulesets, with built in vote decay and anti-abuse management with an optional tie-in to MSP's blacklist (created and updated by fully manual, human reviews only — no algorithms or bots)


And finally, a closing note from the heart:
 
Many of you know us from community spaces. While we're here making posts and updates when we can, and our numbers are visible on all of the witness lists, you probably have had some experiences with us one on one in places like Discord or Steem.Chat. This won't change. While our priorities remain first and foremost to run the reliable, rocksteady servers to keep this blockchain healthy and decentralized as is the job of each witness, we know how important communication is between all levels of user, investor, developer and consumer here. And hell, between the friends and connections we've made all over the world, and the experiences we've gained watching this chain grow, it's been fun.
We don't do a lot of asking for votes in these updates. Crim and I are of the firm belief that if we do the work that matters to us, driven by an understanding of and desire to help the STEEM blockchain we believe in, people will see that effort, evaluate it, and then choose us as a trusted witness for as long as we uphold our ideals. Thus far, that has held true, and I think that says something very positive about our 'proof of brain' system. As @crimsonclad put it in one of her recent posts, when we started...
We didn't have a ton of money. We didn't have the hardware. We had a decent set of skills between us, but didn't have the chops to compete or contribute. We put our heads down and worked, learned, took some beatings, listened, adjusted, a few more beatings, built, failed, rebuilt, and the beatings continued until morale improved.
And with it... our contributions, our understanding, and our value here improved accordingly. There is so much more to learn, and always will be. We aren't on the level with some of our top witnesses, who I sometimes think might actually be at least part blockchain cyborgs... but somewhere in that time we've become community leaders and drivers of development. We think we bring a level of co-operation and kindness to the chain, alongside critical thinking and our other skills. I'm immensely proud of where we are today, and I know she is as well.
While I won't ask you blindly to vote for us, I definitely do encourage to you get out there and meet and learn about witnesses. Vote when the time is right for you. Choose a trusted proxy. Make each vote you make reflect your changing experience here on the platform. But do vote! Take part in the DPoS system fully and be proud of your place here, and the opportunities you are leveraging as we move towards the future of this technology.
Until next time,
Thanks for everything. Get hold of us anywhere, anytime, should you need us.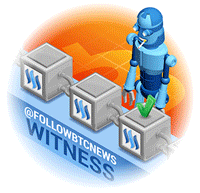 I'm Jeff, and I'm
@followbtcnews
. I'm a top 20 STEEM witness, along with my team member
@crimsonclad
. Feel free to reach out to us on Steem.Chat or Discord any time! If we haven't earned your vote, please consider
SteemTipper
, our work on Discord, and with
STEEM.Chat
—
vote for followbtcnews
if you feel we're doing a good job.