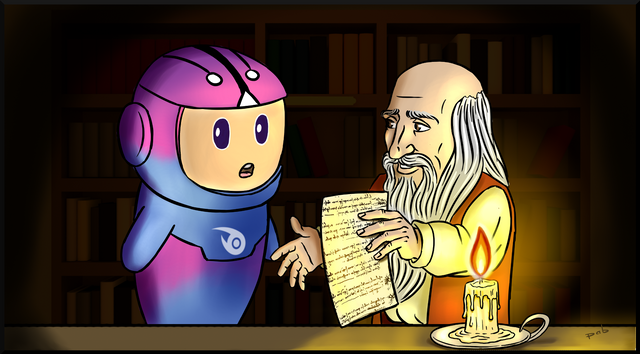 Thanks to @pab.ink for making this fantastic drawing!
This is the first report of the translation activity conducted in collaboration with @utopian-io. To ensure high quality of translations, we started to crunch some numbers relative to the contributions, exploring the processes involved behind the management of our LM teams.
DAVINCI TRANSLATION REPORT 1 - June 17 2018 -:- June 23 2018

In summary, in the first week we had:
16 translations
Translators have received rewards for $ 671.70
16.462 words have been translated, with an average of 1.029 words per post
average score received to evaluate the translations is 58/100
average translation payout is $ 41.98
number of languages in which translations were made here are 4
number of translators who worked are 12

In this table (click to enlarge) you can find averages, medians, mode, minimum and maximum values related to this week 1.
The fields involved are:
words for translation
scores
upvote percentage
final payout
16.462 words were translated with a unit cost of $ 0.04 per word. Our goal is to bring that value to an average of 0.10$ per word, in order to enhance the valuable work of our translators.

For this reason, @utopian-io increased the voting cap from 25% to 35%.
The aim of this report was to provide complete transparency about the development of this project.
---

CC0 Image - Creative Commons, thanks to @mrazura for ITASTEM logo.
CLICK HERE AND VOTE FOR DAVINCI.WITNESS
DAVINCI WITNESS TRAIL


If you are the owner of an Open Source project on Crowind platform and you want to translate it with our help and the support of @utopian-io please join our discord server and chat with us.


DAVINCI WITNESS DISCORD SERVER