Symbiont{s} | Ecosynthesizer | Support Request & Update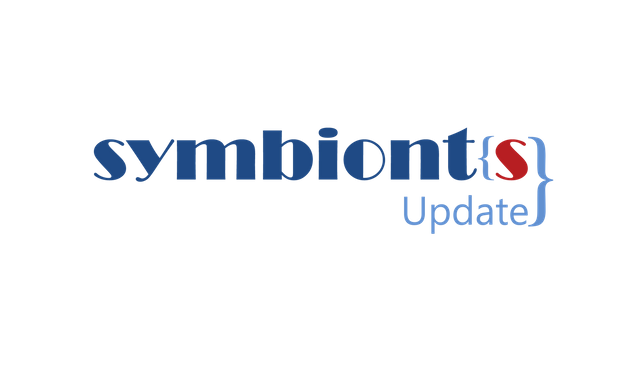 Symbionts
Thriving through a Symbiotic Equilibrium
Ecosynthesizer | Support Request & Update
Greetings,
After over four months from its initial launch, we believe that it is time now to share more information about our curation project and what we have accomplished so far.
The Ecosynthesizer is a curation project that aims to decentralize the curation effort by becoming an incubator for new communities and support genuine authors. We understood that if Steem wants to become a place for the international community, then it is of the utmost importance to restrategize according to it and not force a procedural template to all communities and curators. The secret to our way of working is quite simple, we do not complicate things, we do not pressure people, and only work with highly trusted and respected members of the community. Investing in people is always better than creating an overly complicated structure that will surely push people away, people need to feel that they are partaking in something meaningful and not just judging the quality of articles.
The project is an alternative to former and some current curation projects which strongly favor the profit over the interest of the ecosystem as a whole. This is probably why we can see people curating x authors just to receive a higher ROI without giving any care to PoB (for what it is worth). But we need to be clear here since aiming for a better ROI is not and should never be seen as a bad thing, in fact, we all here need to be business-minded people for going toward adoption requires a vision that lays on the ability to gain profit from within the Steem ecosystem.
Maybe the best solution that does not require much at this point is to dilute the mechanism of distribution by allowing more worthy projects and apps to distribute Steem instead of just having a few accounts with high power influencing the distribution of wealth on the chain in a non-beneficial way. We believe the current value of Steem highly relies currently on it being a good median to move funds or transact on the crypto sphere, but the last events that shook Steem clearly demonstrated the importance of having a solid community, and even a strong presence on other social media platforms.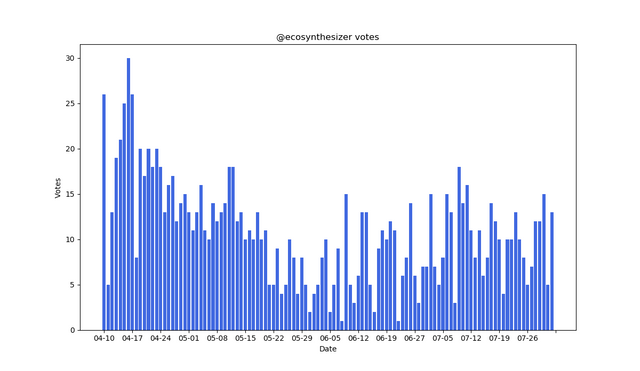 Daily casted votes since the start of the project
All things apart, we are quite happy that 100% of posts we voted on are of high quality, original, and handpicked by one of our dedicated curators. We are open to cooperation with any projects and we are constantly supporting new contests and challenges.
We have also implemented a few mechanisms to allow a better distribution of votes and support a wider range of authors. We are working according to what we like to call decentralized curation effort, which means that we are allowing users to manage their own communities while benefiting from what our curation project is offering without having to force-implement anything as long as what is being curated does not go against the consensus.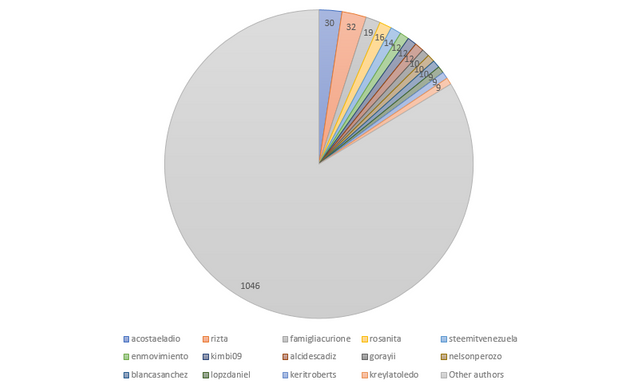 The distribution of votes
Most of you are probably aware that we launched months ago Comunidad Latina. It is a community that is solely dedicated to content in Spanish and Portuguese and is currently managed by the community manager @acostaeladio. We must admit that CM has done a draconic work by building the community from scratch, it clearly shows a strong dedication and what french people like to call un savoir-faire. Thanks to the cooperation with other Latino communities, Cotina is now growing at a decent rate, and a wonderful community is being established around it. We really wish that Steemit Inc will keep supporting the CM to allow the community to become 100% autonomous and keep growing.
100% for Steem
The whole team behind the curation project is solely dedicated to Steem, and the curation team is doing its best to always prioritize content that is Steem Exclusive.
Model of working
We are currently sharing 80% of the curation rewards, and planning to lower that percentage even further in the future. The cut that the project is taking will be used to maintain it and reward our dedicated curators. The delegators can also expect to receive their share on a daily basis starting from today (was 7 days).
In need for more support
We are hoping for more support from the community, especially Steemit Inc, and large stakeholders who are willing to achieve a nice ROI while supporting the growth of the chain and supporting genuine authors at the same time.
Join us
We are always happy to answer questions and discuss ideas with whoever wants. If you are interested in the concept of our project, have any other requests or questions, want to help, or just want to spend time with other knowable and enthusiastic people, please do not hesitate to join our Dsicord server.
---
Thank you all, and Steem on!
The Symbionts Team,