Introducing @noblewitness - The "No Bull" Witness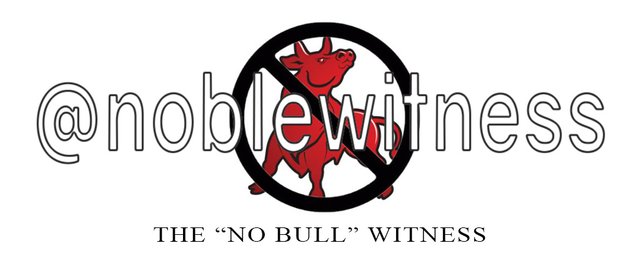 After several discussions and planning, the committee witness project @noblewitness is now officially online!
Who We Are
@noblewitness
is a committee witness program run by
@gmuxx
,
@rhondak
,
@sircork
, and
@anarcho-andrei
.
Gmuxx
One of the founders of the Writer's Block and a former witness, @gmuxx brings a wealth of community-building experience. He serves as a moderator at the Minnow Support Project on the PALnet Discord server. Under his guidance alongside @rhondak, the Writers' Block has experienced explosive growth since its inception last year. He also ran his own witness last year, so he brings his experience operating a witness node to the team.
Rhondak
@rhondak is the co-founder of the Writers' Block and also operates Tazewell County Animal Rescue's Steemit account (@tarc). She is a professional fiction editor, and she has brought that experience to bear on the Writer's Block. Under her literary guidance, the Block has become the place to find expert editing and critiquing, as well as a number of writing workshops to improve one's fiction. She also led the charge to set up Steemshelves, a place where fiction authors can collect their stories into one place and organize them by genre and by author.
SirCork
A man that needs no introduction, @sircork is one of the most well-known witnesses on Steemit and is responsible for a multitude of projects. Chief among them is the YouAreHOPE Foundation. YouAreHOPE is a humanitarian aid society that focuses on sending aid to developing countries and communities, from helping to build schools to buying shoes for school children. They operate an expansive network with trusted individuals around the world to ensure aid funds are used properly. He is also the founder of the SteemStar Network, an unaffiliated radio station designed to provide quality content across a wide spectrum of topics. Recently, he has also taken on the task of reviving legacy tools on Steemit that are no longer being supported or updated, such as the Dead Followers tool.
Anarcho-Andrei
@anarcho-andrei has been on Steemit since August 2016 and has been operating a witness node consistently since August 2017, keeping pace with the expanding memory requirements needed and paying for it out of his own pocket. One of the founding members of the Writers' Block and a member of the veteran community on Steemit, he is also a law student at the Thomas Jones School of Law in Montgomery, AL. His ultimate goal upon receiving his license to practice law is to operate a legal workshop through Steemit where users can seek legal advice and assistance.
---
Our Server
As of this statement, @noblewitness is operating on a server provided by Privex.io. The server specifications are:
64GB DDR3 RAM
Intel i7 Quad-Core Processor
2x240GB HDD
1 Gbit/s network connection
20TB bandwidth limit
We already have plans to expand to a better server that boasts 96GB of RAM and a 480GB SSD, which will improve functionality with Hard Fork 20 on the horizon. Hive Mind and appbase will benefit from the faster drive speed, and the increase in system RAM will provide a large buffer to account for the continued growth of the Steemit blockchain. Future plans include an additional 96GB server as soon as it is feasible to purchase as a backup to the witness node, as well as the addition of a seed node to the network.
---
Our Goals
YouAreHOPE
@noblewitness will continue to support YouAreHOPE's extensive humanitarian mission. One thing that all the members involved in this project believe in is helping those in need. One need look no further than @tarc, which @rhondak runs almost entirely out of her own pocket and without the assistance of anyone in her home county in Virginia. YouAreHOPE will continue to receive the same support and funding as it did before.
The Writers' Block
Three out of the four witness participants are founding members of The Writers' Block, and that involvement in their community will continue. Part of the funds received from operating the witness server will be invested back into the Block, as well as a renewed curation effort to find and promote quality creative content.
Steemit Veterans
@anarcho-andrei is a former US Army soldier and has been part of the veteran community since coming to Steemit. This support will continue and expand through the rewards received from @noblewitness to help promote veteran content and build up veteran community leaders, like @jackmiller, @guiltyparties, and @rakkasan84.
Tazewell Animal Rescue Coalition
Arguably @rhondak's driving passion next to her devotion to finding and fostering creative writing talent is her animal rescue. To that end, a portion of the rewards received from the witness will go to support the rescue and improve the facilities she uses to care for stray animals. We strongly believe in helping out unloved, discarded pets, and next to YouAreHOPE, this is one of the things we are proudest to announce.