I
have finally finished the main elements of the project I have been working on for the last week. It's a git repository containing a Docker, built on a memory space optimised Gentoo base (maximising free memor for buffers), and a set of tools for making managing a pair of Witness nodes (primary and secondary backup), including a node log monitor failover switch, and an automatic price feed setter.
Basically, this makes running a Witness easy.
You can find the repository here:
https://github.com/l0k1-smirenski/docker-gentoo-steemd
There is more things I can add to this, like a script to get more disk activity to happen in memory, and possibly to shift the whole shared_memory.bin file into ramdisk, and many other things. If you want to run a Witness, and you want to use this package, I will provide as much support as I can, including helping you find good, fast VPS hosts to run this on.
In fact, it is a primary objective developing this system to get more witnesses running. We only have about 70 witnesses, there is definitely room for more, but the cost and mysteries of finding good hosting service and the low Steem price are keeping people away, and especially the complexity of getting it started to begin with.
Backup witnesses don't make much money, right now, you have to have costs under about $20/month to do this, and I can direct you to options to get this kind of cost reduction.
I want to throw as many cats amongst the pigeons as possible. More witnesses will also mean more people more motivated to campaign to get the right things done by Steemit, Inc., so it's of benefit to the whole system. Witnesses don't take nearly as much of a share as the forum does of the new Steem our Witnesses make, but we have a very important role and new blood would be very good.
The Witness camerilla is a pretty good group of people overall, but we should be innovating.
Really, witnesses should be the main people doing the development. If Steem was worth $1, even position 100 would be making profit, and funding development projects to further increase the value of Steem.
So, if you have been considering getting into running a witness, there is a good chance I will help you over the learning curve, and with this bundle you will be able to get up and running quickly and then you can focus on advancing the technology.
Enjoy!
😎
---
We can't code here! This is Whale country!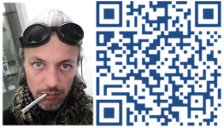 Vote #1 l0k1
Go to steemit.com/~witnesses to cast your vote by typing l0k1 into the text entry at the bottom of the leaderboard.
(note, my username is spelled El Zero Kay One or Lima Zero Kilo One, all lower case)