[Français ↓↓↓] - STEEMMM will be held on Saturday, September 29th! We'll be meeting up at the Angrignon Park in Montreal, obviously. The meetup will be held from 11am to 4pm. We will be boiling corn, so just bring some side dishes and drinks to share. It will be a great occasion to celebrate HF20.
We will setup in a sheltered area in case of rain, so it's a go rain or shine!
This is a family friendly event, bring the significant other and the kids.
Bring games that can be played in the park for extra fun.
Bring chairs for your comfort.
Don't bring any glass containers, park rules.
Let us know if you're interested in the comments below. Reward from this post will be used to help finance the event.
I'm also looking for volunteers to help with the logistic elements. Contact me on Discord.
Join us!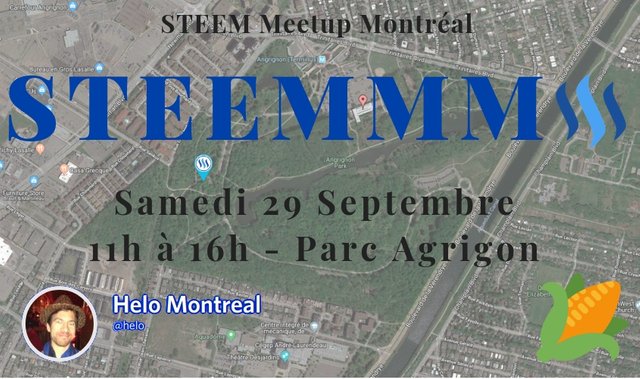 Français
L'événement STEEMMM sera tenu samedi, le 29 septembre! La rencontre aura lieu dans le Parc Angrignon Montréal, évidemment. La rencontre aura lieu de 11h à 16h. Nous allons faire bouillir du maïs, alors apportez des plats d'accompagnement et des boissons à partager. Ce sera une excellente occasion de célébrer HF20.
Nous serons installé dans un endroit abrité en cas de pluie, donc beau temps mauvais temps, nous serons là!
Ceci est un événement familial, amenez votre conjoint et les enfants.
Apportez des jeux qui peuvent être joués dans le parc pour plus de plaisir.
Apportez des chaises pour votre confort.
Aucun contenant en verre n'est accepté dans les parcs, c'est la règle.
Laissez-nous savoir si vous êtes intéressés en commentant ci-dessous. Les récompenses de cette publication aideront à financer l'événement.
Je cherche également des volontaires pour aider avec les éléments de logistiques. Contactez moi sur Discord.
Joignez-vous à nous!
Confirmed Presences / Seront Présent!