To establish a good long term manageable economy it is important to be flexible on the nuts and bolts that keep the construction together. Steemit currently has a 100-160% Inflation rate which will become 9.5% in fork 16 which will help establishing a ground floor for the price of the STEEM-Token.
This is good considering that there has been more supply of steem then there has been demand for steem ergo the price has dropped significantly since the top.
But what do we do when the picture is completely different? When there is greater demand for Steem-Tokens then the supply can give?
The Answer could be dynamic inflation in a future fork
The example below is not ratified or calculated, it is just a good example to study for future ratifications and calculation of a long term manageable dynamic inflation - not short term position-management, let us look at the example: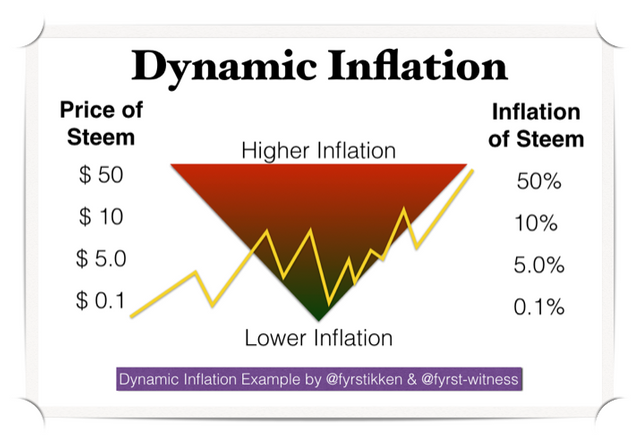 Supply & Demand
Dynamic Inflation must be long term average based, and we should also have a target price that we want to reach first and maintain as we grow in numbers of people over the years.
When 5000 People want to buy STEEM VS When 1million people want to buy STEEM
My 4X4 Truck has four wheels, and for optimal driving I need to adjust the air-pressure depending on what kind of terrain I´m blazing through. I never want to have flat tires - that would destroy the ride completely, and I do not want them so pumped up that they explode in the heat.
Economies need to be managed in the same way - not too much - not too little - just perfect for the current conditions. So as we grow in demand for STEEM-tokens, the price will naturally rise with it - but at some point we will experience that the price of STEEM will be too high - then what? - Well, then we need to produce more STEEM and meet the demand until the price-correction is at a level where people want to invest, and instead of doing manual hard-fork every time we need to adjust the inflation, we can automate that process and create the incentive to keep the price high - but not too high - or keep the price low - but never too low.
Sincerely, and in all friendliness
@fyrstikken & @fyrst-witness
Thank you for reading - let us talk about Dynamic Inflation casually over a cup of coffee on SteemSpeak Radio 24/7 Steemit Talk Radio