Witness Update - 4 October 2018 - New Server & v0.20.5 & Curation Experiment
Witness Update
4 October2018
New Server & v0.20.5 & Curation Experiment
---
Please read my witness thread.
---
I juts got a new server. I've been using Privex for 225 days, but $110 per month is too expensive for witness at rank ~150 and STEEM price bellow dollar. I would have to pay 130 STEEM for next month, but I produce only ~35-40 blocks per month (1 SP/block).
So I bought new server from Hetzner for $45 per month (plus few dollars for exchange from STEEM to PayPal and for PayPal fees). So my new server costs me around 50 USD per month.
My new Server:
Intel Core i7-3930
2x HDD SATA 750 GB
8x 8192 MB DDR3 (64 GB RAM)
Block was already produced on new server: Block 26508293
I updated my witness node to v0.20.5. I need to replay my node again, so witness was disabled for few hours.
---
2 days ago I saw post by @ervin-lemark about his new curation system. I've been thinking about my voting for some time and I realize that I'm voting same 50 people all the time. My self-voting was ~10%, so I decided to spread my votes as wide as possible.
I follow votes from:

At SteemAuto.com, I'm trailing @teamslovenia, @steemstem, @cryptoctopus, @photofeed, @surpassinggoogle, @cervantes.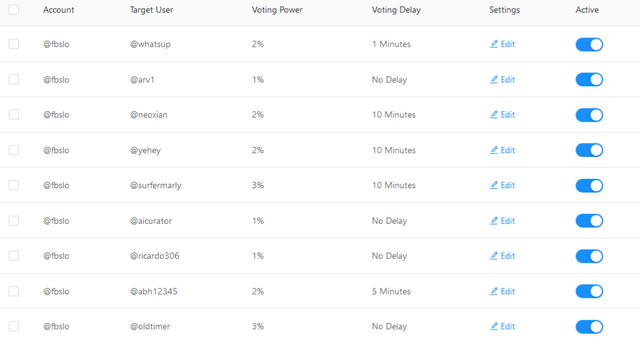 At SteemVoter, I'm following votes from @whatsup, @arv1, @neoxian, @yehey, @surfermarly, @aicurator, @ricardo306, @abh12345, @oldtimer. I would follow votes from more users, but there is limit of 10 users.

And I follow guilds from @curie and @c-squared.
Result after 2 days:


Voting CSI 135.6 ( 4.96 % self, 2469 upvotes, 1721 accounts, last 7d )
(Ant there will be some nice curation rewards to - 16.033 SP in just 2 days. I expect ~25 SP in this week)
---
Delegations and Community projects
I'm delegating 100 SP to @sirsensei for his #drawitbetter contest.
I'm delegating 500 SP to @teamslovenia discord voting bot --> https://discordapp.com/invite/G4fMMfB
(I'm also hosting this bot on my new server)
---



(Data from Steemian.info by @drakos)
| Witness settings | Settings |
| --- | --- |
| Account creation fee | 3 STEEM* |
| Max Block Size | 65536 |
| SBD APR | 0.00 % |
| BIAS | - |
| Price Feed | Every 6 hours |
I publish price feed only every 6 hours instead if every hour.
*I juts updated it and it will be changed on steemian.info when I produce next block.
---
I'm witness #127 (active rank) and #154 (total rank). Thank you for your support.
---

(Click on the button)

(Go to https://steemit.com/~witnesses and type fbslo at the bottom of the page)
---
Please read my Witness Thread and support me by voting @fbslo for witness.
SteemConnect link: https://steemconnect.com/sign/account-witness-vote?witness=fbslo&approve=1