Introduction
Witness
Cervantes Project
Curation Project
Hisparadio
Magazine Cervantes
Cervantes Contest
Meet-up
Cervantes Chat
Cervantes Promotions
Lince Project
New initiative: "Cervantes helped me to"
Cervantes Debate
Future projects:
12 Hispamusic
13 Cervantes live curation
14 Bloque64.com - The first spanish decentralized crypto newspaper (already in contact with investors and journalists)
---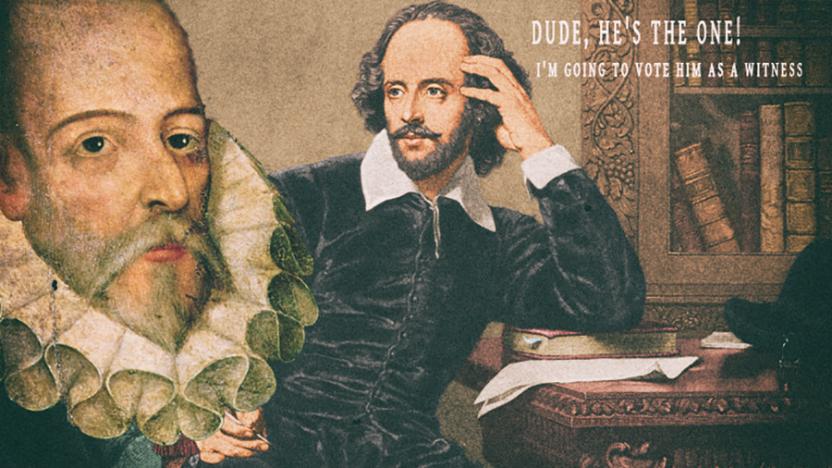 1. Introduction
Greetings, dear steem community.
It's been almost a year since the creation of the Cervantes Project, and to celebrate the occasion, we've decided to share a publication, where we'll talk about many things, such as the origins of the project, the people behind it, some of our initiatives, and most important, our candidacy to the Top 20 witnesses, which would help a lot to promote the growth of the community.
In this new digital world that we navigate, we're all making our first steps, so it's not only logical, but necessary, to learn from our mistakes, to keep growing and moving forward in order to achieve the proposed objectives.
We know that all this new terminology, words and strange concepts may be a little overwhelming to first-time users. This is why we want to explain the functions of a witness in Steemit very clearly, and emphasize the importance of your votes for the Witness Cevantes and the general community.
---
2. Steem Witnesses
Written by @pgarcgo
Primarily, the @cervantes user is first and foremost a blockproducer of the Steem network, a so called Witness. But, what does this mean? What are witnesses for?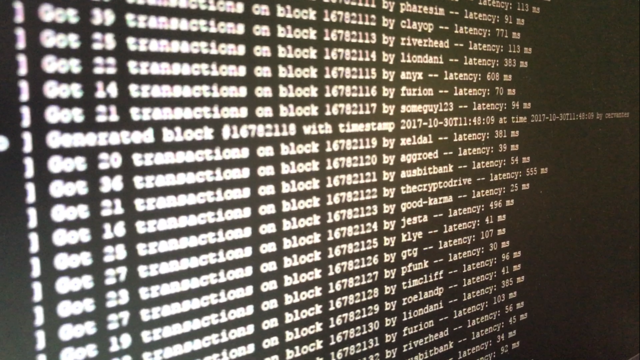 As we all know, this site steemit.com manages and stores large amount of data: publications, comments, votes, re-steems, transfers, power-ups, power-downs, followers lists, configuration parameters, etc.
All this is information are stored not in one, nor two or three, but hundreds of servers inter-connected to each other in a way that it is almost impossible to delete or modify the information they store. The technology behind that is called the Blockchain
Also, in order to keep and attract new people to the site and encourage its users to use it, the Steem network sustains itself with its own digital currency, called STEEM, which is distributed among content creators and curators. Whoever writes, comments, and upvotes posts or comments, will receive STEEM.
In short: the better you write and the better you vote, the more STEEM you receive. It Is that easy!
But who is responsible for maintaining this IT infrastructure?
You are right! the witnesses.
A witness is nothing more than an "elected" steem user in charge of continuously running a a server, a node of the Steem network, making sure that, whatever happens, the people can keep writing, posting, upvoting and commenting.
If there were no witnesses, the Steem network and steemit.com will collapse.
2.1 Not all witnesses are the same.
Generally speaking, early blockchains (such as Bitcoin) have a fundamental problem: The datasets they manage are getting increasingly larger as more nodes are added to the network increasing the number of transactions which need to be validated in every block.
The race to validate such transactions producing more blocks and gaining incentivicing tokens is becoming harder and even almost non profitable given the high energy consumption of traditional proof of work algorithms.
Block producers (or pool of producers) are reduced to a handfull and such blockchains are becoming more and more centralized (i.e. there is no more than 5 main block producing pools in the bitcoin blockchain).
In an effort to minimize energy costs, and make the blockchain more de-centraliced the Steem network implements a very innovative and already proven consensus technology called DPoS (Delegated Prove of Stake), where the largest workload is distributed among a relatively small number of nodes, specifically 20 (witnesses) but in a way that it is the whole network who decides which nodes are elected to be in the producing queue.
But, how are these 20 block producing nodes chosen?
Steem could have follow the "traditional" proof of stake consensus algorithm and assign this 20 nodes to the 20 users with more stake. But this type of practice could have put the network in the hands of big capital accounts, with the risk of reaching a centralization of block producting power.
Luckily, steem is a social network where people are used to vote content in order to reward users for their best publications. There is a continuous democratic consensus, where the network evaluates who deserves more or less rewards for what they write or comment.
This kind of democratic voting consensus is also used in the Steem network to select the block producing witness. The network delegates responsibility for the maintenance of its own infrastructure to 20 top witness users democratically voted by the rest of the community.
2.2 The power of capital
This process is not a purely democratic election since not all votes are worth the same. The vote of a whale (a user with hundreds of thousands of STEEM) is worthier than the vote of a minnow (an user with a few STEEM).
Through this system, investors of the network (the aforementioned whales) are the most influential, specially when deciding who is responsible for their infrastructure. It make sense.
2.3 The power of people
But there are other ways to get elected as a witness: getting a lot of votes. If there is enough users voting for a witness, their cumulated stake, could be as valuable as the votes of a couple of whales.
The @cervantes Witness is currently in the 27 position (02.12.2017). We are what it's called a runner-up witness, and we deliver a block in the STEEM network every half hour or so.
If we manage to get in the Top20, we could generate a block every 63 seconds. Remuneration would be higher,and the incentive to even invest more capital in maintaining our the infrastructure with even better and geographically more independend nodes, also higher.
2.4. Infrastructure
As to this date, we have several servers, each with a specific function, and located in German data centers. Germany not only serves as a strategic position in the center of Europe, but also -due to high demand- offers the lowest prices when it comes to dedicated servers.
For the time being we have a dedicated 64 RAM main witness node producing the blocks, a 32 GB RAM backup server and a 32 GB RAM seed node, that could also act as a failsafe backup if main and backup stop running.
For price feeding and fail save scripts we are running @furion's conductor on a separate 16 GB RAM Server.
3. Cervantes - Project
Back in summer 2016, there was a small group of spanish native steemians trying to write posts in their mother tongue but not receiving the necessary support (votes) to make it worth the effort.
This was early recognized by some high stake users from outside the spanish community who trusted the witness @cervantes as a good and trustable reference for rewarding, promoting and supporting the spanish speaking language in the Steem network trrough different projects and inciatives,
Thanks to this, the spanish tag has gone from being invisible, to glimpse a ray of light at the end of the road.
As the community grew, the owners of @cervantes (@pgarcgo and @gargon), decided to extend the project by approaching users with some trajectory in the network willing to help with the mission to promote the spanish language: Thus, following users joined the @cervantes teams as collaborators in different areas:
Curators:
@wartrapa, @dresden, @soyjoseluis, @handmade, @nelyp, @anneblueberry, @angielb, @rafarosado, @tincho.
Moderators of the Cervantes chat:
@loreennaa, @the01crow,, @aidarojaswriter.
Lince (Lynx) Project:
@anomadsoul, @walden, @cooper, @alexaaams.
Cervantes Magazine:
@dcaroa, @senoralonchafina, @poetarojo, @nelyp, @tincho, @ivan-perez-anies, @anomadsoul, @the01crow, @loreennaa and @trenz
Hisparadio:
@juanmiguelsalas, @mauriciovite, @bitcoinroute, @leotrap, @michelcamacaro.
Cervantes Promociona (Juries):
@drakkomaximo, @bitcoinroute, @fakj94.
Cervantes Meetups:
At the same time, the Spanish-speaking community moved from the Steemit.Chat channel they created, to the Discord application, since it allowed the project to expand and improve communications between users. At this point, we became a great family, always creating different and enriching initiatives in our community, let's talk about them next:
Cervantes Discord Chat
---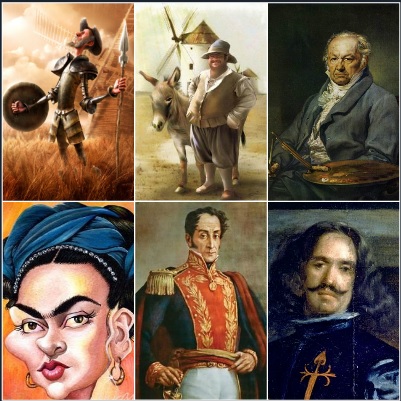 4. Curation Project
Written by @tincho
Due to the constant increase of users in the community, the founders of Cervantes saw the need to increase the number of trustful human curation teams helping @cervantes on reading, evaluating and voting good spanish content. This curations teams, is spread around the world covering the main time zones where spanish content is created and are the following:
@don.quijote handled by @dresden
@sancho.panza handled by @rafarosado
@simon.bolivar handled by @aneblueberry and @handmade
@frida.kahlo handled by @angielb
@velazquez handled by @nelyp
@goya handled formerly by @soyjoseluis and now by @tincho
@cervantes handled by @gargon, @pgarcgo, @wartrapa and @dresden.
Thanks to the work of these different teams, it's been possible to continue encouraging the creation of original content and quality within our community, always bearing in mind that the main objective is to help members who strive to develop good material.
It should be noted that the work of the curators is not only to find hidden gems lost in the immensity of the Blockchain by Steemit. Many of them also perform different tasks in the Cervantes team, supporting the project in other ways. Such as the great work carried out by @nelyp as a layout designer and collaborator in the Cervantes Magazine, the demanding literary competitions, both in prose and verse, made by @dresden through @don.quijote, or the Meet- Ups, managed by @aneblueberry.. Everyone adds their grain of sand and collaborates in what is needed. Of course, this would not be possible without the good predisposition of @gargon, @pgarcgo or @wartrapa, who are in charge of supervising the tasks performed.
Curation accounts deliver a report stating the number of posts voted, and the amount of profit generated to members of the community. In addition, we make use of a Cervantes channel of Discord, a private chat where each curator proposes 4 daily posts to be voted directly by the @cervantes account.
Some guidelines are followed during the curation process: always seek original content, good spelling, respecting the tags, and stating the sources of the images in the case that they're not created by the author. besides, curators are in charge of recommending, motivating, encouraging, suggesting, advising and, to resume, guide new users of the platform via comments.
When it comes to finding plagiarism in a post, curators may inform the user and report the situation to the members of Proyecto Lince, in charge of ensuring the author does not incur again in said practice. Plagiarism, or the old copy/paste, is usually a grey area, therefore, the curator's attention is fundamental. Rewarding a person who abuses and profits from other people's content can result in discrediting a whole project. Which is why there's a lot of emphasis on the thorough and exhaustive review of everything that is voted.
So far, the work done by the curation team has received almost no criticism, since the idea of voting quality over a particular user has always been a primary value. Although, let's not forget that, as humans, we always make mistakes, therefore, we're constantly working to improve.
Being a curator is no walk in the park, it entails a lot of responsibility, honesty and objectivity. Those who perform this task are vital to the Cervantes Project, and in a certain way, serve as representatives of the community. It's common for curation projects of the Steemit network to receive a lot of criticism. Because of this, transparency is always necessary when carrying out tasks, in order to achieve, as we already mentioned, a proper value, and encourage the creation of quality content within the Spanish-speaking community.
Cervantes has curated so far over 15.000 posts
---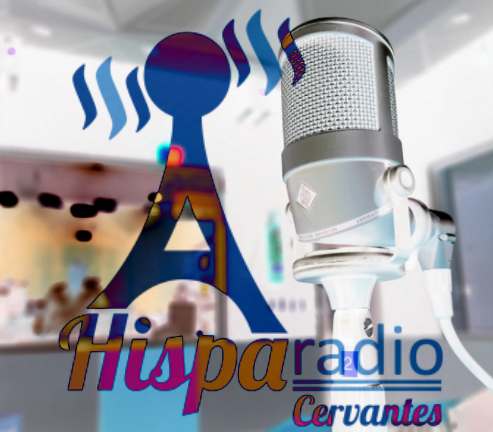 5. Hisparadio
Written by @ivan-perez-anies and @gargon
One of the most inspiring and exciting projects from the Cervantes universe in Steemit is Hisparadio. A good way to have a closer contact with Steemit users who are interested in topics such as the platform and its operation, as well as news and stories of some of the members.
Hisparadio was born about 3 months ago thanks to the initiative of @juanmiguelsalas, one of the oldest and most active members of the Cervantes community. He proposed the idea and was responsible for finding an optimal platform, selecting the contents and deciding the editorial line throughout the programming. Step by step, the initiative took shape, and more content was added to Hisparadio which already had great music playing at all hours, any user could access it and enjoy one of the first radio experiences of the blockchain.
There's a lot of great plans for this project, one of which is already under way and has been very well received: Steemit Habla. Basically, it's a section where a discussion, debate or interview is held with members of the Spanish-speaking community, led by the announcers Mauricio and Juanmi. On it's first week, to inaugurate the section, an interview with @gargon took place, involving the Cervantes Project as a main topic.
Of course, you can expect many more plans for this cool radio initiative, and new proposals will begin soon. The main objective is to weave a collaborative network around a common idea, that's the main motivation for all us members of the Cervantes Project.
The Spanish language has an impressive potential due to the number of Spanish-speaking individuals living around the world today. The Cervantes Project strongly believes in the explosion of Steemit. It recognizes that the platform has all that it needs to blossom because of its concept, and the economic incentive that comes with it.
In conclusion, we just want to add that we're proud of the way the project is going, it's a great joy to see how hundreds of users interact in the Discord chat every day, while listening to good music in Hisparadio, to witness when there's a live program, with a fully active chat, filled with users commenting and interacting with presenters and guests in real time, and to see members who could not be present asking for the podcast and posting their impressions. We don't know the future, but we're very optimistic, and having a blast as more and more people join us, every day is getting better; the work may be hard, but the reward is worth it.
---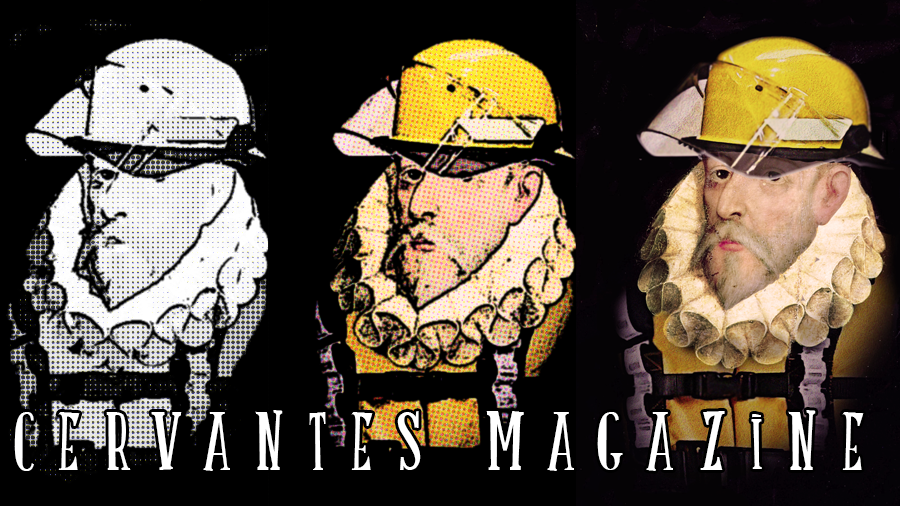 6. Cervantes Magazine
Written by @poetarojo
The Cervantes Witness has stood out for being the most active and most powerful witness of the Spanish-speaking community. One of its most revolutionary and paradigmatic projects is the creation of the first decentralized, miscellaneous crypto-magazine based on the Steem Blockchain and launched through the Steemit platform.
Although the weekly magazine has only 9 editions published to date, its impact on the future of community journalism and Ibero-American documentary will soon become visible. Cervantes seeks to give visibility not only to the Hispanic community in Steemit but to the platform itself, in the most well-known-and for now, hegemonic-social networks.
The contribution of the Cervantes Magazine to freedom of expression in Latin America is still incipient, yet its influence in Mesoamerican social movements is consolidating in the Northern Triangle of Central America, one of the most violent regions of the planet, where the persecution of human rights advocates, environmentalists and movements for women's rights are, unfortunately, a common practice within the corrupt governments of the region. Revista Cervantes is an important reference of alternative media, free of interference in the region, so much so that several Central American community media and the Network of Media-Activists of Chile, inspired by the Cervantes Magazine are now working with a network of community media to create a Crypto-Magazine Documentary using the Blockchain of Steemit.

For now, we're not able to elucidate the profound impact of the Cervantes Magazine, however, we can assure without boasting, that its influence will leave a mark in the way community journalism is done.
The Cervantes Magazine stands out not only for being a pioneering means of alternative communication in the Blockchain, but also for having a multidisciplinary and multicultural team that enriches Steemit, promoting the professionalization of original production in the Spanish-speaking community.

The decentralized operation that Steemit provides has transformed the transparency of media into a corroborative reality. For this reason, the Cervantes Witness is, without a doubt, a pioneer in this trend, created out of the need for freedom, a virtue many countries don't have.
To truly understand Cervantes Magazine as subject of study, it's necessary to know the people that make it possible.Our editor, @dcaroa handles the pattern and congruence of the topics to be dealt with in each edition, @nelyp guarantees readability as the layout designer, @senoralonchafina delights us with her geeky old school designs, while @juanmiguelsalas, contributes as a corrector of the project with his acute criticism and wide vision; you'll meet our critic, @ivan-perez-anies, the human rights defender @poetarojo and our editors @loreennaa, @the01crow, @anomadsoul and @tincho. We highly recommend you to follow these users.
---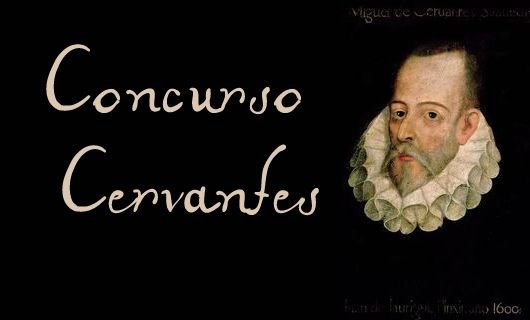 7. Cervantes Contest
Written by @wartrapa
The Cervantes Literary Competition was created with the clear objective of continuing to bet on users who published their writings in Spanish, but also with the intention of giving visibility and reward to great writers who were already in the Spanish-speaking community.
Organized by @wartrapa, and with the help of all the curators of the @cervantes project, especially @dresden, the contest lasted 12 weeks, and had a first phase of 10 weeks and a final phase of 2.
The results of the first contest totally exceeded our expectations. With a turnout of more than 1000 publications during the ten editions, around 850 fulfilled the expected requirements and entered the contest.
720 STEEMS were distributed among the winners as weekly prizes, but it didn't stopped there, since -as stated in the rules of the contest-, we voted all of the submissions, as long as they fulfilled the requirements. By approximate calculation, the sum of the voted posts generated more than $4000 among all users, something impressive, which made us very proud.
To conclude, a second challenge was proposed among the winners of the first 10 editions, rewarded with a Ticket for the SteemFest2 in Lisbon, valued at $2000.
We are currently doing a second contest, now about photography, with a final prize of 350 SBD.
---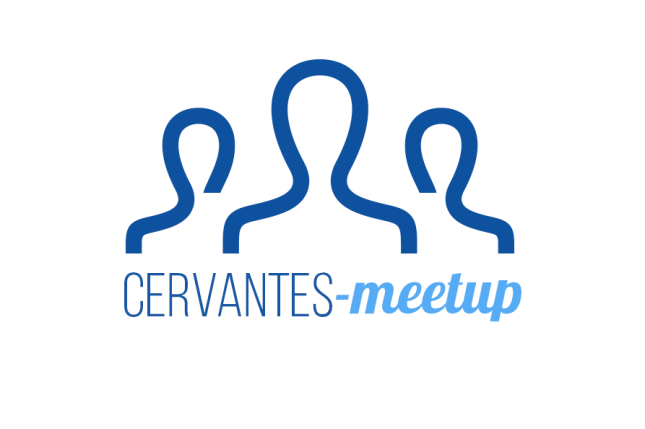 8. Meet-Up
Written by @aneblueberry
As we already know, man is an animal of a sociable nature. Our capacity for reasoning makes us want to share ideas, doubts and experiences throughout life with our closest friends, classmates, and family.
And being a 'social network', Steemit could not be the exception.
That's why, due to the increasing growth of the Spanish-speaking community during recent months, this initiative was created to gather 'steemians' in real life, to share in person all of the diverse experiences the platform provides us.
Making the so-called 'Cervantes Meet-ups' has been a rewarding experience in various cities around the world such as Madrid, Malaga, Mexico City, Barcelona, Maracaibo, Caracas and more.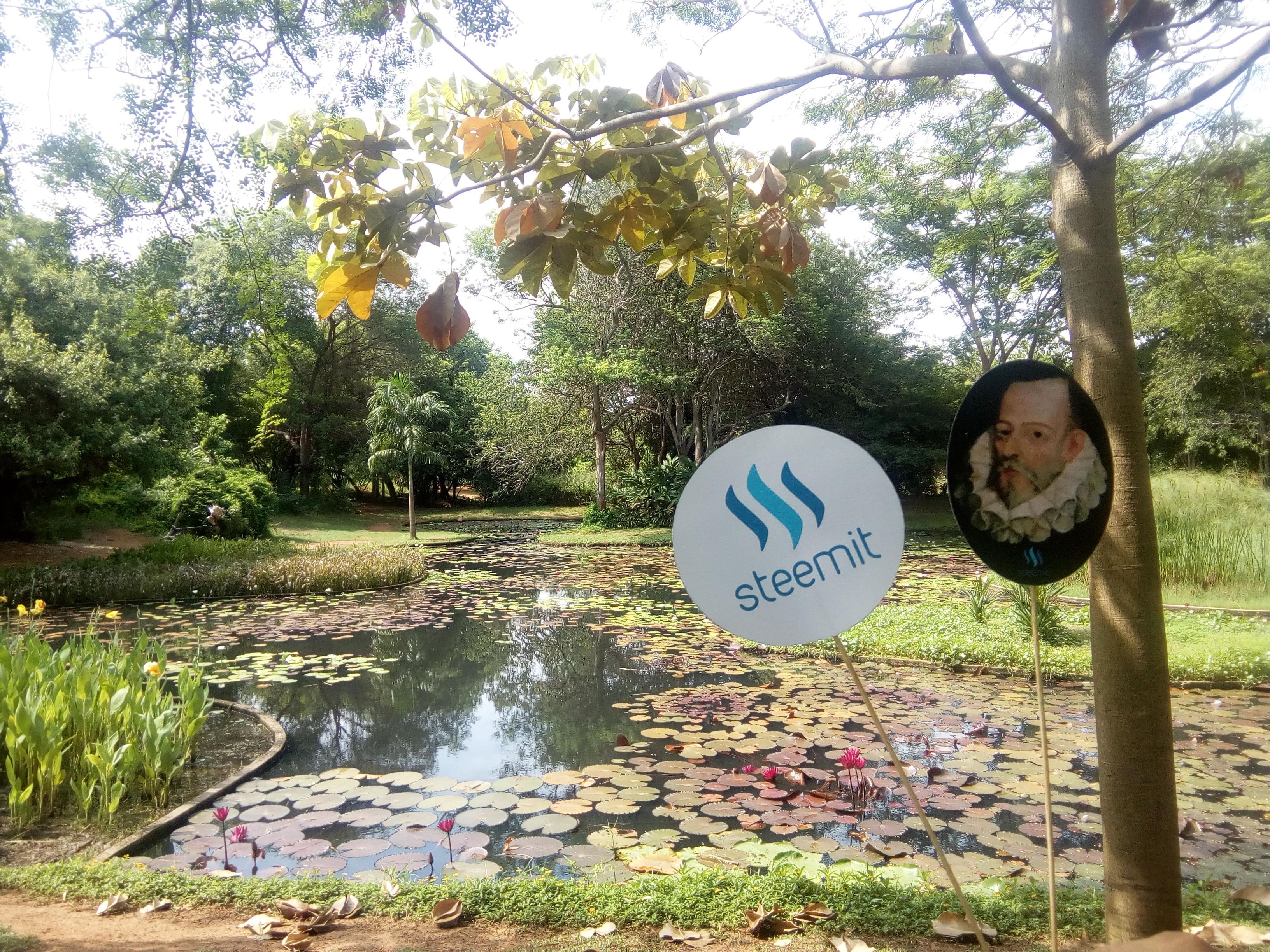 The purpose of these meetings is to be able to clarify concepts that at first glance may seem abstract to Steemit newbies. Processes such as the voting system, the correct use of the tags, ways to promote the articles, rules of coexistence, or how not to fall into plagiarism and/or abuse are some of the discussed topics of these meetings.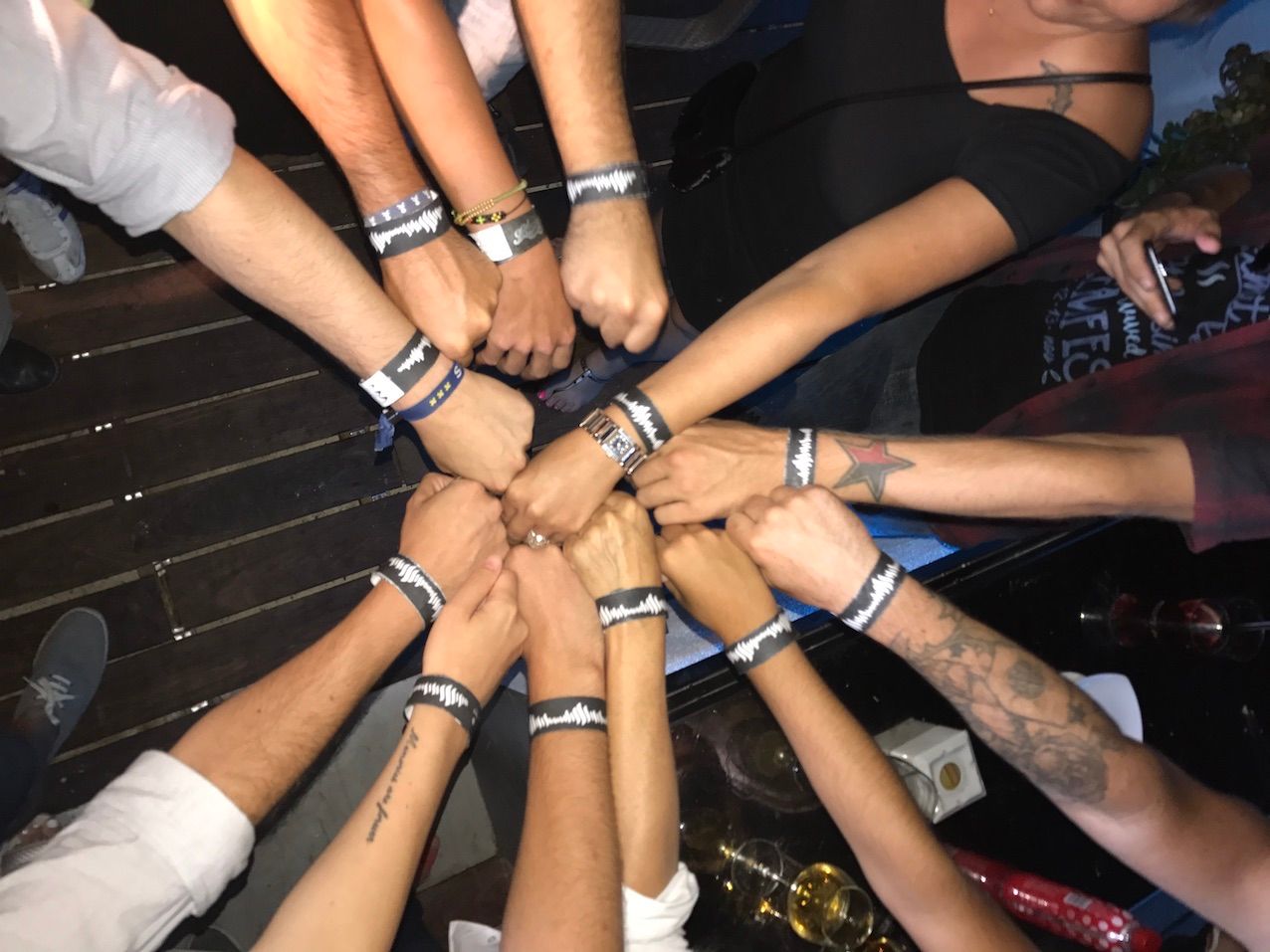 Organizers must create a fresh, entertaining environment, where the attendees are not afraid to manifest their doubts to users with more experience and time within the platform. Likewise, meet-ups are an excellent way to introduce future new users who are interested in joining.
Several users began to organize 'meet-ups' in their cities, supported by @cervantes, some of them are:
@theghost1980 @bitcoinroute @aneblueberry @angielb @jessfrendcor @malonmar @oscarcc89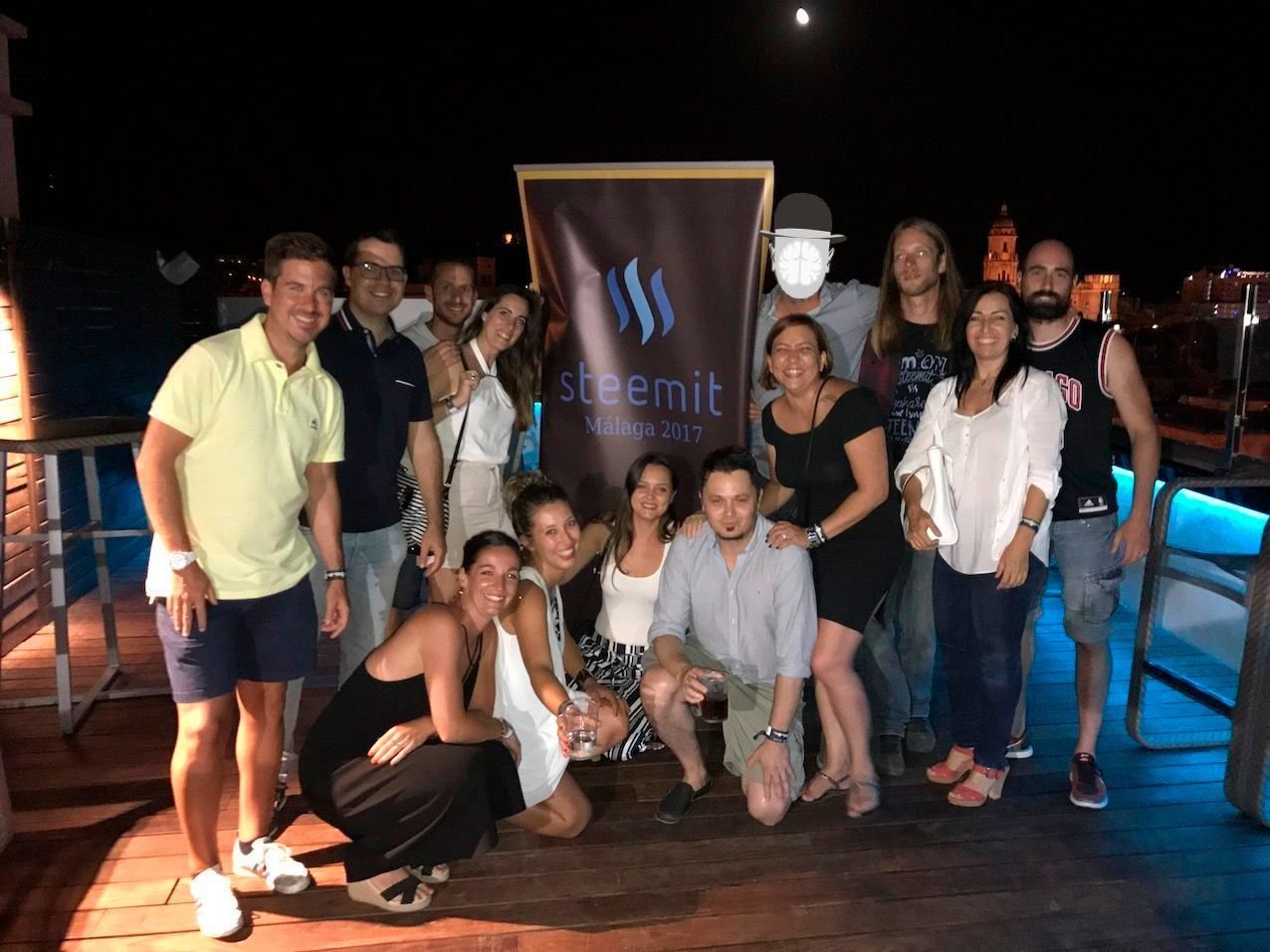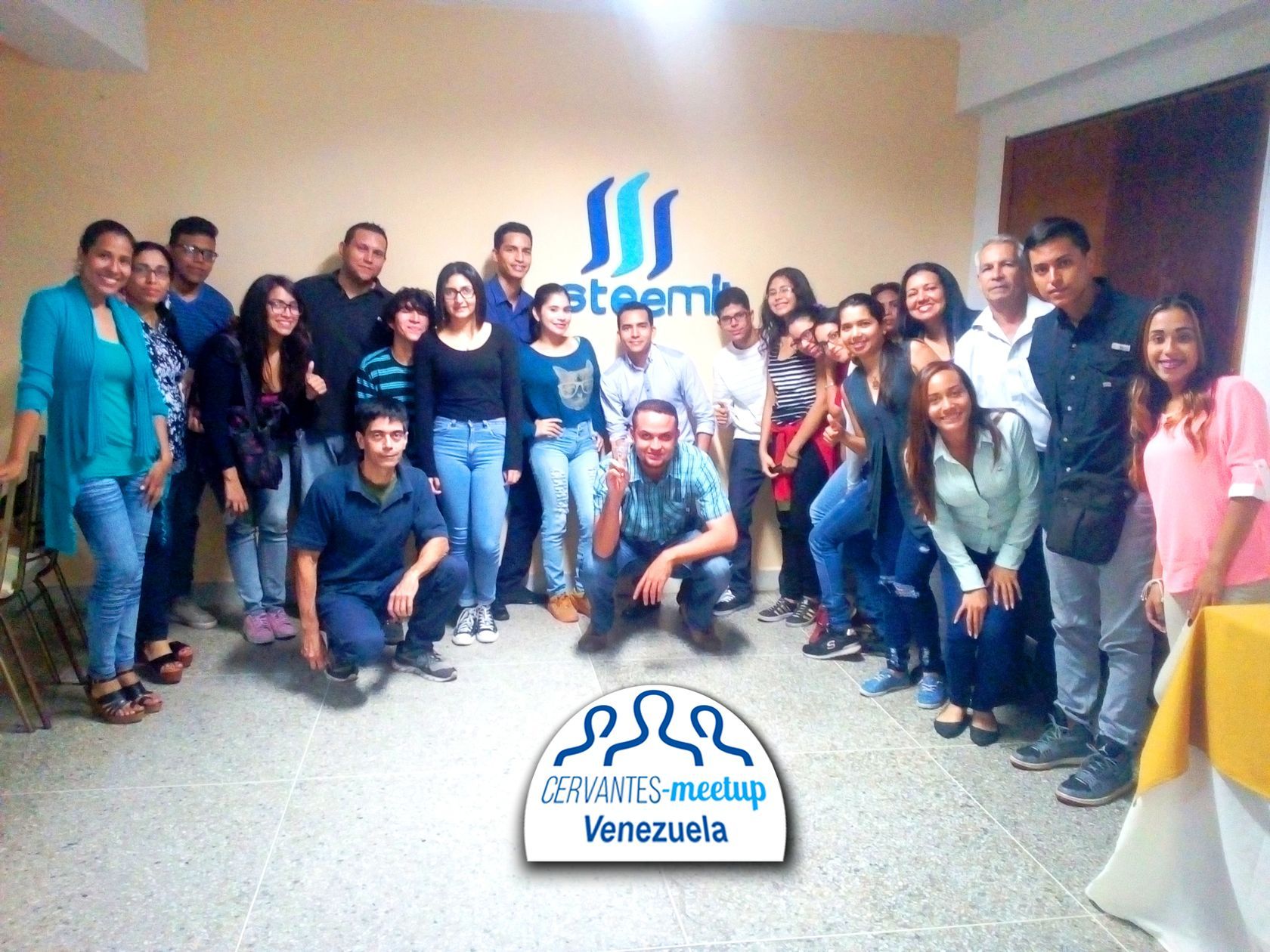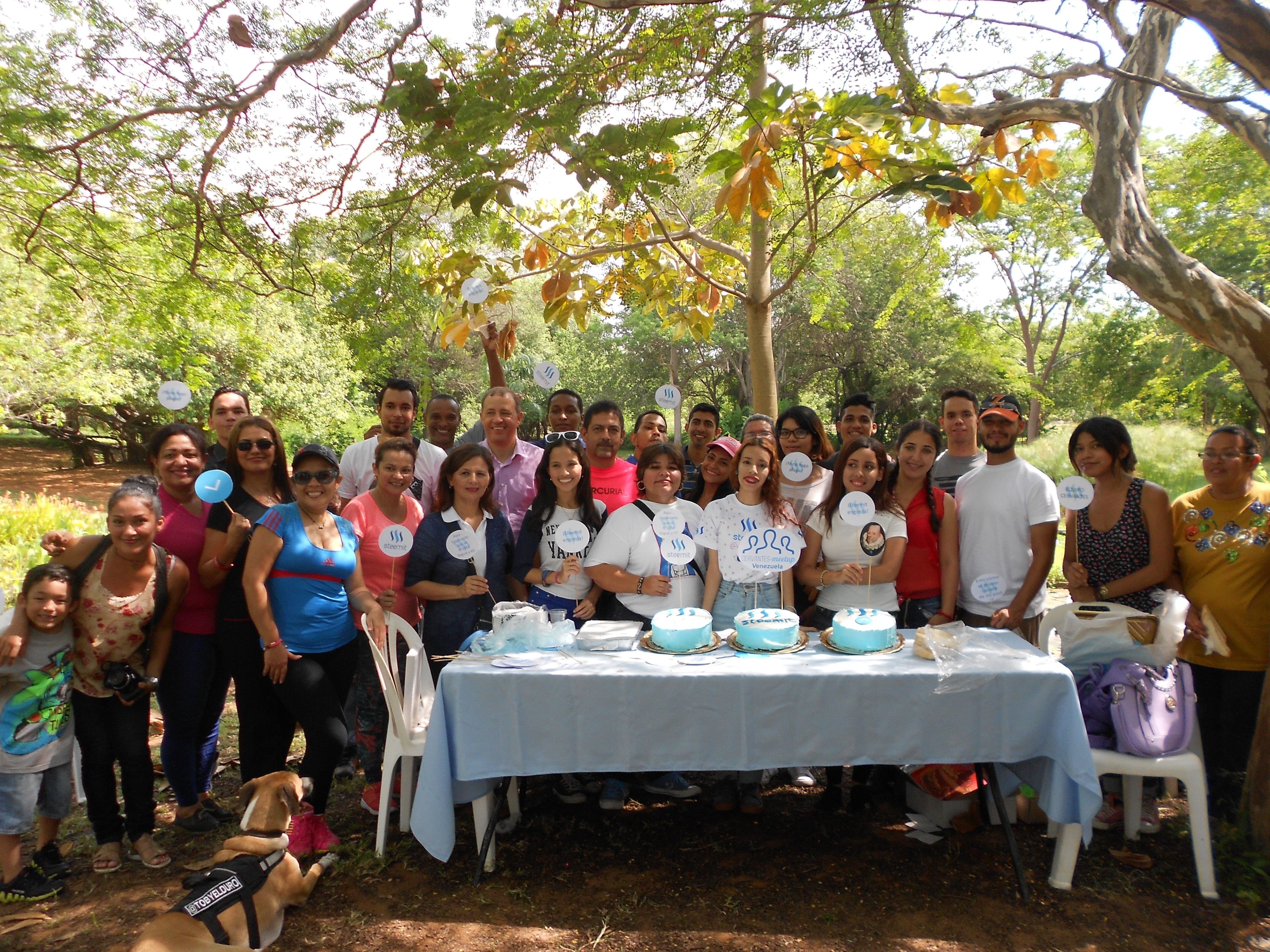 The idea of creating the first meetup funded by cervantes originally came from @theghost1980, who first aprouched @gargon one of founders of witness @cervantes, to foster a sense of community in Venezuela.
Each meet-up has its own atmosphere, it could be a conference room, a park to feel nature and have a picnic, or even a good place with drinks to have a nice time between classmates. At the end of the day Steemit is a social network in which many have made friends both on and off the computer screen.
---
9. Cervantes chat
Written by @aidarojaswriter
Cervantes it's approaching its first anniversary, and today we'll talk about one of the most fun parts of this project: the Discord chat.
The Cervantes chat on the Discord app, is a proposal that comes with two major priorities: to bring together any person who wants to be part of the Cervantes community, and facilitating their interaction and integration within the Hispanic community. To this date, its main objectives remain strong, reinforcing communication and support among the members of the platform.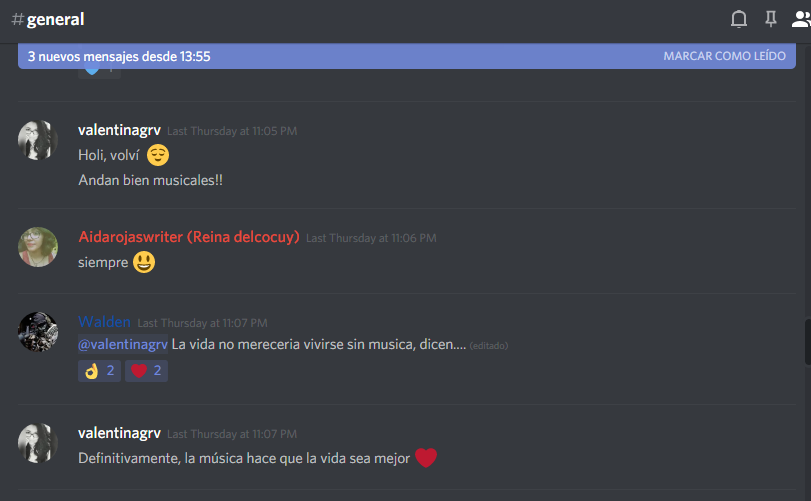 Projection of the Discord Chat has been a very important task for the people of the Cervantes team, through this medium, project members can make agreements, distribute information, make daily revisions of publications, as well as reporting when breaking a rule.
But let's stop talking about the serious part of the Discord chat. The Cervantes channel hosts many "characters" who help make daily interactions a very pleasant experience. All the conversations Hispanic-American users have through the #general channel, where you'll find a lot of opinions and conversation topics taking place at day and night. If there's one thing we can assure you, it's that you'll never get bored.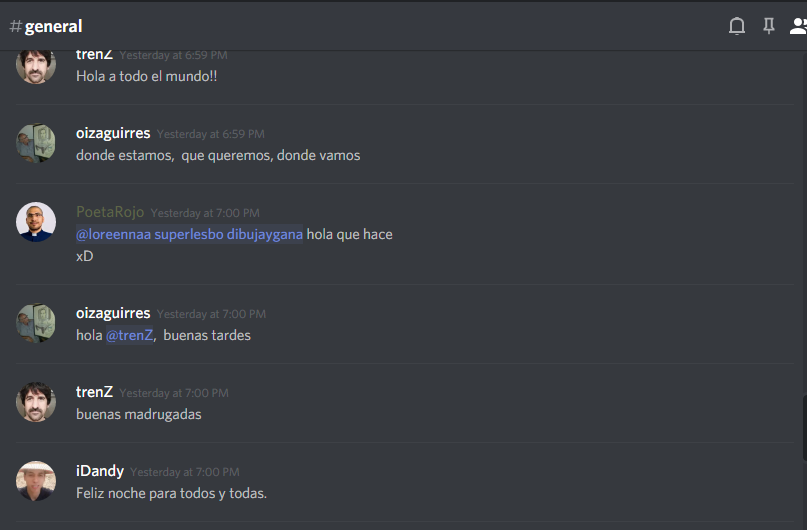 The chat moderators team features @rojassartorio, @loreennaa, @the01crow and the newest member, @aidarojaswriter. These people are responsible for cleaning and reviewing the chat, in favor of community performance.
In our general chat, you'll meet emblematic and almost representative members of the Cervantes community, such as @michelcamacaro, the most integrated to the community. Between jokes, good vibes and helpfulness, Michel brings a box of surprises full of humor, extroversion and wisdom. @the01crow, one of our moderators, with his great musical taste, and cleverness when it comes to strategy, @looreennaa, asking thousands of questions about fun topics, @bitcoinroute, always present in the voice chat next to Michel, with his interesting perspective on things, a great knowledge about cryptocoins, and a contagious laugh that you won't be able to forget.
@yaniria1, an incredibly open minded woman, with a big heart and beautiful feelings, open to writing, opinions, and to life itself. Now, talking about the most prominent people, we have @walden, a peculiar user and member of Proyecto Lince, with and incredible musical taste that never seems to disappoint, an eloquent sarcasm, and a constant struggle against plagiarism, abuse and injustice. And if that is not enough, a special mention goes to @oizaguirres, a 70 year old grandfather who enjoys exploring the world of Discord and Steemit and appreciates our youthful occurrences. If you want to listen to a piece of wisdom advice, or just chat with someone with a lot of experience, Mr. Omar will take you on a journey of small-town anecdotes, natural remedies and witty sayings from other eras.
Now, we have surely already asked ourselves, how can we promote our posts on the Cervantes channel if I'm a new user?
We already know that Discord is not exclusive for Steemit users, that's why it's difficult for us to link them to each other to optimize usage. In order to understand the functions we give to labels a little better, I'll show how tags are structured: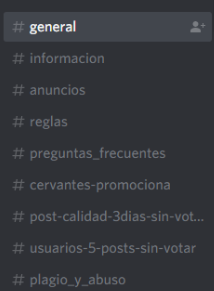 #general: Only used to interact, speak, bonding with members, etc. Here, posts are not published, however, interacting in that channel is essential to gain more visualization of your posts.
#information: It's a channel dedicated to the distribution of information and important recommendations made by The Cervantes team.
#announcement: Used by The Cervantes team to communicate with the community, informing about different novelties of the project
#post-quality-3days-without-voting: Users can recommend quality articles that are not their own and haven't been voted in a minimum of 3 days; If the recommended article ends up being voted by Cervantes, the user who recommended it will earn 1 SBD.
#users-5-posts-without-voting: Users can publish their personal profiles or those of other members so that they can be voted by Cervantes, as long as said profiles have not received votes for at least 5 consecutive publications.
#cervantes-topic: Channels about different topics, where users can promote promote their posts, as long as certain rules are respected.
---
10. Cervantes Promotions
Written by @bitcoinroute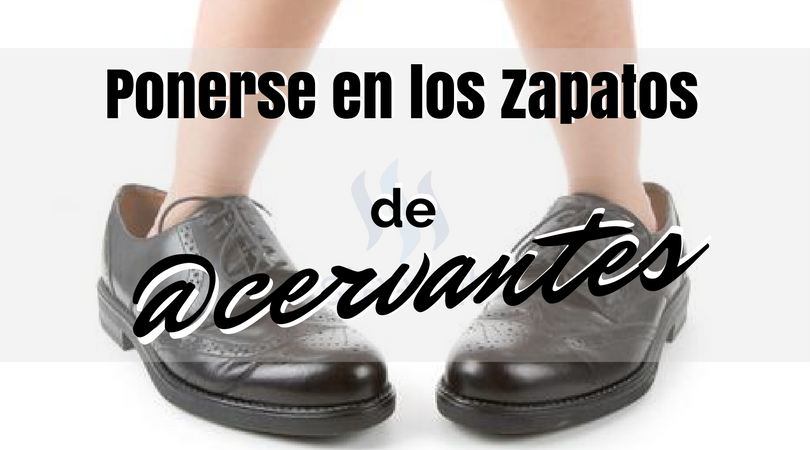 Source
Cervantes-Promote is to put on the shoes of @Cervantes.
Where i come from, putting on someone's shoes is a colloquial expression, which describes the feeling of the person who takes responsibility for someone whom he admires.
I consider @cervantes more than a Witness, but a promoter of quality content; With each contest, each collective proposal and each entrepreneurial action, encouraging the community's motivation to create good content.
Talking about this initiative for me is a great honor, because I think one of the most important values of the work that @cervantes does as Witness, is that commitment to excellence in content within the network, the understanding of the multiethnic and plural, which should be the base of the Hispanic community, in order to recognize the work of creators who write in the second most spoken language, and the one with the highest growth potential in the Steem network due to multiple factors.
In order to take on this challenge, it's notorious that Cervantes seeks to promote daily strategies that allow the community to assume certain commitments, always maintaining the premise of curing quality content, and putting on those shoes with pride: by being a part of the @cervantes curation team.
To achieve this purpose, Cervantes delegates these tasks to certain users:
Publishing an article in @cervantes network, promoting their work and giving the opportunity to each author to leave a mark in the blockchain.
Perceive the liquid reward generated by a post, giving added value to the opportunity it represents.
When promoted, an author becomes a jury, along with the authors who have already participated. This is where the cycle of awareness about @cervantes begins, not only with the community, but personally, with the responsibility of choosing a quality article, assessing the personal effort of each author, and discriminating between several proposals, the "best" between a diversity of topics and criteria.
To date, these are members participating as judges, @the01crow, @introspectiva, @fakj94, @bitcoinroute, @abnerpantoja, @drakkomaximo1234 and @carlos-cabeza. We expect more to join.
Cervantes-promociona is just one edge of the whole compendium of activities that take place in this community that declares itself cervantil with pride.
---
11. Lince (Lynx) Project
Written by @alexaaams
It's become very visible by each of the users of this platform, the major advances achieved by the Spanish-speaking community, and, without a doubt, the position that the @cervantes has acquired in favor of its development and maturity. It's been incredibly important.
As a small mass of Spanish content grew little by little, a big problem regarding plagiarism and abuse started. As an effort to prevent this, Cervantes began the search for a measure that could solve the enigmatic issue of abuse in a significant way and perhaps, at some point, solving the problem in all its magnitude. It was at that moment, where the birth and baptism of the great cleaning project @lince took place, with the inescapable objective and main commitment to arbitrate situations caused by users who violate the norms and criteria of the platform and blockchain, in order to ensure that the process of rewarding Hispanic content is done in the most just and correct way possible.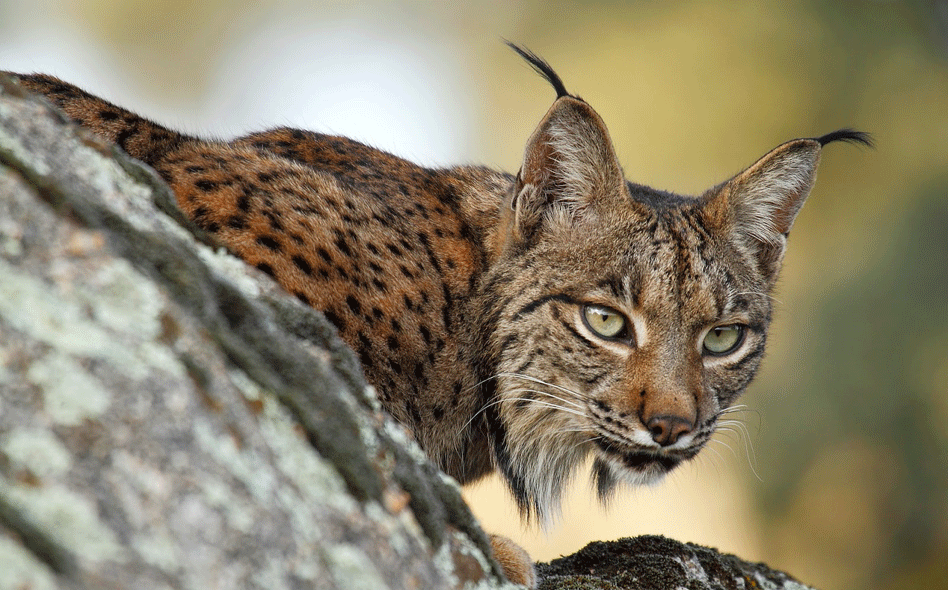 Source
The @lince team has analyzed, understood and evaluated the behavior of the community over time through techniques and tools that have helped to accurately determine the deficiencies of it. From there, we proceeded to design a series of rules to take into account, in order to allow the Spanish-speaking family to contribute their works, and do it without any problems within the platform, always rewarding the intellectual effort.
After its opening, the team chose to take root within the community, applying methods of prevention and promotion to plagiarism and abuse, as a family doctor would do. So, rules were made to take into account, providing coverage to user's backs when they decided to seek support on the Internet. Furthermore, a series of articles were elaborated in the official account of the Lince project, where the community has free access to definitions on various topics related to plagiarism and abuse, they can also read daily reports regarding articles that have been detected by the team.

A channel was also inaugurated in the Cervantes chat discord, where any doubt a member of the community is answered.
All of this was done in order to minimize most of the lack of instruction that users may have when they reach the platform, and even for those users who have been on the network for a long time, but have not been educating themselves about how Steemit works.
In Steemit, the issue of plagiarism and abuse globalizes entire communities, that means no one is exempt from arbitrariness, which is why cleaning teams have been defined, preventing the wave of abuses that, directly or indirectly, spoil the essence of the network.
The Lince team is conformed by these cleaners: @anomadsoul, @walden, @cooper and myself, @alexaaams, all in charge of keeping control and daily logging of users who try to profit and unduly take over the effort, work and prestige of true authors and artists. Our procedures are based on providing suggestions / notifications to users who commit plagiarism and abuse in a partial or total way, and flag those who have a limited amount of incidents and have decided, sin some way or another, to ignore the suggestions. The cleaning work, mainly of the spanish tag, and cured by the @cervantes witness, is carried out so that only those users who achieve totally original and creative textual or artistic content can be awarded.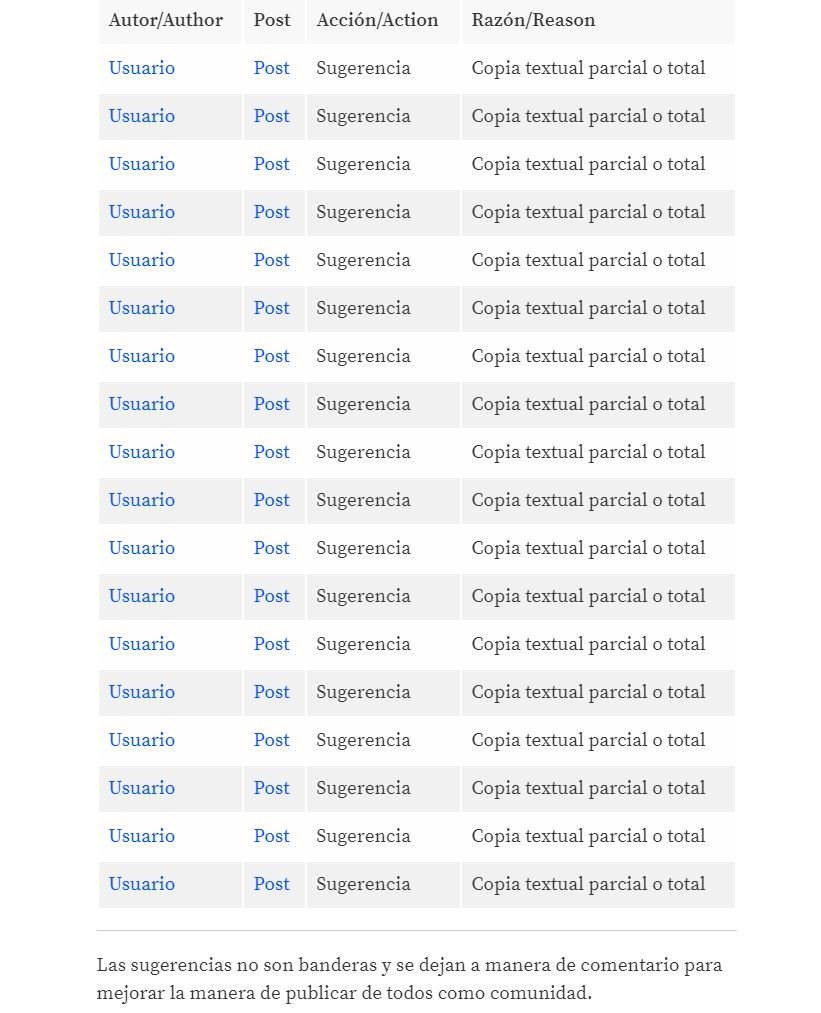 We maintain rigor in the face of abuse and attitudes that break the margin of normality within the community, for that same reason, the team has exposed itself to countless negative comments, which have been taken with the highest spirit of self-criticism, because above all, we greatly value your constructive opinions and contributions.
We care about creating awareness, and are very happy to see that we're supported by the community. On several occasions, we've seen users who collaborate in the exhaustive search of abuse and take it to us through the appeals channel. It's everyone's job, or rather, we are all Lince!
The team strives daily to perform a dignified and impeccable work, we hope for a prudent and sensible community in the future, and although it may seem like an impossible job, @lince will not abandon its objectives.
We'll continue to work for you!
---
13. New Initiative: "Cervantes helped me to"
In order to continue improving and with the endless desire of contributing to the community, on January 17th we want to invite you take part on "Cervantes helped me to" campaign. You can make a post explaining what Cervantes has done for you by voting, and write your reasons on why other users should vote for Cervantes as a witness. The post has to be in English and Spanish, in that order.
14. New Initiative: "The Cervantes Debate"
We only started this idea last week but we can already say it´s a success. The aim? Eengage community, creation of high quality comments and interaction.
Here the first week post with the topic "We are we going as a human specie"
Over 100 high quality comments and 1000 views in two days
Post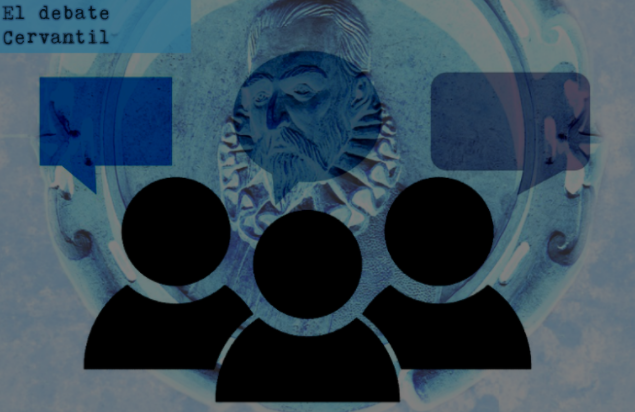 To encourage you, and as an exception, on January 17 th, the curation team will exclusively vote posts with the title "Cervantes helped me." We invite you to participate, and if you have any questions, please contact us in the Discord chat.
Vote @cervantes as witness here:
https://steemit.com/~witnesses

Cervantes Discord Chat