Greetings fellow Agorians,
It has been an active July month for us, settling into our new roles as founders of a distributed cooperative. We've deployed and adjusted our witness nodes after realizing some initial uptime issues. We're feeling a lot better about our nodes now, and have set into motion more improvements in order to provide a reliable and robust infrastructure for our beloved blockchains. Here's a non-exhaustive, unordered list of what we've been up to:
I. Migrated our primary Steem witness to beefier hardware. We're also trying out Steem-in-a-box there. Thanks @someguy123 for building that! Also thanks to @furion for building conductor, which we also make use of for price feeds.
II. Became an active witness on the DECENT blockchain. Thank you to all who are supporting us there. We are excited about creating more inclusive digital economies, and DECENT has some excellent potential for bringing that to the digital download economy. We have more words regarding DECENT later in this post.
III. Set up Grafana monitoring on system vitals for all of our nodes. Thanks @rahulyadav!

IV. Started to plan a migration to dedicated servers. We are using VPS providers for the time being, but believe it is in the best interests of the security of the network not to use virtualized hardware instances, where more can go wrong.
V. Set up a witness for the new MUSE testnet. The new MUSE is a fork of STEEM that will be paying out rewards to musicians when their music is streamed. We believe this is also a great application of Graphene technology and aim to be an active witness on that blockchain as well.
VI. We continue to operate seed nodes for all of the blockchains we are active on. You can find the list of them below:
steem.agoric.systems:2001
decent.agoric.systems:46023
peerplays.agoric.systems:9777
VII. Broke ground on a product idea. This is still in the experimental phase, we look forward to sharing more about this concept as it becomes more fleshed out. Our product philosophy is rooted in creating usable experiences leveraging Graphene blockchain technology. We are identifying voids in the Graphene ecosystem that we can build services and tooling around, in order to fill in gaps where we believe there is a market.
VIII. Mailed out a ton of Bitshares and EOS swag across the globe, hitting nearly all continents.
IX. Making progress on the agoric.systems website project with @timothy-archer and @sensei.
X. We continue to stay active on the Peerplays network and monitor our uptime and availability there.
As for DECENT, there has been some interesting happenings on that blockchain. First of all, there are a lot of newcomers to DPOS consensus, and it's been intriguing to see how witnesses are referred to as "miners" in DECENT. There also seems to be a lot of vote swapping (with a feeling of being slighted if the favor is not returned) and a general attitude that more witnesses is better for decentralization. Contrary to that belief, we think the number should be lower, and have decided to vote for a total of 30 witnesses. This is due to the simple fact that more active witnesses directly correlates to a longer time until a block is irreversible. We think it would be ideal if other Graphene chains adopted the runner-up method that Steem uses, where the 21st slot is a wildcard selected proportional to votes from the set up standby witnesses. One last point, we support @roelandp's proposal to lower the maintenance interval to an hour instead of a day. This allows the active set of witnesses to be changed more fluidly instead of having to wait a day for each refresh. The benefit of that is misbehaving or unreliable witnesses can be changed more rapidly by the stakeholders.
There is also a number of sock puppet active witnesses accounts that are controlled by the whale, which are almost single handedly choosing the set of active miners. We have taken the stance that this is non-optimal for the security of the network and have removed our votes from any of the whale accounts. Thank you @pfunk for raising the alarm on this.
To recap this month, our team has been reorienting their lives in the Agoric direction. @matt-a and @robrigo are escaping into the Appalachian mountains at @tommyinthesun's house (with @kotturinn and @broester) for a while to get back to nature, reflect, and escape the pull of digital technology for a spell. @spurious-claims and @lovejoy are amidst moves. We anticipate an acceleration of accomplishments and productive works to benefit our communities, both localized and global.
We would also like to take this time to ask for votes on our witness @agoric.systems. We will also gladly accept the responsibility of voting on behalf of you as a proxy. We intend to monitor the health of the blockchains we pledge support to and will adjust our votes as well as witness parameters responsively to the changing dynamics of the network.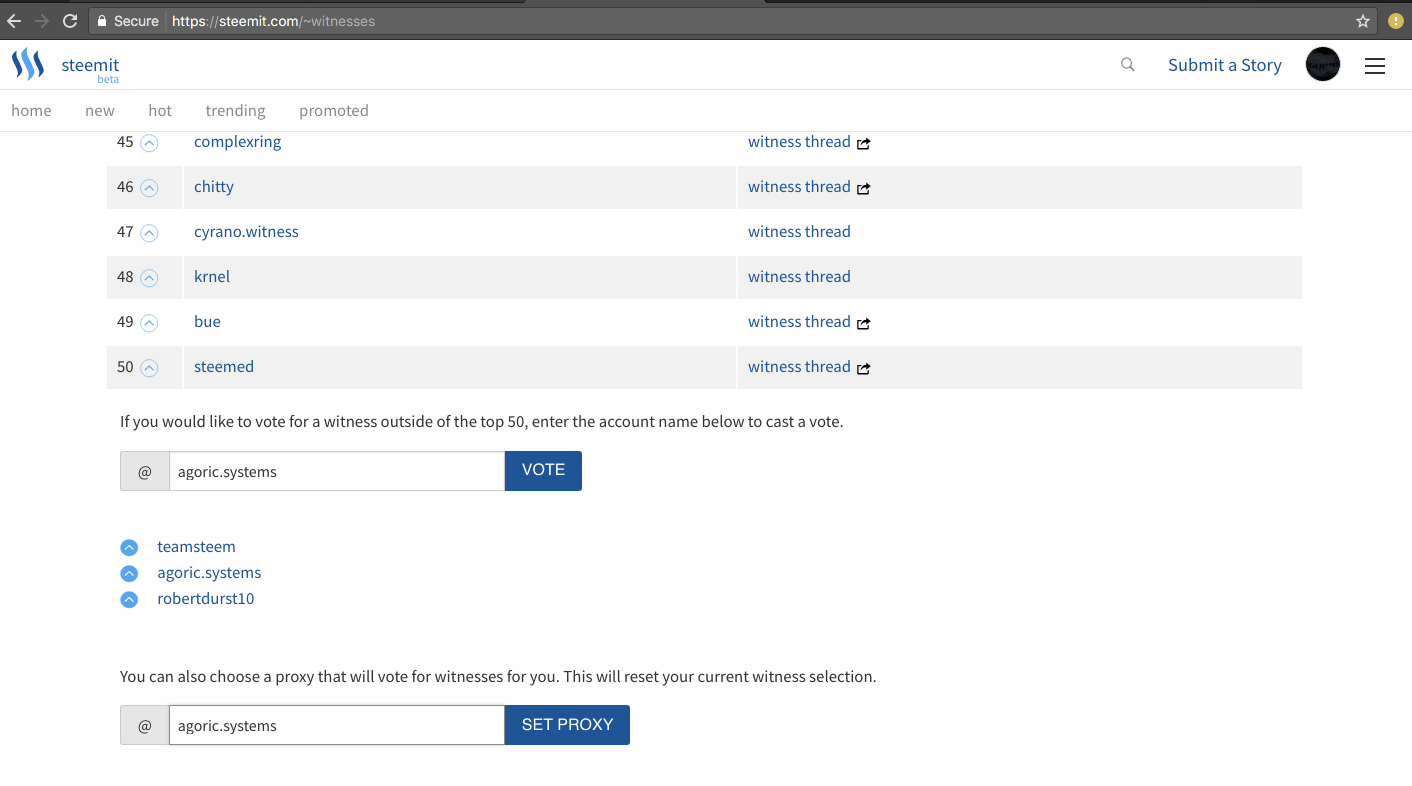 You can accomplish witness / proxy voting by going to the witnesses page on Steemit, scrolling down, and entering agoric.systems in either form. Then click VOTE or SET PROXY!
Thanks everyone for your support and productive works towards like-minded goals. We can't wait to build a better future alongside of all of you by building new scaffolding for inclusive and connected information economies. Looking forward to to networking with you all at SteemFest 2!