How to Detect Wifi Password in Windows 7/8 And 10 - How to break this wifi before we made using hp android, but on this occasion we will discuss how to break the password or wifi password in windows 7/8/10 without using the application or software which aim friends - friends can obtain password wifi Id, Speedy, Indihome, and wifi others. As one of the most advanced electronic devices supported with the features you can use, similar to a laptop or a pc. Apparently to know the password wifi friends - friends can use the computer with the built-in program on windows, because if we are more observant about the windows was a lot of utility program tersebumnyi in it. But a detailed discussion of the utility program will be discussed in the next article which now we will try to break the wifi password using hack tools that you can use as wifi password security application WPA / WPA2 & WEP.
How to break this wifi password will give you a trick to know the locked wifi password because there are security systems that protect it using WPA / WPA2 & WEP security which is the third most frequently used security by Router, Modem, and TP - Link in pairs by provider Speedy, Indihome, Wifi Id, and some others in Indonesia. Actually to break the wifi password you can also use CMD as a powerful hack tool that I have described in the previous post is how to break the wifi password using CMD in Windows 7/8/10 For that time I will dismantle defense of wifi password protected by system security which protect it using 2 tools wifi hack that is Wifi Password Finder to know the security system used on the identified SSID, then hack tool Wifi Password Finder which is used to know the wifi password on SSID that has been identified. To find out how to crack a locked wifi password you can follow the following guidelines.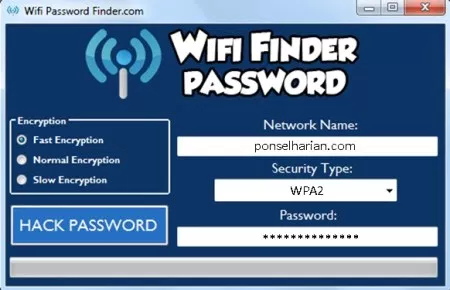 How To Know Wifi Password in Windows 7/8 And 10
Next you download Wifi Password Finder (3.5 MB) and Wifi Key View (0.8 MB) which we will use as our wifi hacking tool this time on windows 7 in computer.

Install both application programs on your kumputer, then run Wifi Password Finder program to identify the connected SSID in your wifi.

Next input the wifi name (SSID) which will be your target attack, and then select the security system used.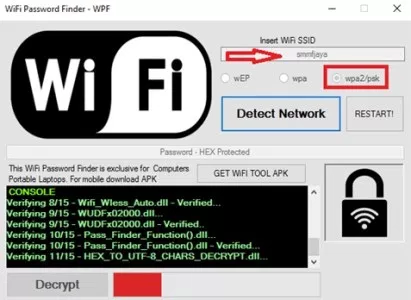 To get the password wifi password we now open wifi key view application, but let Wifi Password Finder application keep running to get the bug used to recode the target wifi password.

You now know the target wifi password, use the way to hack this wifi password wisely.

Note! to get the locked wifi password you have to make sure that both of these applications keep running simultaneously to find the target wifi bug hole. Always run the wifi password finder to run your actions to identify the
SSID.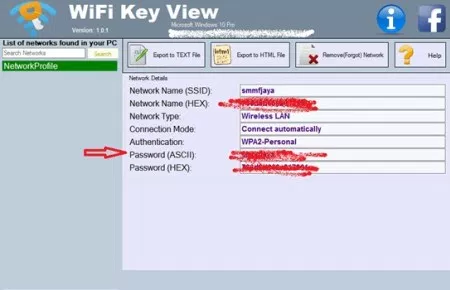 This tutorial is only for the sake of giving you the science, if we hack the wifi password you use frontally we are not responsible for what you do. So what we have to say hopefully article how to know the password wifi in windows 7/8 And 10 provide benefits to you