Practicing writing in Mandarin Chinese #1
Source
Ok, here I am picking up my Mandarin Chinese learning process... last two months have been really difficult, because of the his CoVi-19 the usually smooth work in my company has been delayed, hindered or just directly suspended.
My income depends deeply on the good health of this Chinese company I'm working for... I'm an optimistic guy, and thus I expect this issue to be solved by the Chinese very soon. It's pretty obvious that the bad performance of the Chinese economy is a bad news for the global economy.
---
ok but back to the main subject of this post.
Here is the little paragraph I made, currently this is as good as I can write in Mandarin... I'll plan to keep this going for long enough to keep track of my improvement rate (if any 😂)
---
从五年前到今天,我和朋友们一起努力。我们每一天合作,目的就是克服现在祖国的问题,而也要通过详细地了解现在问题外部和内部的情况在完善我们的见意让我们好建设我们祖国。
过了五年,在我们小组里还有不删掉的缺点,但现在我们受不了这些缺点。为了真的改变别人为我们祖国选择了的命运,我们都必须钢铁地发展自己的能力和意识。最后,我以为我们也要流传这个思想让别人继续这个任务。
---
Here's my proof of work lol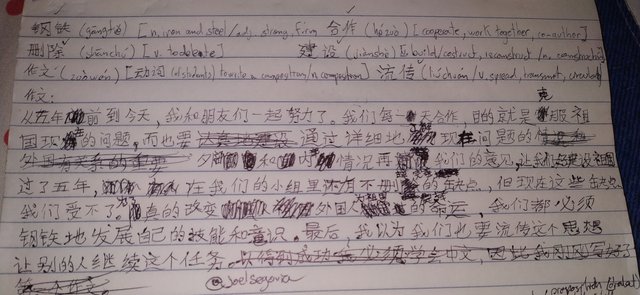 来自于 [WhereIn Android] (http://www.wherein.io)