THE DIARY GAMES 6 Sept 2020: Evening Strolling at Park 傍晚公园散步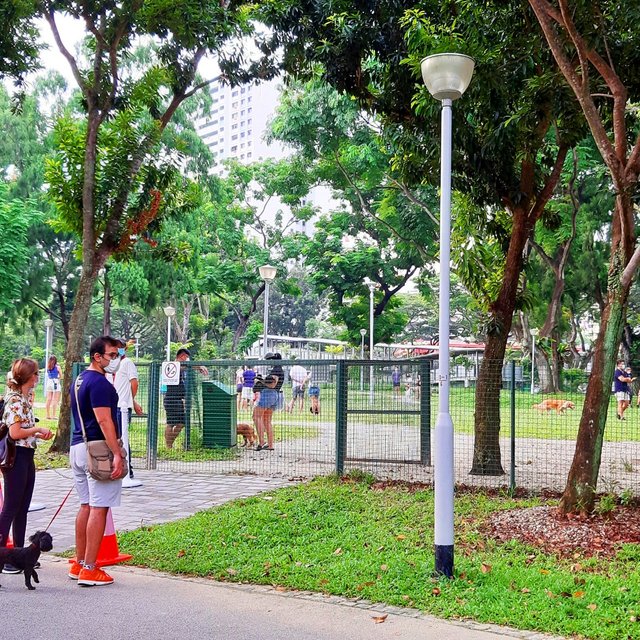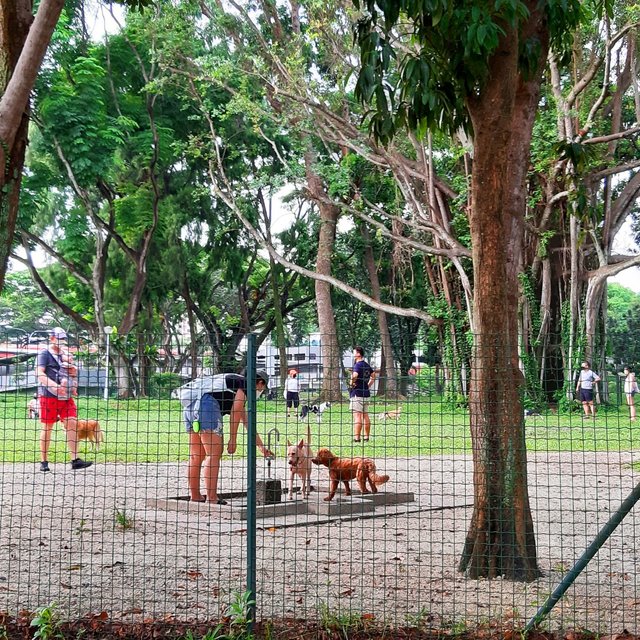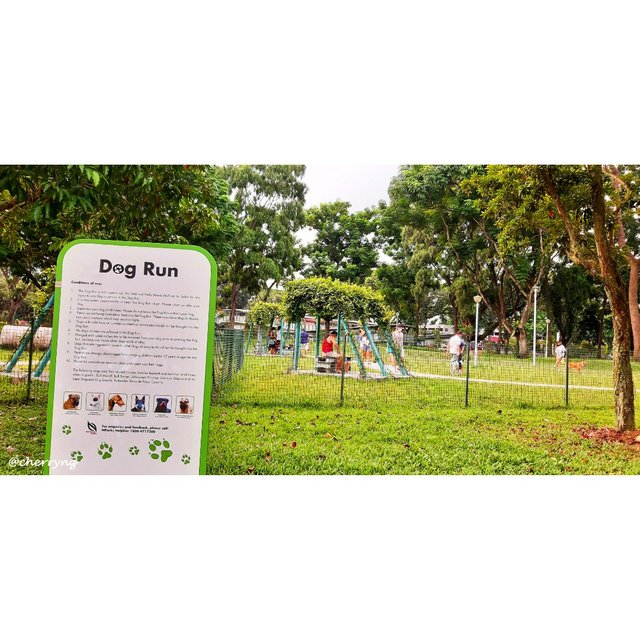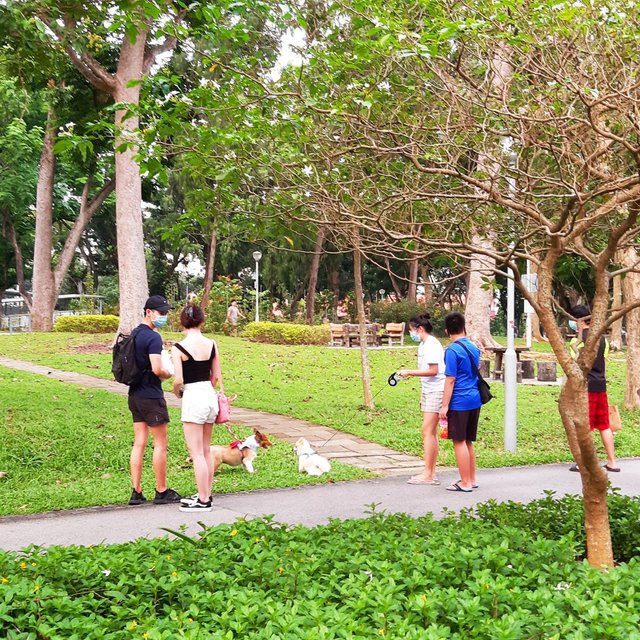 The park is always a place for relaxing.
Today is Saturday. Happy Saturday to everybody!
This morning, I woke up late maybe I was too tired last few days for project deadline. When I opened my eyes, it was already 9am. After bath and washing, I went out breakfast with my family. We went to our favourite breakfast store, it was called 'Magic Kitchen' for breakfast. I like to take breakfast here because of the food here is very delicious and fresh.
After breakfast, we went to supermarket to buy some daily stuffs, some bread, and drinks and then we walked back home with packed the burger for our lunch later.
After home, I just took rest while watched TV and Channel News Asia.
Evening time, my neighbour asked if want to go park for jogging with her. Actually I intended to go jogging as well, since it was in my plan, then I went out with her. Maybe because of weekends, there are many people go to the park. Some brought their doggies to walk and play in a Dog Run area. This Dog Run area is quite popular in this park, many people bring along their doggies to play in this Dog Run area. There have doggies' runways, doggies' bath and shower place, trellis with swings, and many other play equipment for doggies to play in the area.
Because of Covid-19 safety measure, the limitation of numbers of owner and their doggies to enter this area is under control. We saw there were few Npark officers stood in front of the Dog Run area to count and control the accessibility of users.
About 730pm, we walked back to home from the park with my neighbour.
My family ordered food delivery from a vegetarian restaurant, we enjoyed our dinner at home while watching TV.
今天我可能太累了,醒来时已经9点。梳洗后,我和家人出去吃早餐。我们去了一家我们最喜欢的早餐店,它被称为'魔术厨房'。我喜欢在这里吃早餐,因为这里的食物非常美味又新鲜。
早餐后,我们去了附近的超市买了一些日常用品,然后回家再打包汉堡包回家当午餐。回到家,我只是边看电视,边休息。
傍晚时分,我的邻居问我是否要一起去公园慢跑,然后我答应了和她一起去。或许是周末,有很多人带狗狗去公园玩耍。由于疫情的因素,公园的负责人限制进入狗狗玩乐曲的人数。
Thank you @steemitblog holding up the diary game challenge and @steemcurator01, @steemcurator05, @steemcurator08 giving generous upvote in promoting the steem community. And special thank you @anroja and @ernaerningsih for your hardwork and helping to upvote. Much appreciated.
[WhereIn Android] (http://www.wherein.io)