If you are following me and you have already checked out Looking For Niche, you have probably seen WhaleBoT. In this article, I will go through many of WhaleBoT's features - and why you should consider trying out the Discord bot.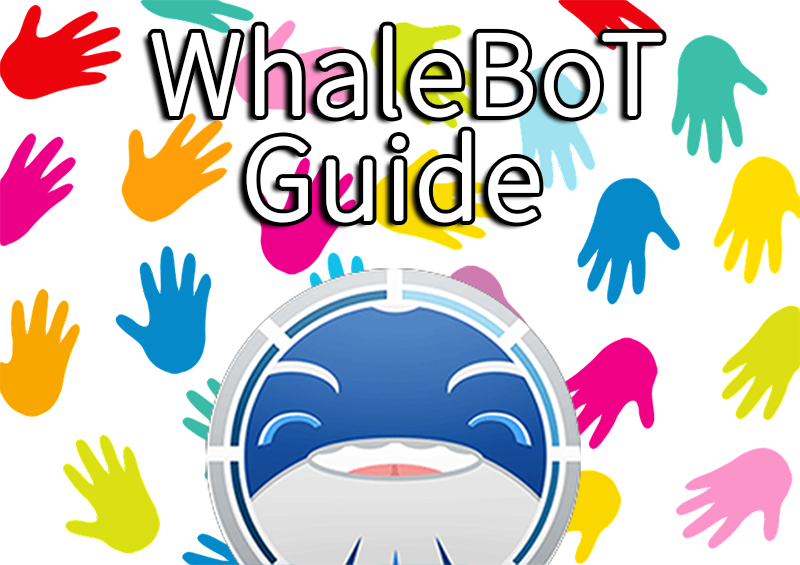 - Feature list -

Looking For Niche
Looking For Niche is of course my favorite feature of WhaleBoT (who would have thought?). Don't know how it works? Let me explain. Looking For Niche enables you to pair your username (on Discord) to a tag. Let's say you like to write about Gaming, how would you go about finding other gamers? Like this:
On any Discord server that runs WhaleBoT type in the following:
whalebot LFN Gaming

Now you are actively looking for gaming buddies. Next time someone else writes "whalebot LFN Gaming", they will find you!
If you regret the gaming tag, or are no longer interested, simply write whalebot untag Gaming, and you will no longer be searching.
Want to see all tags someone is paired with?
whalebot alltags rawbinhutt (or someone else, of course).

Checking your current Vote Power, Vote Weight and Bandwidth
Want to see your Vote Power, Vote Weight or Bandwidth? It's easy, just write:
whalebot vp rawbinhutt

(Switch my username out with yours, of course, unless you want to see my vote power).
Checking prices of STEEM, SBD, BitShares, Whaleshare and more
You can check all of the above prices. Simply go to Discord and write:
whalebot prices
Here I am checking whaleshare prices:

If you want to see STEEM related prices, simply write: whalebot prices steem
See A List Of Steemit Related Discord
To see a list of known Steemit related Discord servers write this:
whalebot discord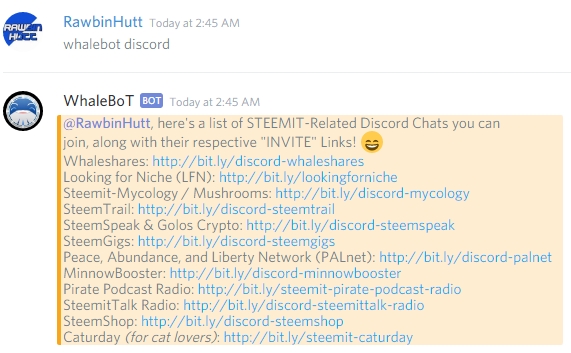 I just want a hug!
Don't worry. Whalebot got you covered!
Simply write:
whalebot hug

And WhaleBoT will show you love. Features are constantly being added. Right now, you can also go see if you can find a couple of hidden easter egg features: Try and write whalebot kitty, and see what happens!
To join Looking For Niche on Discord, click the image below:

Looking For Niche is a tool designed by me and coded by @alexpmorris. All the other current WhaleBoT features are created solely by Alex. Follow him for updates on WhaleBoT and other interesting projects.

Thanks for reading! If you like this guide, consider an upvote and resteem. If you need help, ask me here in the comments or on the Looking For Niche Discord.
- RawbinHutt