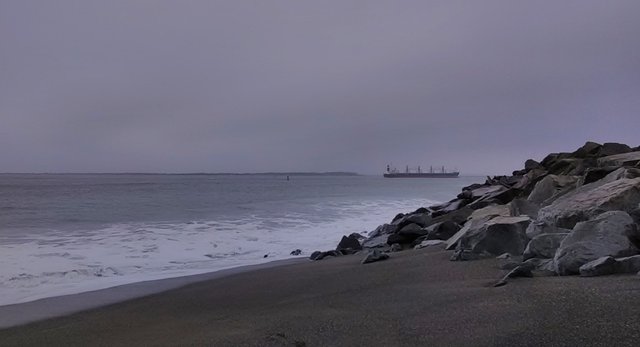 Rubber boots hold water really well.
I was angling for a closeup of the waves in the photo above when one came in farther and deeper than expected. It rose past my knees and when it had filled my boots they floated, and I ended up sitting down in water up to my chest. I couldn't help dunking my phone to braced myself.
The water is still pretty warm at this time of year, I discovered, so that part wasn't bad. I was more worried about the phone than myself. I rushed back to the breakroom at Washington Crab to dry it off, and thankfully it's still working fine. Of course, I was completely soaked, and I still had about an hour to wait until the bus arrived.
After I determined that the phone was okay, I headed back for a few more shots. The one at the end of this post was taken after the dunking. The breeze was cold in wet clothes, though, so I cut it short and just hung out in the breakroom.
I dumped my boots three or four times before the bus got there. The water was draining out of my jeans and just puddling in the boots, so even after the hour bus ride, I sloshed on the walk home.
Hopefully they dried out for work today.
The ship in today's photos was at anchor in the entrance to Grays Harbor, probably waiting for the tide to come in before heading to dock in Hoquiam.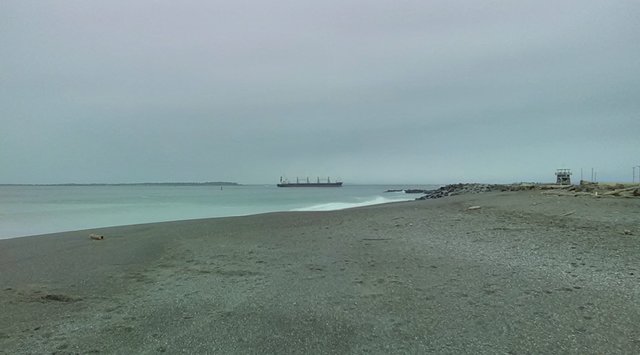 Westport, Wash., is located at the entrance to Grays Harbor on the Pacific Coast. I ride the bus from Hoquiam to work there at the cannery, Washington Crab, and sometimes have up to an hour to kill in the afternoon while I wait for the bus home. Out in Westport is a series of photos and videos taken with my ZTE Z899VL camera phone during that downtime.