A scientist discovers an ape that can speak English. 
Once There Was A Mad Scientist To Make A Drug After 10 Years Of Research  With This Drug He Can Make Any Animal Have Human Intelligence ,So The Question For Him Was What Animal Should He Try This On First So He Went To The Jungle And Found A Lonely Ape Baby When He Went Near The Ape The Ape Did Not Ran Away So The Scientist Gave Him The Drug The Ape Thought It As A Food So He Ate That Drug when The Ape Eat It He Become Unconscious And Fall The Scientist Picked Him And Take Him To His Lab .After An Hour Or Two The Ape Wake Up And Start Seeing His Full Body The Scientist KNOW That The Drug Was Success So He Went Near The Ape And Asked Him "Would You Like A Glass Of Water "
The Ape Replied "Seriously After Kidnapping Me You Want Me To Drink A Glass Of Water ,Nigger "
The Scientist Was Shocked And After That He Loudly Said Success .
The Ape Replied "Where The Toilet "
The Scientist Replied "Go Straight And Take A Left "
As Time Passed They Start To Live Together And Became Good Friends, At Night The Ape Goes Out Side The Lab To Enjoy Good Air And Also To Have Some Good Drugs And Peeking Other Stuff ,After Some More Time Passes The Scientist Try To Make A Beautiful Creation But Accidentally Put CHEMICAL X In It ,The Monkey Was Near The Experiment And The Scientist Ran Outside ,Due To Reaction A Great Blast Occur And The Monkey Was Badly Injured And Bleeding When The Scientist Came Near Him And Asked Him "Are You Gonna Die? "
The Ape Replied With His Last Words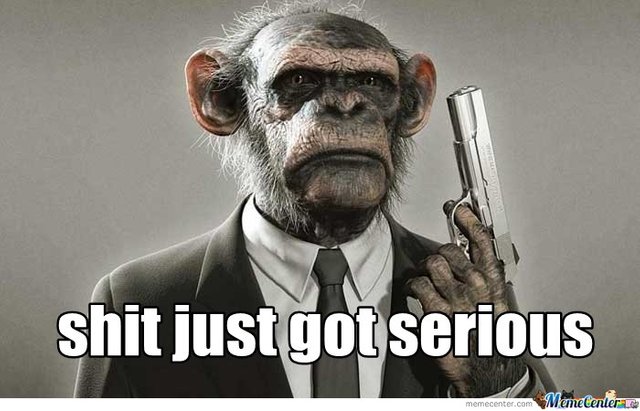 SO He Kill The Scientist As Well And The Lab Was On Fire ...
The End 
The Link Of The Contest IS 
https://steemit.com/twentyfourhourshortstory/@mctiller/writers-win-5-steem-about-usd20-in-the-24-hour-short-story-contest-topic-6-for-february-27
Upvote Follow Resteem Thanks