WANA KNOW ABOUT STEEMIT? CLICK HERE.
Many times, people come on steemit feeling confused and not knowing what exactly to look for or how to go about the whole process. I have invited a number of persons over to steemit severally by telling them to log into the website and read about steemit, only for them to come back telling me that they didn't quite understand a thing from the site and so I have decided to make an elaborate post which will be a guide to anyone who is coming into the website for the very first time in a bid to find out what we do here and how to get started.
Before we get started, I would like to introduce you to the world of blockchain technology. This happens to the first confusing thing a newbie might get to encounter as he tries to understand steemit in general. Speaking from experience. Lolz
What is Blockchain Technology?
Blockchain is an incorruptible digital list of records called blockswhich is continuously growing. It is a digital, decentralized, public ledger of efficient economic cryptocurrency transactions between two parties whose records are linked and secured using cryptography(which is the art of writing codes).
Blockchain was invented in the year 2008 as the brainbox behind the cryptocurrency called Bitcoin by Satoshi Nakamoto*. The reason behind the invention of blockchain technology and the subsequent creation of bitcoin was to solve the double spending problem without the need of a centralized body or server. Any data stored in the blockchain is immutable and cannot be deleted.
Now, having had the basic understanding of what a blockchain is, let us try to understand what steemit is and how it is related to the blockhain technology.
What is steemit
Steemit is a decentralized social media platform powered by the blockchain technology which uses a new type of cryptocurrency called steem and steem dollars (SBD) to reward its users.
Steemit is quite a new company whose headquarters is located in Virginia. It was founded in March 2016 by two people, Ned Scott, who earlier worked for Gellert Global Group, a private equity group associated with North American food companies, and Daniel Larimer who is the founder of Bitshares and the CTO (Chief Technology Officer) of EOS.
Steemit works and functions just like every other social media platform but with a difference. Users get rewarded for posting stories, articles, news, videos, songs and anything you can think about. You also get rewarded when you comment on other people's works and when you curate them as well. Interesting isn't it? Don't get confused with the word curate, it simply means LIKE or UPVOTE just like you do when you like a post on facebook and want to show appreciation. You really don't need to be a professional to be able to use steemit as it is a user friendly platform.
Having known what steemit is all about, now let me take you fully into the steemit world as I make to break each step down for you…walk with me
How do you get registered on steemit?
There are three ways one could get registered on steemit. But the first step is hitting the signup icon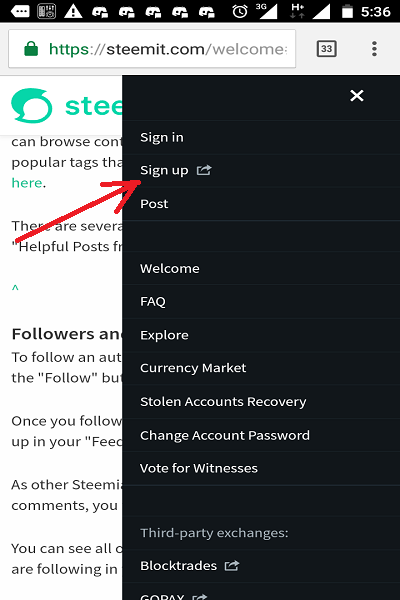 You will see two icons, one saying sign up for free, which you would have to wait on queue for a week or two before being given a confirmation password and the other icon which says Pay to sign up, with this you would have to pay a token to acquire the account faster.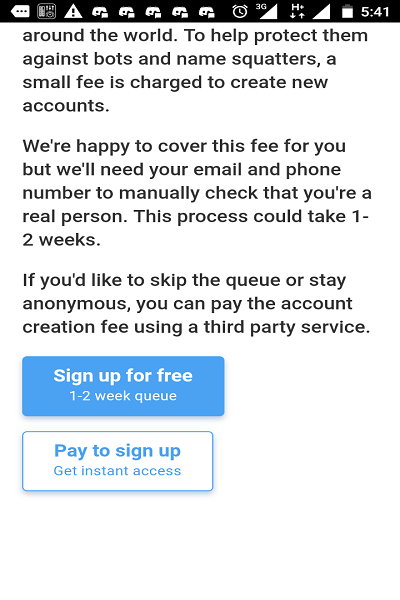 Sign up for free
When you click on the sign up for free icon, an interface which would require you to input your username will appear. After you have done that, click on continue.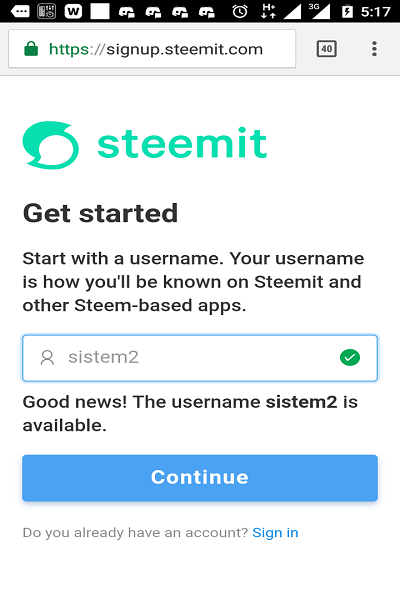 You will be asked to input your email in the next interface after which a confirmation code will be sent to your email for verification.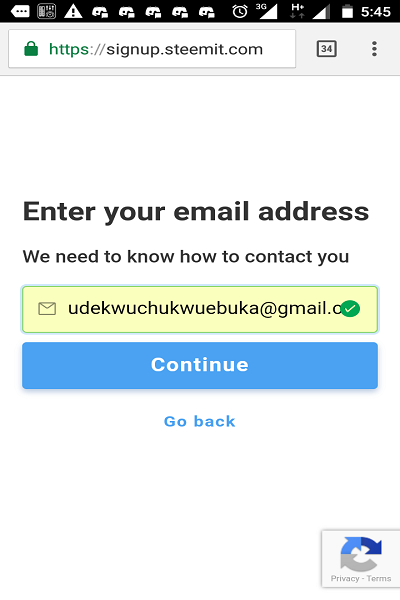 You would go to your email to complete your registration and when you are done with that, you will be put on queue to receive your password after a week or two. Once you receive your password, do well to save it properly because once its lost, it can't be retrieved.
Pay to sign up
When you click on the pay to sign up icon, you will be given three options, either to pay through Blocktrades, AnonSteem or SteemConnect.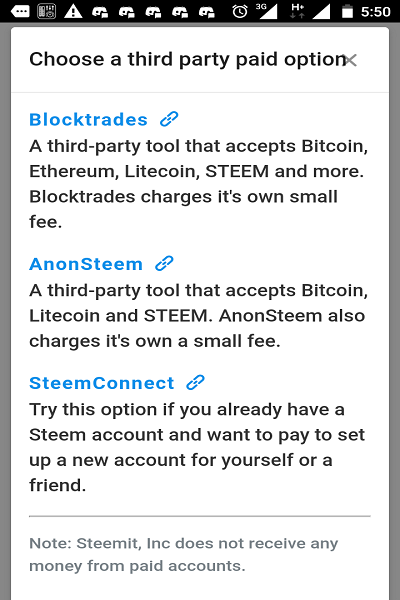 To use blocktrades, you must have a functional account with them from which you would be able to pay a token for the steemit registration process.
To use AnonSteem, you would have to pay 0.0025bitcoins (BTC), 0.1litcoin (LTC) or 5steem.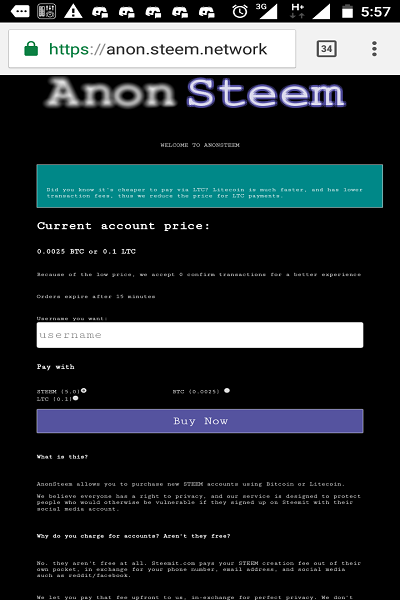 To pay with SteemConnect, you will be taken to a steemit post made by @timcliff which gives detailed explanation on how to go about the purchase of your steemit account.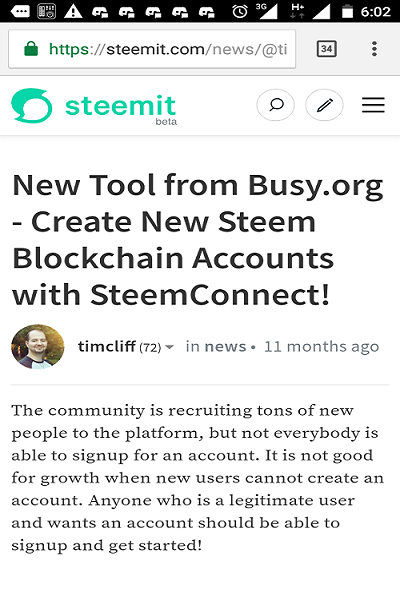 steeminvite
steeminvite is a registration application created by a steemian called @pharesim . it is basically used by existing users of steemit. To open an account using steeminvite, you would have to pay a token of 0.1 steem power after which you would be able to delegate any amount of steem power you wish to enable the person run the account successfully for a while until he has made enough steem power to run the account on his own, then you can undelegate the steem power you initially delegated to him or her. to get started on steeminvite, click HERE
Congratulations, you are now on the steemit platform!
After you must have been given your password, you are now free to play around steemit by making posts, commenting and curating but before then, you would have to make an introductory post. The introductory post will help other steemians get to know you and relate with you.
Making your first introductory post
Making your first introductory post on steemit is quite easy and does not require any special technicality. All you need to do is to log into you steemit account and click on the Post icon (if you are making use of Laptop) or you click on the pen icon as shown in the image below if you are making use of a smartphone.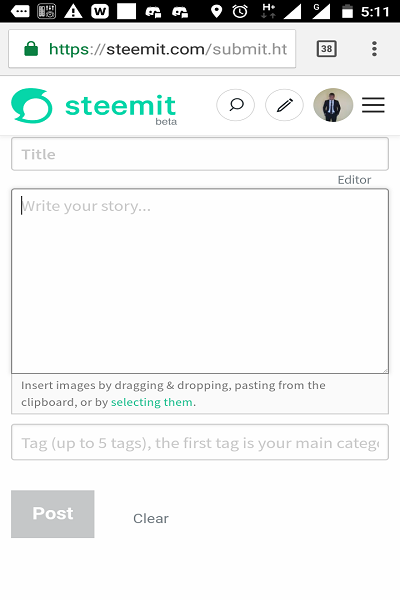 When you must have clicked on it, an editor interface will pop up and you will see it divided into three parts, The title, the body and the tag box
The title is where you put down the title of your introductory post which stereotypically should be My Introductory post: Anything you want to add.
The body of the post should include a detailed explanation of who you are, what you do, how you got to know about steemit, who got you on-boarded and so many other details you do not dim private. Do not make it too lengthy and do not make it too short. Just make it fun so that other steemians would read, enjoy and give you a thumbs up (UPVOTES). When putting a picture of yourself, try and do so holding a steemit logo or anything that connotes steemit. This isn't compulsory but it would help tell people that the person introducing him or herself is really you and not an impersonator.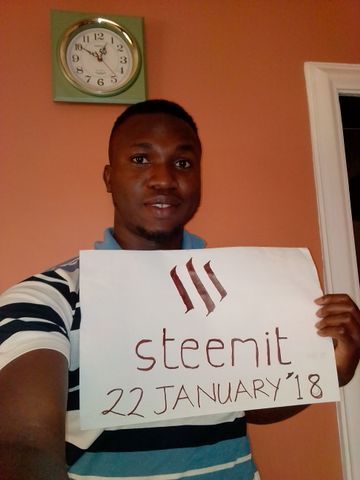 when my younger brother @desmoniac newly joined steemit
The tag box is where you include the tags to your introductory post. Tags are used in steemit to increase the visibility of your post. There are so many tags you can use on steemit and the picture below shows you where to go look for those tags if you are making use of an android smartphone or a personal computer (Laptop). The tags to be used for your introductory post include but not limited to : introduceyourself, introducemyself, introduce and two other tags of your choice.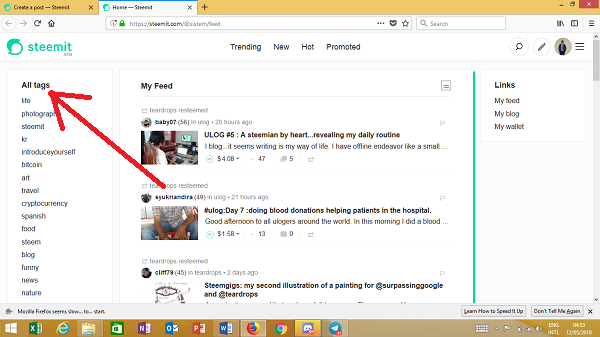 Once you have introduced yourself, you can now have fun posting whatever you like, whenever you like and as many times as you like, provided they are original contents or referenced if gotten from a source.
Thriving communities you might want to get involved with on steemit
Steemit is a large community made up of so many other smaller sub-communities which function as a body to perform different tasks on the blockchain. Everyday, these communities continue to grow and evolve, bringing out new ideas towards the success of this blockchain.
On the steemit blockchain, we have communities like #Adsactly (They curate high quality contents on steemit especially stories, fiction or non fiction), #OCD (created by @acidyo with the sole aim of curating high quality contents on the steem blockchain), #sndbox, #steemstem (They curate technology and science related posts), #steemiteducation ( They curate posts related to education generally, either concerning the steem blockchain or posts generally written for educative purposes), #steemjet (This is a community with the sole aim of spreading steem around the globe and taking the word about steem and steemit to all nations and in all languages. It was created by @dimimp), #curie (They also serve the purpose of curating high quality contents), #minnowsupport, #steemnaira, #steembees, #air-clinic, #airhawk-project, #familyprotection, #euronation, and so many other wonderful communities around the steem blockchain.
We also have communities for gamers, poets and so on. As you play around steemit, you will get to know about them all.
Applications built on the steem blockchain
Since the creation of steemit in 2008, a whole lot of applications have been built on the steem blockchain and this has helped the flexibility of steemit a whole lot.
We have applications like @dtube (A replica of youtube but with a difference. This was created for steemians who love to upload videos), @dlive (Mostly used by gammers and others who love to live stream), @utopian.io (An application built on the steem blockchain for open source contributions), @dmania (Built for people who post memes), @busy.org (An editor which could be used in place of steemit.com), @zapple (a replica of twitter for those who love to make short posts), @dsound ( works exactly like soundcloud, where you can upload sounds, music, audio, podcasts and the likes and get rewarded for doing so), @steepshot (A replica of Instagram for those who love to post lots of pictures), @steemgigs ( A website built by @surpassinggoogle where everyone has something to offer) and so many others
With this, I am sure I have been able to convince you that you can actually do whatever it is that you love to do, on the steemit blockchain. Just get your groove on and come party with us.
A short story about my success on steemit
I was introduced to steemit by a very good friend of mine (@tolustx) on the 15th of November 2017. I received this invitation with so much laxity and never showed interest and so I didn't bother getting registered as I thought it was just one of those online Ponzi out to steal my money like they have always done.
After few weeks, my friend participated in a contest organised by #Adsacty, a #steemshorts contest. He won that contest and was rewarded with 52sbds and at the time the price of SBD was as high as $12 and so he was able to get a brand new phone with it which he showed me. I was shocked and wondered how a person could make so much money from just writing articles and participating in contests and so I decided to get registered.
After joining steemit, I made my introductory post, from which I got some SBDs and I was really happy. I also participated in the #steemshorts contest which I won and was rewarded with 72sbds. It was like a dream come through for me as I was in dire need of money and financial help at the time. From the money, I was able to get a new laptop, two new phones and a new power bank. With subsequent participation in various contests and constant engagement in the activities of the blockchain, I was also able to rent a new apartment for myself and got it furnished.
These were things I never imagined I would have been able to do as I entered the year 2018 but steemit has made it all possible for me.
Are you still in doubts? are you still asking questions? I have told you basically all you need to know about this wonderful platform and have even dropped a first-hand testimony. Stop the delay, stop the procrastination and ;
GET REGISTERED TODAY
---
All images are screenshots from my mobile phone and laptop