The Weiss Cryptocurrency Ratings - Independent, Unbaised, Accurate, Trusted.
Weiss Cryptocurrency Ratings Emerged as a first financial rating agency. They create rating on the basis of thousands of data points on each coin's trading patterns, technology, and usage.
Here is their official rating :-
(A = excellent, B = good, C = fair, D = weak, E = very weak)
B
B EOS
B Ethereum
---
2. B
-
B- Cardano
B- Steem
B- Neo
---
3. C
+
C+ Ark
C+ Bitcoin
C+ BitShare
C+ Byteball Bytes
C+ Dash
C+ Decred
C+ I/O Coin
C+ Litecoin
C+ NEM
---
D - _Most weak crypto_
D Expanse
D Matchpool
D Novacoin
D Potcoin
D Rise
D SaluS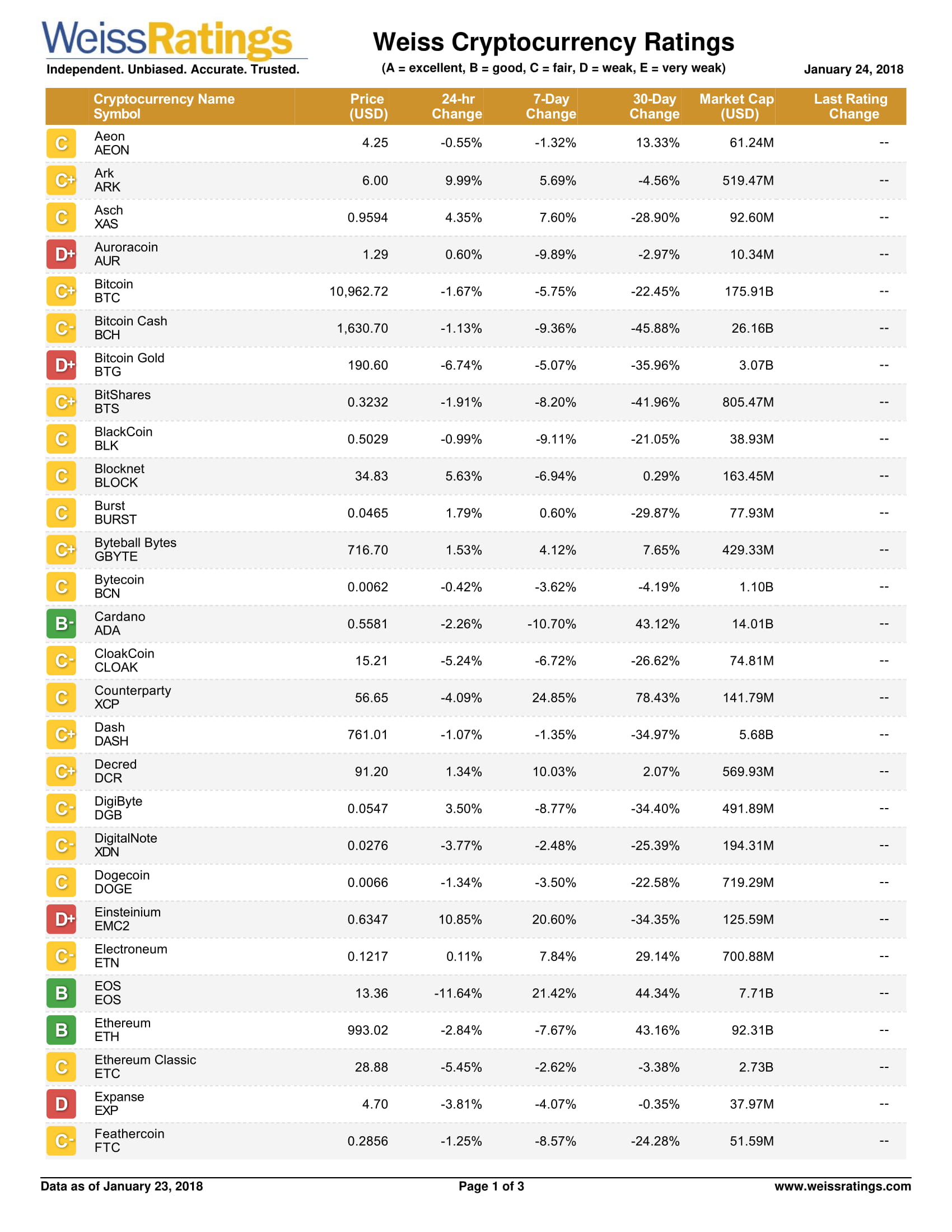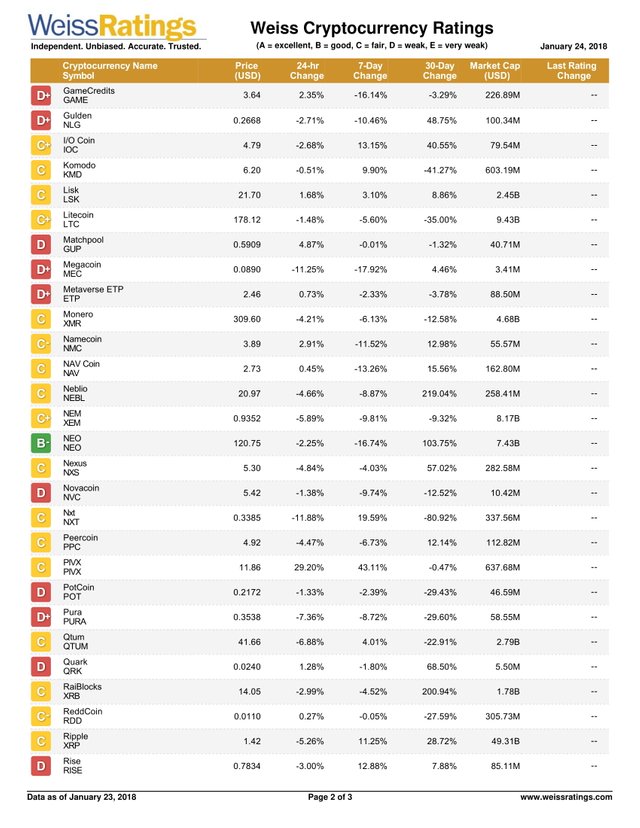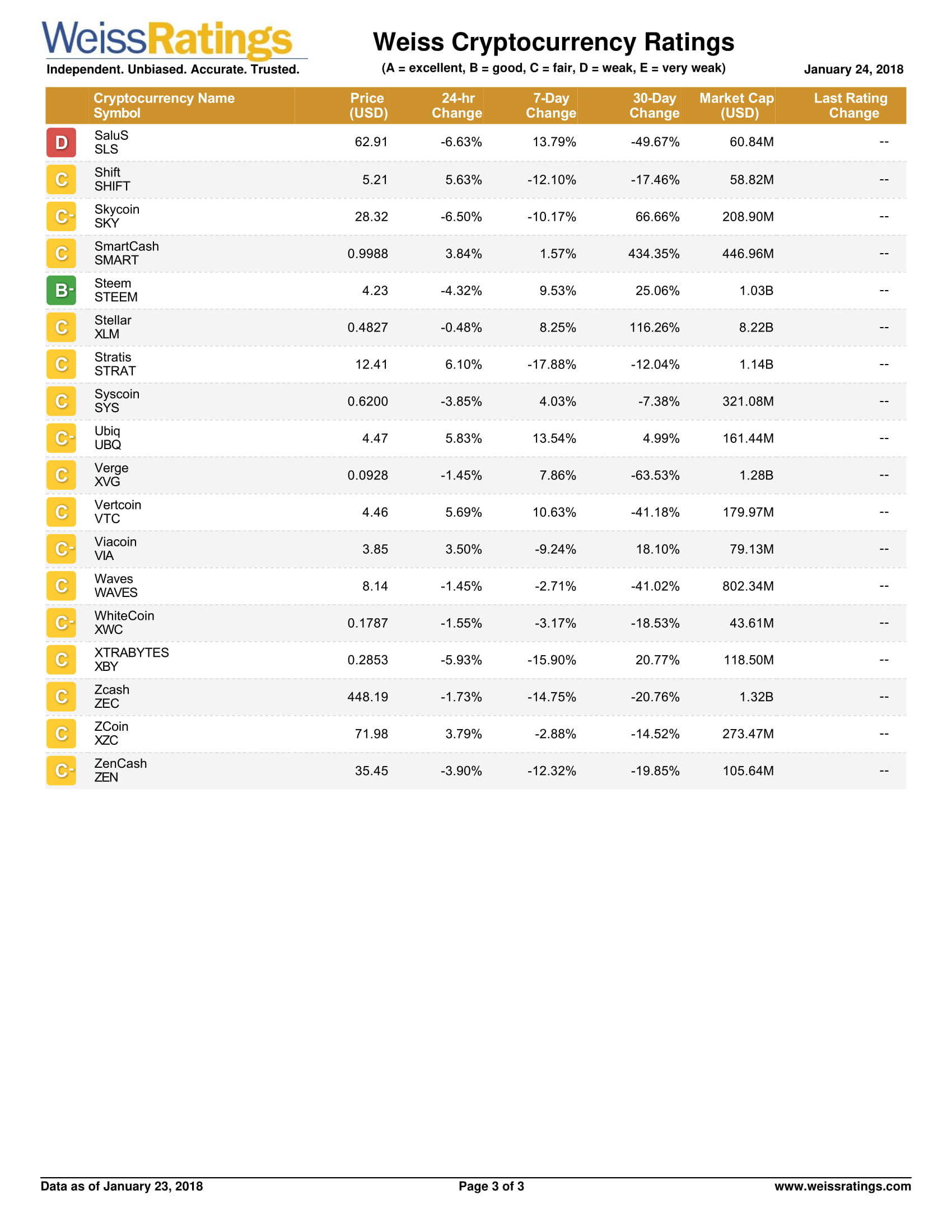 Fun part is that they not listed IOTA. Everybody knows that IOTA have potential which other crypto don't have in this list.
1. Ethereum definitely deserve this post of B because Ethereum brought up a revolution in blockchain tech in terms of what we know as Smart Contract.
2. Neo also know as Bitcoin of China or sometimes as Chinese Ethereum Has strong team behind it.
3. Cardano better know as ADA is "3rd Generation" crypto has been developed to compete directly with Bitcoin and Ethereum.
4. Bitcoin got C+ because of its slow transaction time & high transaction fee, although it is still better than other crypto because it is more widely Known & adopted crypto.
Correct me if I am wrong somewhere
If you want to know criteria of Weiss Rating you can refer to this link one of Weiss blogs
Not to worry, PDF version is right here for you. Here it is
Always ready to help.
My other posts :-
https://steemit.com/weissrating/@swpnl7/how-weiss-rate-cryptocurrency-explained-in-short-independent-unbiased-accurate-trusted-as-they-say
https://steemit.com/blockchain/@swpnl7/bitdegree-earn-for-learn-new-era-of-mooc-s
https://steemit.com/freelancing/@swpnl7/ethearnal-the-future-of-freelancing-on-the-blockchain-3-min-read
https://steemit.com/keywords/@swpnl7/terms-and-keywords-in-crypto-world-db890cbea27ff