Who would have thought that a simple trip to the grocery store for my wife would have resulted in this? A kidnapping. Not a soul barged from their spots as they watched a van pull up and suck me in like a vacuum cleaner to a carpet.
I was quickly tied up and a blind fold strapped around my eyes, much to tight. There were three people, each barking out different orders and commands.
"Don't look or we'll kill you."
"Give us your wallet and your bank account numbers."
"Listen to us and you'll get out of this real nice and easy like."
I could tell we were going through a tunnel with the smell went from a fresh breeze to a smog filled balloon waiting to pop. The sound of the cars tire's rung in my eardrums as their hurried over bumps in the road.
I discovered a name when one of the men asked Max for his share of the Popsicle ice cream.
"When the aliens come get me this Saturday, we'll have him to trade," Max said, a tinge of fear lingered in his voice.
"We're hear at the bridge," said a voice in front of me of whom I took for the driver and the brains of the operation. "And, yes. I think he'll be a far better catch for them than you, a rundown junkie living in his mamma's basement."
"At least I have a place to sleep," Max shoots back.
Their fingernails dug into my skin as they grabbing me out of the back as soon as the car door opened. Feeling the warm trickling of blood down my arm caused me to want slap the irritation like it was a mosquito biting me. I was shoved in a direction without a guide and told to walk.
Max speaks directly in my ear, "Aliens will come Sunday. You'll be what they have to eat. I won't be going into the mouths of the giant blob aliens like you will friend."
"That dirty window," said the one I presumed to be the leader, "is the spot where they are going to come through their dimension to take the gift we are placing instead of you."
I was shoved into a truck. My head hit a box. I heard the door slam shut and then their was silence. I waited to move for what must have been an eternity.
Thinking that the coast was clear, I was able to free myself from the ropes I'd been tied up with. Taking off the blind fold, I spotted a shoe box that was full of dirty mags from back in the '60's.
Max opens the door. "What?! You aren't supposed to be peaking. Who said you could move?"
The boss comes up behind him. His face is covered by a leather bag over his head. "Not so lucky for you, Maxi. You've been found out. Looks like they'll have to take you after all."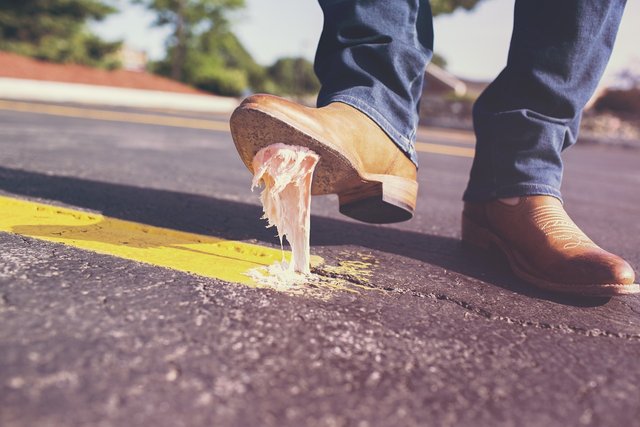 source
---
---
If you would like to find out what freewriting is all about, go here.

Regular Freewritehouse features
Announce the Adoptee -Monday
Recommend your Favorite Freewrite and Win SBI - Tuesday
We-Write and win SBI - Every other Wednesday
Freewrite Favorites - Thursday
Adopt Me!! -Friday
Over 20 Club - Saturday


# Badges

---
---
SPECIAL ANNOUNCEMENT:

---
If you are enjoying my work, please -
===
Upvote my posts through steem auto and add the other people and groups you would like to support.

Support me and others through steembasicincome shares. (This also helps you because you will also get a share for sponsoring somebody.)

Click here --> Steemmonsters. This is an offical affiliate link. So, not only will you get awesome cards, but you will also be helping me out.
---
---
Coming to you from arcange, a friendly warning to all who want to be successful on the steemit platform:
A bit of paranoia is the basis of security.
There are a few simple rules to follow in order to avoid having your account hacked:
Rule 1: NEVER, I repeat, NEVER use or give your owner key or password!
Rule 2: Use your posting key to login, post and vote on trusted websites like steemit.com or busy.org.
Rule 3: NEVER give your active key as this key allows to control your funds! Only use your active key for special operation like money transfer or account update on trusted websites like steemit.com.
Rule 4: Anywhere else, if you are requested to provide any of the above key: RUN AWAY!!!
---
---
Tools:
---
---
Ongoing Contests
---
---
My Completed Freewriting prompts:
---
---
---
|Honey| Cookie Cutter| By the Book |||
---
---
---
---
===
How can you make this table or create something even better?
stackedit.io, which is great for seeing what you are doing while you are building your page.