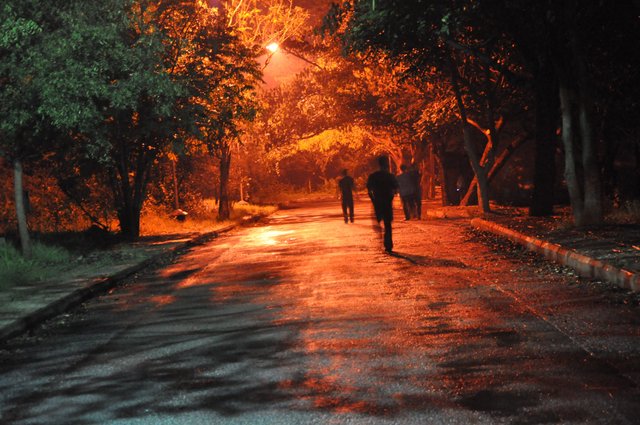 pixabay
I loved the way she said "ballon." She said it as if she were blowing bubbles. I still can't get that dirty joke out of my head. I'm such a child.
Years will pass. Will I see her again? My best friend, we haven't been apart since our birth for more than a week at the most. Now she and I were headed off to different colleges because we got scholarships in different places.
How am I going to get along without her?
"Are you going to tell me," she asks while removing a stand of my hair from my face, "why it is you brought me all the way out here, in the middle of nowhere."
My mouth opens, but no words come out through my choked-up throat. My hands begin to sweat. How am I going to tell her? "We ..."
the cuts radio in with the sound of a shrieking voice ... Just in. The town has gone crazy ...crackle... out while you still can! Ahhh! Die bi... the radio goes silent.
"What do you think that was all about?" asked Jan silently.
I knew exactly what had happened. It came back in a flash.
"The house on the corner had always been the subject of gossip. I was the only one who knew the truth." I banged my hands on the steering wheel. "I should have told someone!" Starting the car engine, I stomped on the gas. "We have to get back to my uncle's place. It will be the only way we can save our lives."
Panicking she blurts out, "What!?! Save our lives? Did you just hear the radio? What do you mean you should have tol..."
I swerve the car a hard right, barely missing a tree laying in the road that wasn't there a few hours ago. Jan's head smashes against the window.
I don't notice what happened to her. My mind is gripped by fear as the terrifying memory sheds the light of what transpired. I begin to answer the question she trailed off on. "That guy next to our house. He's ... He's been running experiments. I saw a creature chained up... eating a human. He almost..." It was when the dead thing stood up his mind had first blacked out the memory. "It tried to fucking eat me!" I look over in Jan's direction and noticed that she is unconscious.
I slam on the breaks, reaching my arm across Jan's chest to keep her from flying forward.
I rush out of the car and circle to the back where the first aid kit is. Opening the truck, my mind trails off when I see the blood-soaked, crooked umbrella. All I can think about is the monster and what I had to do to get away from it. All I wanted to do was to forget. "Why didn't I tell anybody sooner!" I scream out in anger. "Why did my mind do this to me?"
The alleyway was the only escape path. If I didn't find this crooked umbrella, that creature would have turned me into one of them. He knew it without a doubt.
I was brought back to the present moment when I heard the terrifying scream come from the front seat of my car. "Oh! Shit." How can this be happening?"
=======
Begin here if you wish to join in on this weeks weekend free write.
Freewrite put on by @mariannewest
My Completed Freewriting prompts:
Weekend Free Write: